Ask Nick: Pros' personal bikes, the UCI weight limit and more
Pros' personal bikes, the UCI weight limit and more
Heading out the door? Read this article on the new Outside+ app available now on iOS devices for members! Download the app.
Editor's Note: VeloNews tech editor Nick Legan is a former ProTour mechanic who most recently wrenched for Team RadioShack at the 2010 Tour de France and elsewhere. His column appears here every Thursday. You can submit questions to Nick at asknick@competitorgroup.com, and be sure to check out Nick's previous columns.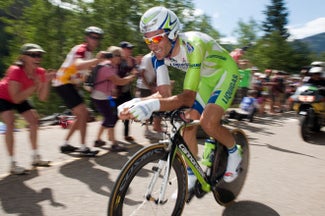 Q. Nick,
What? Ivan Basso doesn't use a Basso bike? I assume these are somehow partially sponsored by, designed by or in some other way created by him. Does his pro contract stipulate that he must use a Cannondale?
— Bob Quickel
A. Bob,
Amazingly, Ivan Basso has nothing to do with the Basso line of bikes. Alcide Basso is no relation to the two-time Giro d'Italia winner. But his pedigree is sound. Alcide's brother, Marino, was a world champion and Alcide served in an Italian cycling military unit. He began making frames in 1973 and is still involved with the brand.
Ivan Basso's contract would most certainly stipulate that he rides a Cannondale, even if a frame with his name would be cool to cruise around on.
Q. Nick,
Do professional riders own personal bicycles or do they only ever ride the team bicycles?
— Jason

A. Jason,
Many pro riders have bicycles of their own, but they won't get to ride them too much during the season. They have to use team bikes in both racing and training on the road. It's a contractual requirement. Of course that doesn't mean that riders won't have something else hanging around for a city bike, a 'cross bike or a mountain bike. But of course, like most things, this varies a lot from rider to rider. Some riders are big bike geeks, others barely know what they're riding.
Q. Nick,
I know the UCI has weight limits on road bikes (which haven't reflected the advances of technology in years, are they ever going to?) but do they have required weight limits for mountain bikes? Do they have different limits for men and women? (my 5'1″ wife's bike weighs significantly less than mine, even though we both run similar Campy gear on titanium frames.)
Finally, since I am assuming my sons will be riding and racing in the future, what about weight limits for high school, college, and "not quite pro's?"
— Tim Kenkel

A. Tim,
The UCI weight limit of 6.89 kilograms or 14.99 pounds does apply to mountain bikes. It's not a huge concern just yet though. Several World Cup level pros are riding bikes in the 16.5-pound neighborhood. But taking an addition 1.5 pounds off would take some doing, like getting rid of front suspension.
Men and women do NOT have different limits. 6.8 kilograms for all, though the fairness of that is debated.
High school, college and amateur racing usually use USA Cycling rules, which adhere to UCI regulations. So technically, the rule applies to everyone racing an organized race. And really, I feel the point of high school and college racing is to have fun. It shouldn't be about getting your kids on 13.5-pound über bikes. That said, it's really rare for officials to check bike weights at races.
As an interesting side note, track bikes are also subject to the UCI weight minimum. It's rarely an issue though on World Cup level carbon bikes as most of them are overbuilt in the name of stiffness.
Q.Nick,
I purchased a used steel frame (a 2006 model) in December and only recently became aware of rust inhibitors that some recommend applying to the inside of steel frames.
This past weekend I removed the bottom bracket and noticed some rusty colored liquid in the frame. Is it a case of better-late-than-never with the rust inhibitor or should I even bother?
— Adam

A. Adam,
It's never too late to stave off corrosion. I like J.P. Weigle's Framesaver and use it in my personal steel bikes. It's best to take your time and do it properly. At the very least I recommend pulling your seatpost, fork and crank, though it may be easiest to entirely dismantle the bike. Clean out whatever you can reach, getting rid of grease and any surface corrosion with a rag.
Then you'll want to lay down a tarp or make sure you're in a designated workspace. The next part can get messy. Spray inside all the tubes, turning the frame to get all the internal surfaces possible. I lay the bike on its side for 10 minutes or so, then rotate it and let it sit again. Once you feel you've coated everything, sit it up so the excess can drain towards the bottom bracket. Put a rag in the bottom bracket to soak it up. After a couple hours, you should be ready to reassemble your bike.
Q. Nick,
As someone who obsesses over the cosmetic condition of my bike I am wondering what happens in a grand tour if a bike sustains substantial cosmetic damage but is otherwise structurally and mechanically sound.
For instance what would happen if a major sponsors decal or paint scheme got trashed. Would the frame be switched out or are repairs made?
— Charlie Parchem

A. Charlie,
Mechanics won't change a frame unless it's broken.
Substantial cosmetic damage though usually comes with at least some structural damage. Carbon bikes don't like impact. So it would be changed. But if a new set of decals could spruce up a bike, that's the way I'd go.
— Nick