Ask Nick: Pros' replacement parts, where to carry your stuff, carbon brake pads and more
Pros' replacement parts, where to carry your stuff, carbon brake pads and more
Heading out the door? Read this article on the new Outside+ app available now on iOS devices for members! Download the app.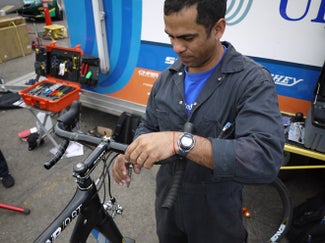 Editor's Note: VeloNews tech editor Nick Legan is a former ProTour mechanic who most recently wrenched for Team RadioShack at the 2010 Tour de France and elsewhere. His column appears here every Thursday. You can submit questions to Nick at asknick@competitorgroup.com, and be sure to check out Nick's previous columns.
Q.Nick, since the pros clearly don't ride chains, tires, etc to their limits, what happens to all the minorly used parts? Do pro teams put expiration dates on their carbon parts or just ride them until failure? If they are replaced beforehand, what happens with all those parts?
– Nik Rodriguez

And in a similar vein: Nick, I was curious as to how often a pro's bike gets new parts on it, such as tires, wheels, saddle, bar tape, drivetrain, etc, due to wear? I'm sure a lot of people think they get a new cassette, chain and cables every race, but I'm guessing that's not the case. Enlighten us, please.
— Rob Mundt

A. Nik and Rob,
Professional cycling teams certainly go through some parts over the course of a season. But not as many as some believe. Mechanics will replace items as they wear and usually not before.
Nik, I would argue that pros do indeed ride chains, tires, etc. to their limits. Teams try not to waste parts and sponsors appreciate it.
Rob, a new day of racing does not mean a new bike, or a pile of new parts; unless they are needed. In truth, when it comes to chains and cassettes, that would be detrimental to performance as new ones feel a bit rough.
New chains are installed periodically as a precaution. Chainrings and cassettes can easily last a couple seasons. Because of the sheer number of different ones used, no one single cassette gets a ton of use.
Tires are replaced after they either wear through the tread, puncture or have a risky cut in the tread. Bartape is replaced as necessary, often because of a crash or after cables are replaced. When shifting starts to get sticky, cables are quickly replaced. Brake pads, depending on the compound used, can require frequent changes.
Saddles last a long time and for some riders, they'll ride the same saddle/seat post for the entire season, both at home in training and at races.
Wheels can last several seasons, but that's simply a roll of the dice. They are usually broken in crashes before the rim or hub wear out. But they are also well maintained with constant truing checks and new bearings as needed.
Bikes need to function perfectly, but they don't have to look immaculate. At the 2006 Giro, I was working on freshening up Giovanni Lombardi's bike before the start of the three-week race. I was about to replace a scuffed up shifter for aesthetic reasons and asked the head mechanic what he thought. He said, "absolutely not!" When I asked why, he said that we were about to start the craziest week of racing and Lombardi was certain to go down at least once. If the shifter still worked, it was best to leave it on.
As for carbon parts, Nik, they don't have expiration dates. They either work or they don't. If they work, they're raced. But at the end of the year, many teams, especially if a sponsor change occurs, will sell off team inventory.
Q. Nick,
Some guys in my club insist that any extra weight (tubes, tools, pump, CO2) should be carried on the riders in their rear pockets rather than on the bike. Weight is weight to me whether it's on the bike or on the rider. Comment?
— Gene B. Rossin

A. Gene,
There are a lot of crazy people in the world and it sounds like you've surrounded yourself with them. (But then I can't talk, I work at VeloNews with an office full of insanity!)
If the issue is weight, then you are correct. Total weight of bicycle, rider, repair items, water bottles, etc., is all carried up and over whatever hill you tackle. I like to keep my pockets free of any sharp objects. I also like to have room for a vest, a phone and food. But I did come up with some possible reasons why your friends might prefer to carry repair items in their pockets:
1. That way, when my friends pick up my bike it feels lighter.
2. The bike handles better and I have more weight to "throw around" in corners.
3. It looks like I'm always racing. And that's Euro cool.
4. Seat bags chafe my delicate thighs.
5. My repair times are faster when I have a flat.
6. All the items in my pockets disguise my love handles.
Q. Nick,
I have a carbon road bike with road race geometry and I'm trying to make it a little more comfortable.
I live in northern California and I ride mainly quick hilly routes that have really chewed-up asphalt. I have already increased my stack height a bit and I am running high volume tires on Fulcrum Racing 3 wheels. My bike set up has a fork rake of 39, which seems pretty steep. My next step was to go with an upgraded fork with a greater fork rake, 43 or 45. Would the difference be noticeable when going from a 39 to a 43 or should I move to a 45?
— Brian Lincoln

A. Brian,
Fork rake is only one element that plays into how a bike handles. It doesn't usually have much of an impact on a bike's comfort. Yes, your wheelbase will increase a minute amount, but that probably won't be very appreciable from the saddle.
With all things remaining the same on your bicycle, except your fork rake (offset), increasing the rake will decrease the trail of your bicycle. This will speed up the handling of your bike, not slow it down. Trail and fork rake's relationship to it are pretty commonly misunderstood.
Trail is the horizontal distance between your bike's steering axis and the center of the front tire's contact patch on the ground. As trail is increased a bicycle becomes more difficult to turn (or more stable). Decreasing it does just the opposite.
So I would NOT advise you to change your fork's rake. Changing the fork though could improve comfort if the replacement was more compliant.
First things first though: make sure you've had a good bike fit performed. That's the best investment you can make in optimizing both comfort and performance. A skilled bike fitter will also guide you in the direction of products (if necessary) that will help you and help you avoid the pitfalls of spending unnecessarily.
I would also encourage you to play with different tire pressures. You didn't mention the specific tires you ride or the pressure you use. But experimenting with them can have a much greater impact on your comfort than a new fork could.
Q. Nick,
I have just found the joys of riding carbon wheels and tubular tires. While the gluing part can be a pain, the ride is worth it.
I will primarily use the carbon wheels for racing. I wanted to know if there are any recommended brake pads that work for both carbon and aluminum. While I enjoy the ride of carbon wheels and tubular tires, I prefer the ease and consistency of riding aluminum clincher wheels for long training rides. If there really isn't any good options for brake pads and I have to swap pads out, should I swap out just the pads or buy separate brake shoes and swap those out. I am looking for the easiest and least time-consuming way to easily switch between riding carbon and aluminum wheels.
— Steve Wasserman

A. Steve,
There are a few pads that work pretty well on both carbon and aluminum, but none of them are perfect. SwissStop has quickly become a leader in the segment. They produce pads for many wheel manufacturers and SRAM now uses them for pads on many of their road brakes.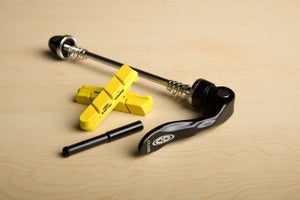 The Yellow King pad is designed for carbon rims, but also holds up pretty well on aluminum rims. Again, it isn't as effective as a pad designed for aluminum, but it works. Zipp also sells a carbon pad (not the cork version) that works similarly to the SwissStop.
With both of these pads, you MUST inspect your pads before switching from aluminum to carbon use. Aluminum shards can imbed in the pads during braking on aluminum wheels. These shards, if left in the pad, can ruin the braking surface of your expensive carbon wheels.
If you're up for regular inspection and can handle less-than-perfect braking on your aluminum wheels, this is the way to go. Much less work.
If you decide to swap pads, I wouldn't bother with buying separate brake pad holders (shoes). That's too time intensive. Changing pads with modern holders is super fast once you do it a couple times (small tip: don't take the safety screw all the way out, just loosen it enough to get the pad out). You may still have to adjust pad height and angle, but that's pretty quick. Best of luck!