Ask Nick: Quick-change saddle device, windproof tights and a mechanic's mistakes
Quick-change saddle device, windproof tights and a mechanic's mistakes.
Heading out the door? Read this article on the new Outside+ app available now on iOS devices for members! Download the app.
Editor's Note: VeloNews tech editor Nick Legan is a former ProTour mechanic who most recently wrenched for Team RadioShack at the 2010 Tour de France and elsewhere. His column appears here every Thursday. You can submit questions to Nick at asknick@competitorgroup.com, and be sure to check out Nick's previous columns.
First off, following is a letter I received from Paul Swift, owner of Bike Fit Systems, about my recent article on saddles. This product looks like an excellent tool for bike shops and fitters. He included links to a couple of videos, too — here's the first, and here's the second.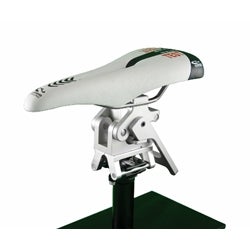 Q.Nick,
I was reading your posts about saddles. I thought you might like to see how we allow cyclists to try a saddle. We have a new SwitchIt saddle changing device. It is interesting that we have had a lot of people get measured with Specialized's or Trek's devices but once they actually had an opportunity to try saddles found something out of the suggested range. That is not to say the guide can't help point some people in the right direction but for many it will not be helpful at all.
— Paul Swift
Q.Nick,
I have a timely question. With the winter upon us I'm breaking out all my warmer gear. Leg warmers keep things warm from the thigh down and a nice jacket keeps them warm above the waist. But this leaves the most sensitive spot on the body relatively exposed. What are the pro tricks for keeping your midsection protected?
— Nick Hack
A. Nick,
Most European pro teams provide both normal and "Roubaix" bib shorts to their riders. The extra insulation goes a long way and still lets hardcore guys just use embrocation on their legs during chilly races. They can also start with leg or knee warmers and take them off later in the race.
Of course, the other option is to simply wear tights! For long winter rides nothing beats the full coverage and extra layer. I prefer tights without a chamois. This lets you stay with your normal bibs (or shorts if you prefer) and you can wear the tights more than once without needing to wash them, though I do air mine out in the sun.
I've heard of other products designed to keep wind off a rider's most sensitive parts, but I've never tried them. A good set of windproof tights get the job done for me.
Q.Nick,
what happens when a mechanic makes a mistake during/before a race? And how does a mechanic overcome those tense times?
Obvious, I am assuming you'll get talked to by your boss (whether that be the head mechanic or the DS), and if it becomes a trend, I'm sure you are finding a new job. However, it seems like mechanics make mistakes just like everyone else.
— Dan McGraw
A. Dan,
I'm not sure which mechanics you've worked with, but I'm perfect. Oh wait, no, that's not right.
It's true — we're all human. Mistakes do happen, but of varying severity. It's one thing to forget the director's special sandwich, but it's another to send a rider off with loose handlebars.
My most embarrassing episode was when a rider's crankarm fell off. Plain and simple, it was my fault. We got him on a spare bike and everything worked out. But it was a good reminder to double my efforts. Bolt checks are so important! It was important for me to think about the problem and the best way to never let it happen again in a calm manner. Panicking wouldn't have helped in any way.
But if a mechanic lets the stress get to him, his work doesn't improve. It's just the opposite. I've seen mechanics work themselves into a frenzy obsessing over bikes. Just calm down, do your work well (the first time) and then let it go. Once the trailer or truck is locked up for the night, that's it. Your performance is over. Get some rest, read a book. Be fresh for the next day.
Simply put, some people aren't cut out for the job. Those who can't keep their composure in stressful situations need not apply. It's hard to have good presence of mind during the chaos of a race, but without it the job is impossible.
Sometimes it takes a season of errors and frustration before a mechanic realizes that his or her best situation is at a bike shop and not out on the road. But then, if you never try, you never know.
Q. Nick,
I use clincher tires on my old Colnago and I was wondering when the tires should be changed? Is there a rule of thumb? What about a mileage to go by or some kind of wear guideline that will mean that it's time for some new rubber? Obviously when the tires are no longer rounded and resemble a 1990s Will Smith hairdo they are past their prime, but I get the feeling that is a bit past the expiration date.
— Christian Stow
A. Christian,
Every tire is different. The same tires under two different riders will have varied life spans. For fairly new tires, inspections are the best way to keep tabs (and to avoid unnecessary punctures). Check them once a week for cuts, glass and abrasions. Small pieces of glass and stone can be removed with a small knife blade or by hand. Then seal the hole with super glue. If you find a big gash or a skid that wore through your tread, replace the tire. When your tire has more super glue holding it together than tire casing, replace the tire (that's an exaggeration — replace before that).
Your "Will Smith rule" is actually a good way to keep tabs on rear tires. Some tires do have wear indicators molded into the tread.
Assuming a tire is kept away from UV light, it doesn't deteriorate quickly. If your tires are original, chances are they are dry-rotted. Check closely for cracks in the tread and sidewall. If you find any, spring for new rubber.
The other reason to buy new tires is simply because you want to. They are the quickest (and cheapest) way to entirely change the way your bike feels on the road. I reward myself with new supple tires in the spring after riding all winter on bulletproof rubber. With colored treads and sidewalls, you can coordinate the look of your rig.
So, there's no hard-and-fast rule. But check your tires often at home and you'll spend a lot less time frustrated at roadside.