Ask Nick: Special shorts for Roubaix, team vehicle parking spots, painted roads and more
Special shorts for Roubaix, team vehicle parking spots, painted roads and more questions, answered
Heading out the door? Read this article on the new Outside+ app available now on iOS devices for members! Download the app.
Before we get into the Q&A portion of this week's Ask Nick, I wanted to ask everyone, once again, to send in your questions. Like the last question here, some of these things never occur to me until you, the readers, ask me. So keep the questions coming! This column is only as good as the questions I receive!
Thanks,
— Nick
Q.Nick,
I sometimes see spectators sticking water bottles out (no surprise there). But to see a rider grab a bottle from a stranger and drink it, as Cancellara recently did, is strange.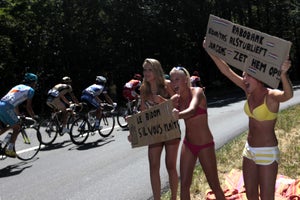 Are there team policies about this? Is it just common sense? I sometimes wonder if the riders are doing exactly what I would do 200km into a race; just grab what's in front of your face and worry about the consequences later.
— Eric McMahan
A. Eric,
Plenty of fans offer water, Coke, even beer to riders as they pass, especially at slower speeds on climbs. Most riders will take water to dump over themselves to help with evaporative cooling. Usually riders avoid random hand-ups though for fairly obvious reasons. A spiked drink would have huge consequences.
I'm not exactly sure to what race you're alluding concerning Cancellara. But if it is the feed he took from the neutral car at this year's Tour of Flanders, I can allay your fears. While not as ironclad safe as a bottle from his team car would be, the neutral car can be trusted.
Many riders will also take a drink from a spectator if it is un-opened. Team management likely discourages this though. There are certain fans who have become regulars on the pro circuit. One gentleman in particular travels with a crazy, decorated trailer to many races. He brings along cases of cold soft drinks and hands them out as riders go by. Many take them.
Ben King, current U.S. champion racing for RadioShack, actually took a beer hand-up on Paris Mountain the day he won his title in Greenville, South Carolina. Again, probably not advisable in most cases, but it seemed to work out on the day!
Q. Nick,
There is always a good bit of Paris-Roubaix coverage on how the riders use extra bartape, tape their wrist etc. in order to protect the hands and upper extremities. The thing we never hear about is what they do to save their butts. Are they wearing a special "Roubaix" chamois, doubling up on the bibs, etc.? I know from personal experience on rough rides, that don't come close to Roubaix, that my derriere isn't happy.
— Brian Hildreth

A. Brian,
To my knowledge, the pros ride their normal knicks and saddles. Making big changes, like doubling up on chamois or a different saddle, isn't usually a good idea for someone who is accustomed to a particular set-up.
You have to remember that by the time a pro starts Roubaix, the season is well underway. The saddle time accumulated by then is impressive. So to put this subtly, their backsides are "well-trained."
It really is the upper body that takes most of the abuse over the cobbles. I can attest to this personally. Almost two weeks after riding an abbreviated version of Roubaix, my right arm is still not 100 percent.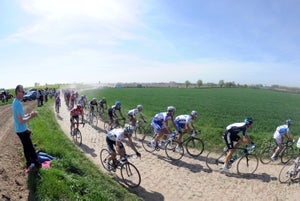 The special bikes, wheels and tires used at Roubaix do a pretty good job of minimizing the abuse of the cobbles. But in the end, the event is just plain hard. Brutally hard.
Thankfully most riders on the cobbled program get a break after Roubaix, a much deserved break.
Q.Nick,
I have a race logistics question. The team trucks and buses are at the starting area. Do they follow behind the race in order to pick up everyone at the finish after? How does that work? Also, is there a pecking order, so to speak, when it comes to placement of a truck or bus at the start area depending on team size or popularity?
— Chris Tembeck

A.Chris,
Team trucks rarely go to a race start. Time trials are the exception. Race bikes are loaded either onto soigneur cars or under the team bus to get them to the start. The riders go in the bus; staff get there in team cars.
The team truck for a one-day race goes directly from the team hotel to the race finish. The team buses will head to the finish directly after the start. Team cars are either in the follow caravan or leap-frogging to the feed zone and the finish.
If a rider is dropped he gets a ride in the broom wagon (or sweeper vehicle, voiture balai in French). If a rider crashes badly enough, there are ambulances that follow the race. During a stage race (where there are two team cars) a rider may be picked up by the second team car (if there is room for his bike).
There isn't so much a pecking order of team buses as there is tradition. Many bus drivers have been on the circuit for years. They tend to park in the same spots year after year. Additionally the French bus drivers will hold spots for their fellow countrymen, just as the Dutch, Italian, Spanish and Belgians do. Little mafias of staff are naturally formed over the years. They look out for each other.
Quick Step, for instance, has a parking spot at the Roubaix velodrome where they park most years. It's just known that they'll be there, so park elsewhere.
Q.Nick,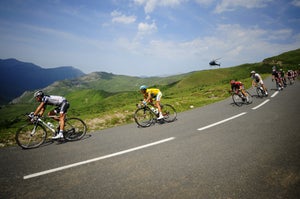 Fans at the Tour de France always paint their hero's names on most of the climbing roads. And I also know the race reverses over the same course on different years. How do the riders not slip on the painted emblems/messages/names when descending at breakneck speeds on skinny tubular tires? I know the race organizers use pressure washers to remove start/finish markings after the stages, do they use it on the climbs also?
— John K.

A.John,
That's a good question! It actually never occurred to me until you asked it. It's true that painted surfaces become treacherous in the rain. It is also true that courses sometimes reverse direction over a mountain, making the climb a descent.
The Tour does a good job of cleaning roads before the race. The research I did for this answer was fairly unscientific. I watched race videos and looked at photos from descents. The videos confirmed my vague memories. Most descents are cleaned.
In fact many roads are resurfaced once routes are announced. And it isn't just the Tour that has that kind of pull. Many races, big and small, in Europe coax local authorities into sprucing up their roads for a bicycle race.
If you decide to ride these roads (and you should, they're amazing) just be careful. While mountain passes are maintained during the year, the high roads can be wet most of the year.
— Nick