Ask Nick: Spectator etiquette, pros with fenders and lightweight bikes
Questions on spectator etiquette, pros with fenders and lightweight bike
Heading out the door? Read this article on the new Outside+ app available now on iOS devices for members! Download the app.
Editor's Note: VeloNews tech editor Nick Legan is a former ProTour mechanic who most recently wrenched for Team RadioShack at the 2010 Tour de France and elsewhere. His column appears here every Thursday. You can submit questions to Nick at asknick@competitorgroup.com, and be sure to check out Nick's previous columns.
Q. Nick,
I have a question about spectator protocol when a crash happens in front of you. While he's on the deck, trying to get his wits about him, should I try and (safely) get the rider's bike out of the road (or ditch) while waiting for the caravan and the team car? Or is it best to just stand back and gawk like the rest of the cycling tifosi? Do I pick up the bottles and offer them back to the pro when he's ready? Do I offer a hand when he starts to get back up?
If the team car hasn't arrived and the pro is back on this bike, trying to get rolling again, should I give the shaken-not-stirred rider a push? Or does outside assistance risk his/her disqualification?
— Kevin Young

A. Kevin,
That's a fantastic question, one that never occurred to me. As a mechanic, I'd welcome the help getting the bike out of the road or out of the ditch. But after it's out of the way, I'd ask you to put it back down in an obvious spot.
I would leave bottles alone. If they're left behind you get a souvenir. The team car always has plenty. And feeding gives the team car an excuse to help the rider back to the peloton.
The rider is a much greater priority. If he's clearly OK to get up and could use a hand, please do offer. Just be careful. Never try to move a severely injured rider.
I wouldn't give the rider a push though, for a couple reasons. One, he may have fallen on his backside and it's gonna hurt when you push him. Secondly, you'll place yourself in a bit of danger. The last thing anyone wants is a spectator being hit by a passing team car.
For the most part, officials don't like to penalize a rider who's fallen. And we can all use a hand. Just use your best judgment. Every case is different. But more than anything, please keep coming out to the races!
Q. Nick,
As the day nears when I can leave my knee warmers at home, I was wondering, do the pros have rain bikes? I've never seen any pros riding with fenders despite some horrible weather (ATOC in 2008). Do they train with fenders in soggy weather, or is that look just too pedestrian?
— Dave Queen

A. Dave,
Many pros do use fenders during the winter. David Millar had a sweet training rig when I was with Garmin. He rocked compact cranks, classics carbon wheels with fat tires, a Powertap and a set of SKS Race Blades to keep him dry.
I also remember being very impressed by Lars Michaelson's steel Cervélo training bike with full fenders when I joined CSC in 2006. It was a super classy bike.
Doug Ollerenshaw loved his fenders too, but then he's from Oregon and that's just part of cycling there.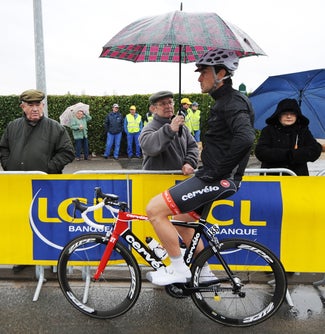 So many riders do enjoy the comfort afforded by a slightly dryer derriere when out training. But I've never seen a rider slap on fenders for a wet day of racing.
Concessions have been made in the past, but they were small ones. Lance Armstrong famously used a helmet with a mountain bike visor. Usually a cycling cap helps. Obviously rain jackets and gloves are used.
The real problem is that unless everyone in the peloton had fenders you'd still get a lot of spray from those in front of you. In the Boston area, if you show up on certain winter rides without fenders you're sent home. If everyone has them, everyone stays drier. But no one wants to sit on the wheel of a guy spraying road grime in his face.
Q. Nick,
With the technology we're seeing at the pro level, are most of the pros riding bikes that are at the minimum weight limit set by the UCI? How many manufactures are building pro bikes, both road and TT below the limit and have to increase the weight to be above the limit?
— Andrew Jones

A.Andrew,
Every road bike we took to the Tour last year (with RadioShack) weighed 6.8 kilos. We checked them with various wheels and made adjustments to keep them at the minimum. Mostly we used solid chainrings and heavier bottle cages to add weight. The goal is to always make the additional weight functional. The last thing you want to do as a mechanic is drop links of chain down a seat tube, but it happens.
That's why several riders had SRM cranks. Chain catchers are another good way to add weight. Instead of SRAM's PowerDome cassettes, we used PG-1070 cassettes.
Time trial bikes are rarely that close to the UCI weight minimum. A couple years ago, Scott made a big fuss by sending Simoni to the start of the Tour of California time trial with a bike under the limit. It was a publicity stunt to show how light their frames were (And it worked…I still remember it.).
Aerodynamics are so much more important than weight on anything but an entirely uphill time trial that few riders spend too much time worrying about it.
So while it's exceptionally easy to build a bike (or buy one off the showroom floor) that's well under the UCI limit, it also isn't too hard to keep a bike legal.
Q. Nick,
How are American pros received abroad? I've heard nightmare stories from Jonathan Boyer from decades ago and I wonder how things are now.
I am a soldier living in Italy and I spend every other year in Afghanistan so I am pretty aware of how Americans are generally received. Cycling is and has always been such a euro sport, I'm wondering if, maybe thanks to Lance, Americans are more respected overseas.
—Doc Clark, 2nd 503rd Airborne Infantry

A. Doc,
Professional cycling is an entirely different sport now compared to Boyer's days. It is truly global. And while it is traditionally Euro-centric, many of the biggest teams and sponsors are American. After many American Tour de France victories and regular American wins in the biggest races, our reputation as cyclists is now well established.
That said, the pros that most successfully integrate into the peloton are the ones that make a big attempt to "European-ize" themselves. Moving to Europe for most of the year, learning a foreign language (or two), paying attention to local tradition and being respectful of the strong traditions in cycling are much appreciated. It isn't always easy. But no one likes the loud American, especially when overseas.
Without riders like Boyer, Phinney, Keifel, Hampsten, LeMond and others who paved the way for American bike racers, we wouldn't be where we are. As of August 15, 2010 (the cut off date for Worlds' teams allocations) the United States sat fifth in the country rankings behind Spain, Italy, Belgium and Australia. We were ahead of cycling hotbeds Germany, France and the Netherlands. Not too shabby. And nothing garners respect like results.
As I write this, the U.S. sits eighth in UCI points, but we are a country of stage racers and the best of 2011 is yet to come for Yankees cyclists.