Ask Nick: Squeaky pedals, carbon brake tracks, post-Tour fashion faux pas & more
Squeaky pedals, carbon brake tracks, post-Tour fashion faux pas & more
Heading out the door? Read this article on the new Outside+ app available now on iOS devices for members! Download the app.
Editor's Note: VeloNews tech editor Nick Legan is a former ProTour mechanic who most recently wrenched for Team RadioShack at the 2010 Tour de France and elsewhere. His column appears here every Thursday. You can submit questions to Nick at asknick@competitorgroup.com, and be sure to check out Nick's previous columns.
Q. Nick,
Every once in a while on a ride (usually on hot days) one of my pedals will develop a squeak from the contact with the shoe cleat. Sometimes it's annoying enough to make me stop and clean off the cleat or try to diagnose the problem. I was wondering what the pros do during a race stage if their bike starts acting up — a strange click in the headset, a skipping chain or the dreaded squeaky pedal? Surely I can't be the only one this happens to.
— Mike Sanders
A. Mike,
Sorry to hear about your pedal woes. Have you tried new cleats? How about washing your pedals?
The pros, if they have a problem, have the team car behind them for support. It's very common for a rider to drop back to the car when the race is going easy and have the mechanic check it out. If it's bad, they may change bikes or shoes (in the case of a cleat problem). In many cases the click or creak isn't something to worry about from a safety perspective, but the mechanic will make a note of it so he remembers to address it later.
What I find amazing is just how oblivious some riders can be about the state of their bikes. Mechanics don't have time to test ride each bike each day. So while they make shift and brake perfectly, that doesn't mean that they aren't creaking.
Often when I was in the team car, we'd pass the peloton to drive up to the breakaway. I would usually put my window down and try to hand up some water bottles to my riders on the way through. What I heard was a cacophony of clicks, ticks, creaks and squeaks. And all the while riders are happily chatting about the latest iPhone app or the date they had last week.
So, Mike have your cleats and pedals checked out, for safety sake, and know that you're not alone.
Q.Nick,
Is there a way to repair the braking surface on carbon tubular wheels? I've done a lot of racing this year on my set and have been in more than a handful of races in the rain. Almost every weekend during the collegiate season it was pouring rain. Many of the days we raced the roads were covered with sand and dirt that seemed to work its way onto my wheels and into my brake pads. After a few races I noticed a lot of wear on the braking surface of my wheels.
I am now more careful and avoid racing them if the weather is exceptional bad. Is there any way to repair them? Could I buy a carbon coating or do you know of any wheel companies that repair this type of damage?
— Luke Correale

A.Luke,
While I was sure that there's nothing you can do to fix your wheels, I wanted to be sure. So I called my friend Brady Kappius. He repairs carbon frames and parts and understands composites in much more detail than I do. Here's his reply:
"Unfortunately carbon rim surfaces are not repairable. The tolerances in rim molds from the manufacturer are so precise that there is no way to add any carbon to the brake surface to repair it while still maintaining the surface uniformity required for smooth braking. Some manufacturers add specific materials to the brake surface to increase wear resistance (called scrim). If you can feel distinct concavity on the brake track, it's time to retire the wheels. Sometimes it might look like there is a lot of wear because there has been a layer of carbon worn off and the transition between the two can be seen. I'd also re-evaluate your brake-pad choice, make sure you're using the pads recommended by the manufacturer and only use those pads on the carbon rims, never on any alloy training wheels."
Q. Nick,
Who are the people on both sides of the stage beside Bernard Hinault that shake the winning riders hands? –
— Richard Domagalski
A. Richard,
That's a great question with a quick answer. They're usually local dignitaries or government officials. Often they've been instrumental in bringing the Tour to their community or sponsored the stage in some way.
Q. Nick,
I know that having the yellow jersey is something to be proud of, but why is Cadel Evans allowed to wear it at post-Tour de France crits?
— Jay Conlon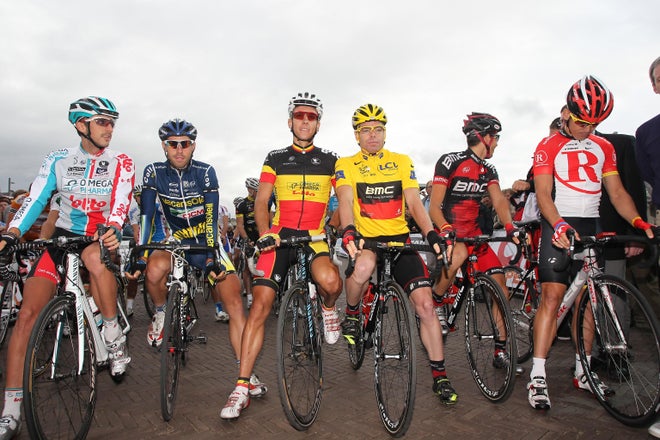 A.Jay,
The criteriums after the Tour de France are mostly for publicity. They aren't so much actual races as they are parades of the recent Tour heroes. Cadel Evans is not the first winner to wear the yellow jersey at a post-Tour crit. It's expected for all the jersey winners to wear them at the crits. The jerseys make it easy for the fans to pick out the recent winners in the field. It's all part of cycling's traveling circus.
Q. Nick,
How does the whole "personal mechanic" thing work within a team structure? How do they integrate into a team? Do they travel with the other mechanics? How do they get paid (by the hour/yearly/per race)? Not sure if you've dealt with this before, but I was just thinking about it while on a ride today.
— Todd McConchie

A. Todd,
On a top team there aren't "personal mechanics" per se. There are mechanics who go to all the races where a particular rider goes. Faustino Munoz will always be where Contador is racing, Roger Theel will be where Cancellara goes. But they are members of the team staff and will still work races when Contador and Cancellara are at home. They, like all full-time team mechanics, are contracted for the season.
Personal mechanics are out there. Lance had a mechanic who tuned his bikes while he was in Girona and in Texas. But Lance is one of the few cyclists that can afford such help.
— Nick