Ask Nick: Super-low gearing, skewer placement, road rash treatment and more
Road rash treatment, skewer placement, vans in the caravan and more
Heading out the door? Read this article on the new Outside+ app available now on iOS devices for members! Download the app.
Q. Nick,
I'm interested in what the pros ride with their gearing, especially for special circumstances, like mountains. I read that Contador was thinking about using a 34-32 gearing.
First, does that mean 34 front ring and 32 on the back? Seems pretty low. Do they ever use triples? What is the standard way to measure gearing. Chain distance per crank, rolling distance, or a simple ratio.
—Jeffrey Swainhart

A. Jeffrey,
It's only on the most extreme circumstances that a pro will use a gear like you mention. The 34 does indeed refer to the inner chainring and the 32 refers to his largest rear cog. And yes, it is a low gear, perfect for me though and I recommend it for many who live in mountainous areas.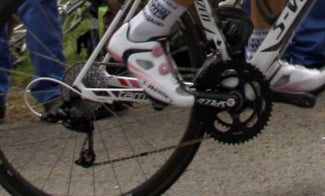 Teams rarely use triples anymore because of the availability of compact cranks. But several riders, including Jan Ulrich, used them in the past on severe climbs in the Vuelta.
Truth be told it is extremely rare for riders to use gears like this. For most climbing days fairly normal 53-39 chainrings and an 11-26 cassette will suffice. Sometimes sprinters will opt for a 38-tooth chainring and a 11-28 cassette to keep their legs spinning once they are dropped and riding in the gruppetto.
In professional road cycling, riders, directors and mechanics refer to gearing in chainring/cassette pairings. On the track though, everyone uses gear inches(for more information on measuring gears go to Sheldon Brown's page on the subject).
Q.Nick,
I was curious about crashes and rider care for road rash. I have seen answers of yours about post-race activities, massage, food, transport but I don't think I have seen any discussion for "body repair."
As amazing as it is to see a pro climb back on his bike after a pileup or crash at 30+ mph, it's more amazing to see these guys right back at the front of the pack the next day as if nothing has happened. How do they and their teams do it?
— Jason Brown

A. Jason,
A lot of it is having proper medical care on hand to diagnose injuries. If something serious happens, doctors are there to send a rider to the hospital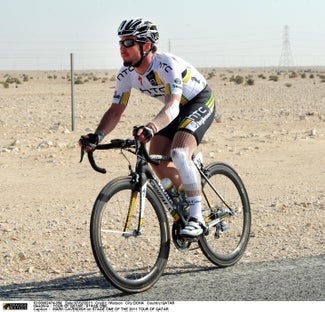 or home if need be. What this means is that the riding wounded are banged up, but not broken.
Chiropractors and osteopaths help realign twisted bodies. Some teams use treatments like cold laser to reduce healing time. Optimal nutrition helps too.
I think more than anything, riders are used to crashing and getting back up. They've done it for years and they have their bandage/wound care routines down. I'm not saying it's easy by any means, but there's also no big secret. Suffering is involved, but that's what bike racers do for a living: suffer.
Q.Nick,
After reading about your story of you hanging outside of the car at 50 mph to change out a cable, I started to wonder why station wagons are used instead of vans as team cars.
I would assume a van would be able hold just as many bikes on the roof, but allow more room for tools and give you the option of working on a bike inside the van during a race.
I could see the vans being an issue in terms of descending a technical mountain course, and not being needed in some of the classic races … but all the same, it seems like a van would be a more sensible choice.
— Anthony Lagunay

A. Anthony,
There are a couple reasons, beyond the ones you pointed out, for not using a van.
1. Working on a bike during a race is fairly uncommon. That story is my only one from seven years as a pro mechanic where I performed an on-car repair. Most of them are performed with the rider next to the car.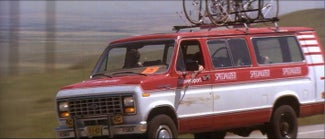 2. Many teams have car sponsors and they use what they're given. This doesn't mean that mechanics are always happy about the size or type of car they work out of. Sedans are next to impossible, so too are small Japanese eco-cars.
3. As you mention, a big van would be a liability on a mountainous stage. There truly is a race behind the peloton in the follow caravan. The cars need some get up and go and they need to handle fairly well to keep up on descents.
3. The UCI says we can't use vans. The height restriction for caravan vehicles is 1.6 meters. Most tall vehicles are over this. In fact some teams, like RadioShack with last year's Nissans, have had to lower their teams cars to meet the rule.
Q.Nick,
Is there a closed postion on quick release levers that you recommend? I see a variety of positions out there (on both front and rear wheels) and was curious if even the industry itself has a consensus on this.
— Bob Wydra

A.Bob,
As a race mechanic I usually place a skewer lever where I can open it easily for a wheel change while keeping the lever out of the way in case of a freak accident that could open it.
I usually place front quick release levers behind the fork, not in front of or along the fork blade. You want to be able to access it easily. If it will tuck in behind the fork blades you may gain some small aerodynamic advantage, too. Never put it pointing forward.
The rear is a little trickier and I decide on a case-by-case basis. My preferred placement is under and parallel to the chainstay, I don't like them pointing down or straight back, too easy for something to hit them. When I do a wheel change I have the chainstay to leverage off of for opening the skewer.
Some mechanics like to put the in between the seat and chainstay against the dropout. Really is all depends on the type of skewer and the tube shapes of your bike.
One free bonus tip: If you have three-piece skewers (not a Shimano or Campy two-piece unit), be sure to put a drop of lube on the hinge mechanism of the skewer. When they're dry you can't get them as tight and I've seen some people have problems…So lube those things up!