Ask Nick: Team income, degreaser tips, wide q-factors and more.
Team income, degreaser tips, wide q-factors and more.
Heading out the door? Read this article on the new Outside+ app available now on iOS devices for members! Download the app.
Editor's Note: VeloNews tech editor Nick Legan is a former ProTour mechanic who most recently wrenched for Team RadioShack at the 2010 Tour de France and elsewhere. His column appears here every Thursday. You can submit questions to Nick at asknick@competitorgroup.com, and be sure to check out Nick's previous columns.
Q. Nick,
Pro cycling is different than most other sports in that there are no entrance fees for spectators to attend events and very few televised races therefore little or no money coming in for the teams.
How then do the owners of cycling teams earn a profit or do the team sponsors provide enough funds to cover all expenses plus something for the owners. Where does the prize money come from for races?
— Rick Mallett

A.Rick,
It's true that very few races charge an admission fee to attend. That's part of the beauty of the sport; its accessibility. I would argue that many pro European races are televised, even if we don't get to see them in the U.S. (and that's changing). But that's a moot point as the teams don't see any money from television.
In truth pro cycling teams DON'T make a profit. They simply have a budget and do their best to stay within it. Most owners make a decent wage, but they are not rolling in profits.
As you mention, team sponsors and financiers (like Garmin-Cervélo's benefactor Doug Ellis) cover the team's financial needs. Once riders and staff are paid, travel expenses are covered, and team vehicles are purchased and maintained, there is usually very little, if anything, left in the team coffers.
Q.Hey Nick.
Alas, it's almost time for us Midwesterners to throw our bikes up on the trainers for the majority of our winter training, but I still plan to make it outside for rides as often as possible.
For those of us not lucky enough to live in year-round warmth what would you do to get your bike winter ready? I've already gone to more durable 32-spoke 3-cross wheels and wider tires to handle the bad road conditions and a set of fenders to keep dry, but what else would you recommend to keep my bikes functioning well in the cold and wet?
— Andy Payne

A. Andy,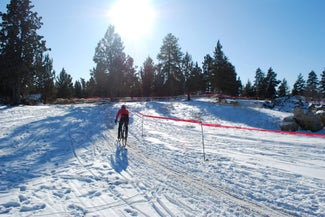 With modern bikes there isn't too much to do regarding bearings, though a check on them is always worthwhile. Sealed cables are a big help and I run them year-round on my personal bikes.
I think that lights are a really good idea. As daylight hours wane the likelihood of getting caught after dark increases. A flat tire can become a potentially dangerous thing if motorists can't see you. So throw some small blinky lights on both front and back of your bike.
The other piece of advice I have is to figure out a wash area now for your bike. Wet roads and grime can quickly cake your bike in winter. If you have your workstand and wash bucket sorted, you're more likely to use them. Find the brushes and sponges that you like. Same goes for degreaser, soap and lubes.
This isn't always easy, especially for apartment dwellers. Consider asking your local shop if you can wash your bike a couple times a month using its workstand and hose (BYO-Bucket unless you're going to pay for the degreaser/soap/lube the shop has in the area)
Q. Nick,
I'm looking at bikes for Cairo to Capetown. Would you recommend the Salsa Vaya Ti version? Also, can't make out everything you've got in your gear bags. What are the top items you need? Thanks,
— Enrique Gonzales

A. Enrique,
Sounds like you have one heck of an adventure planned. Because I've never been to Africa and I've never done long-distance touring, I'm not sure that I'm the best resource for you. But I'll do my best.
From what I know of world bicycle tourers, 26-inch wheels are the way to go. It is the most prevalent tire diameter in the world and makes finding replacement parts easier.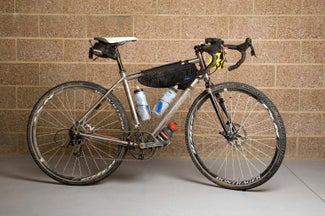 Surly's Long Haul Trucker is a great, inexpensive touring bike that is offered in both 26-inch and 700C wheel sizes. Many touring bikes are also outfitted with bar-end shifters as they are very robust and you can swap Shimano bar-ends to friction if something goes wrong.
The Vaya Ti is a great bike (Related: My Dirty Kanza bike) but I'm not sure that I would recommend it for touring Africa unless you know you can find parts. I'm sure the frame and fork are up to the task, but I'm not sure that outfitting it with the latest/greatest in components is a good idea.
The gear I carried in my bags was assembled for a very specific event — the Dirty Kanza. If I was riding the length of Africa I'd carry a bit more kit. But here's what I did carry:
3 inner tubes
4 Co2 cartridges and inflater
tire lever
mini pump
Topeak multitool
SeaLine phone drybag
Small bottle of chain lube
SRAM chain connector
1 brake cable
1 derailleur cable
various zip ties
a length of Duct tape wrapped around a seatstay
Princeton Tec EOS headlamp
Blackburn taillight (zip-tied to seat bag)
Lots of food-jerky, gels, bars, drink tablets, salt supplement, ibuprofen
Q. Nick,
I have wide hips and require a greater Q factor than most pedals provide. I recently switched from Speedplay Zeros with extended axles to Time iClic.
I lengthened the axle by placing spacers in between the pedal axle and the crank, however, I am recovering from a crash when the pedal came unthreaded. Is there any way to increase the Q factor without getting custom axles made, such as a bottom bracket with a longer spindle?
— Brock Helms

A. Brock,
I too run slightly longer Speedplays. I've also used pedal washers (luckily with no accidents). I'm not sure how much wider you're looking to go, but Specialized makes a set of pedal extenders as part of its Body Geometry (BG) fit bag of tricks. They increase Q factor two centimeters EACH side for a total of four centimeters. That's a pretty big increase.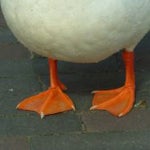 For smaller increases, up to four millimeters, I use the thin (approximately one millimeter) pedal washers that come with SRAM cranks. I've collected them for years and treat them like gold. Your local shop might have some. If you have a fit studio or shop that performs bike fits they should have them too.
I'm not sure why your pedal came unthreaded, but pedals do need to be tight. (But NOT overtight!)
A longer bottom bracket spindle is not a great option as that will affect the chainline of your chainrings and cassette. If you're riding an external bottom bracket and crank it simply isn't possible.
Best of luck and heal quickly.
Q. Nick,
I just spent a very enjoyable extended weekend of road riding at the Jersey shore. No traffic, but a lot of sand and one very wet day.
I've been following the steps in your article "Ask Nick: Mechanics in the off-season and tools of the trade" and the bike rides great and looks nice to boot.
I usually don't need to do much to clean my drivetrain — wipe it down and re-lube — but with the sand and grit I decided to use some degreaser this time. I tried using Simple Green, but it just made a gunky mess. Any recommendations for a degreaser that won't gunk up and is safe for the painted carbon fiber frame?
— Jeff Phillips

A. Jeff,
I like Pedro's Oranj Peelz, Finish Line's Citrus Degreaser and Park's Chainbrite Cleaner. I prefer to use a cut-off water bottle and a small 2-inch paintbrush to literally paint the degreaser on the chain, chainrings, cassette and derailleurs. I scrub it all using the paintbrush and sometimes use Park's GSC-1 cog brush for caked-on gunk.
Then I rinse it with water and go wash the entire bike with sponges and soft brushes. Rinse again, dry and lube.
I've had very little luck with spray-on degreasers. They don't find their way into the nooks and crannies that collect grime. And if you do prefer to spray on degreaser, I would still recommend using a paintbrush to scrub a bit.
Rinsing and washing with soap and water help eliminate any residue as well. Best of luck and thanks for reading.