Ask Nick: Team tactics, chain lengths, choosing a new bike and more
Team tactics, chain lengths, choosing a new bike and more
Heading out the door? Read this article on the new Outside+ app available now on iOS devices for members! Download the app.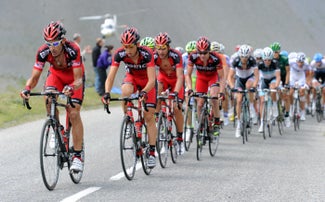 Editor's Note: VeloNews tech editor Nick Legan is a former ProTour mechanic who most recently wrenched for Team RadioShack at the 2010 Tour de France and elsewhere. His column appears here every Thursday. You can submit questions to Nick at asknick@competitorgroup.com, and be sure to check out Nick's previous columns.
Q. Nick,
In stage racing, why don't we ever see a larger group of guys from one team attack at the same time and try to get off the front? If they managed to get away from the peloton, they could work together much better than the random collection of competitors who we typically see in the break … essentially doing a team time trial to the finish line. I can see why the peloton wouldn't let a GC-contending team get away, but perhaps this strategy would occasionally work for one of the lesser teams?
— Dave Trask

A. Dave,
What you have to keep in mind is that cohesion, or a lack thereof, isn't the reason that most breakaways fail. It's simply a numbers game. The peloton will almost always have more riders to put into a chase effort than there are in the break. The chasers are also fresher because they've ridden a wheel until duty called.
For many, a team attack would create an even greater incentive to chase immediately. In Europe many would take it as an affront, an act of greed by the aggressive team.
Depending on just how many riders a team tried to put in the break it would also be a case of putting all its eggs in one basket. That's a bit of risk tactically.
Q. Nick,
When pro riders change gearing from sprint to mountain stages, do their mechanics also change chain lengths? It seems as if they would need to in order to get precise shifting, especially if a rider switched an 11-21 for an 11-26 or even smaller low gear.
Also on chain length: I usually ride a compact with a 12-27, but don't ride in the 50-27 because it's a crossover gear. When sizing a chain using the big chainring-biggest sprocket method, should I size chain in the 24 instead of the 27?
— Mark Dalton

A.Mark,
The quick answers to your questions are nope and nope.
Most pro mechanics (and many good shop mechanics) like to run chains as long as possible to make such gearing changes possible. For big climbing days, even with compacts, we wouldn't normally shorten the chain as we'd have to install a new chain the following day when "normal" gearing was put back on.
In fact, if riders changed from a 53×39 ring set to 52×36 we wouldn't even drop the front derailleur. We would certainly check the shifting though. And most team bikes have a chain catcher that limits problems pretty thoroughly.
As to sizing your chain, I think you're asking for trouble if you size it on the 24-tooth cog. One accidental shift into the 27 would cost you a derailleur and possibly more (frame, chain, wheel).
I see many riders with chains that are too short and I don't understand it. Except in cyclocross, there is no advantage to a shorter chain. It is a liability.
Here's my chain sizing method for a road bike (with entirely compatible gearing and derailleurs). I recommend sizing your chain using the largest cogset you intend to ride.
-Run the chain through the rear derailleur, on the smallest cog and on the small chainring. Pull it to where the chain won't touch the pulley cage of the rear derailleur, keeping it as long as possible.
-If you're cautious, mark the pivot that you intend to cut with a Sharpie, then run the chain (still through the derailleur) over the biggest cog and big chainring. You should have plenty of slack.
Q. Hello,
I know you usually answer technical or training questions, but this one is kind of a preference and technical question. For the upcoming season I decided to upgrade and get a new tri bike. I want a nice one and I'm stuck between the Kestrel 4000 or the new BMC TM01.
I work at a tri shop so I can get the Kestrel with a SRAM Red set up for about the same price as the TM01 with the Ultegra set up.
I like the look of the TM01 a bit more, but performance wise I'm not sure which to go with. I would really appreciate your advice, even if it's what you would go with personally. Thank you so much.
A. Theo,
Not sure if you've decided on a bike yet. But for me the decision would be fairly straightforward. For me, there are two criteria when deciding between two similarly priced bikes: fit and aesthetic.
First and most important is fit. Which of the bikes is going to fit you better? Your position on the bike is a greater determiner of performance than the aerodynamics or stiffness of the bike. Remember you are 70-80 percent of the total ride/bike drag equation.
Secondly, if they both fit you the same, move on to aesthetics. If you like the look of one of them better, if one of them looks faster to you, then that's the bike to put in your garage. The mental aspect of cycling can never be underestimated. If you relish the thought of jumping on your new bike and flying down the road, you will do just that. If you're hesitant about the looks of your new machine, you could undermine your own confidence. Best of luck.
Q. Nick,
I just looked through the article you posted on the different types of bars and shift levers and how they work together.
I just installed a Campy 10-speed setup on FSA K Wings and had a really hard time with the set up. One of the big complaints I had with these bars is that they don't have any marking on the curve where you are installing the levers, so there is no way to make sure you can get the levers aligned the same on both sides.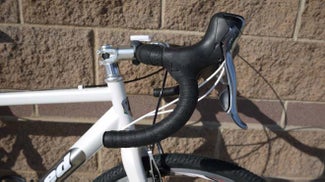 I have a question about one of the set-ups you have. In the final photo of the DA 7800 setup on the Easton bars on your Litespeed, it looks like you have V-brakes on there. Are these in fact v-brakes, and if they are what do you do to make this setup work with those levers? I've got a bike with canti studs and I'm running 7700 model DA levers. I would like to put some v-brakes that I have on this bike, but haven't seen a solution that looked great. So I'm just curious what your solution is.
— Drew Smith

A. Drew,
Thanks for reading my article and for your question. I have a tip for you on setting up shifters on bars. Get one side the way you want them. Then measure from the end of the bar, on the underside of the drop, up to the bottom of the shifter. Simply make the other shifter match that measurement. Works pretty much every time.
I don't trust the markings on many bars (or on shoes, or seatposts, etc.). Better to trust your own measuring (and practice measuring exactly the same way each time).
As for the brakes, they are indeed linear pull brakes. "V-brake" is Shimano's proprietary nomenclature for linear pull brakes. I use and love TRP CX 9 brakes on the Litespeed. The set up is a little touchy, as you have to run the pads very close to the rim. But the stopping power is fantastic.
TRP also makes a CX 8.4 with shorter arms. They allow a bit more clearance and work a bit better with Campy, SRAM and older Shimano brake levers (like your 7700 and my 7800 levers). All the levers I've just mentioned pull less cable than Shimano's latest series of brake levers.
The V-brakes that you currently own would work as well, but you would likely need a cable pull adapter, like Quality Bicycle Products' Travel Agent.