Ask Nick: time trial crank lengths, nature breaks, and more
Time trial crank lengths, nature breaks, and more
Heading out the door? Read this article on the new Outside+ app available now on iOS devices for members! Download the app.
Editor's Note: VeloNews tech editor Nick Legan is a former ProTour mechanic who most recently wrenched for Team RadioShack at the 2010 Tour de France and elsewhere. His column appears here every Thursday. You can submit questions to Nick at asknick@competitorgroup.com, and be sure to check out Nick's previous columns.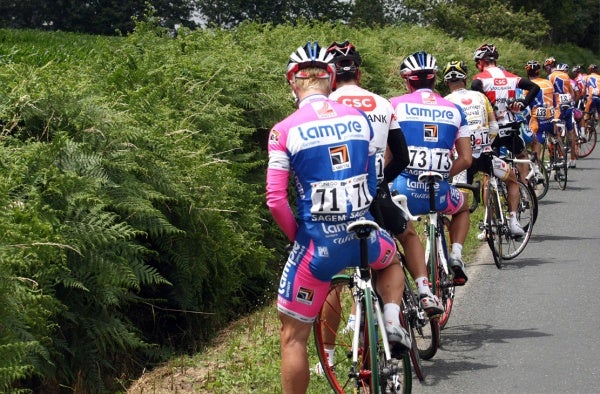 Q. Nick,
Why was Niki Terpstra (Quick Step) fined 100 CHF for public urination? This happened on stage 15. Surely, riders are allowed to pee during the stage. Does it matter where they pee? When they pee? How… they… pee?
— Jacob Margolis
A. Jacob,
Fortunately I wasn't there when Terpstra was incurring his fine, but riders are indeed allowed to relieve themselves during a stage. Usually a fine of this sort is only given out if a rider makes a poor choice regarding the location of his stop. A spectator's front yard, for instance, isn't ideal. But a lonely country ditch will do the job just fine.
Q. Nick,
Everyone is familiar with the concept of the "nature break" when the riders feel the call and pull off to the side of the road.  But what about those who are in the team cars?  If any of the staff, mechanics, etc. following in the team cars feel the same urge, what are they supposed to do?
— Mike Awtry
A. Mike,
Mechanics, directors and guests in the team cars pull over as well during races. In stage races, where two team cars are allowed, one car will put over and let the other crew know they are doing so. The second car will then cover the peloton.
It's a bit tougher in one-day races because you only get one car. Fortunately automobiles can travel quite a bit faster than a peloton, so catching up isn't too tough if the director makes a good choice on where to stop.
If you have riders in the breakaway, it's often convenient to pull over, answer nature's call, and take a time split to the peloton all in one choreographed stop.
Sometimes though, if the racing is full on and the opportunity to stop doesn't present itself, we spend some uncomfortable moments in the car. As a last resort there's always an empty water bottle …
Q.Nick,
I noticed your recent gallery on Tour TT bikes. My wife is a very strong time trialist (former 40k record holder) and she rides a P3 with SRAM Red. She would like to change to 175 cranks from 172.5. I have tried to see what riders are using for cranks, but I can't tell from the photos. The question seems to be weight vs. aero. Do you have any input on this subject? I appreciate any help.
— Jerry Shere

A. Jerry,
Crank arm length is a strange subject. There are lots of theories about optimum length based on inseam length, etc. One study on crank arms showed that only really massive changes in length (more than 20 mm!) had any real effect on power output and physiological response.
Many pros use really long cranks. Bradley Wiggins uses 177.5 mm arms on his road bike. It's very common for pros to use longer arms on their time trial bikes. But decisions on crank length are rarely based on weight concerns. It's usually a physiological (or psychological) decision.
If your wife wants to give longer arms a go, I encourage her to try them out. Just be sure to adjust her saddle accordingly. If you have a power meter and heart rate monitor, you should perform some tests. In the end, she should use the length that she feels most confident using. Many of these decisions are faith-based; faith that what is on your bike is the fastest available.
Q.Nick,
I was watching the Tour and it looked like riders were taking newspapers from fans at the top of large climbs and stuffing them in their shirts. Did I see correctly and if so I am assuming it's to stay warm on the descents.
— Jim Connolly

A. Jim,
Yes, indeed. Riders have long used newspaper as a lightweight means of keeping their chests warm on descents. It's cheap and easy to stuff under a jersey, much easier than wrestling with a vest or jacket. Of course, on really cold days riders will want more than newsprint. It's also nice and disposable after the descent. Instead of stuffing an unwanted vest or jacket in a pocket and waiting for a team car (which can take some time if there are multiple groups after the climb), they simply toss the paper.
Q.Nick,
This is a question concerning the placement of the mechanic in the team car. Whenever I see a video of an on-the-go fix from the team car, the mechanic is on the passenger side of the car leaning out across the bike to adjust the components that are on the right side of the bike frame away from the car. It seems to me that it would be logical to have the mechanic on the driver's side of the car for easier access to the components of the bike. Is there a reason for the passenger side placement of the mechanic that justifies the lean out over the bike?
— Jacob Williams

A. Jacob,
You make a good point about the drivetrain placement. But what you're missing is that wheel changes are far more frequent than drivetrain adjustments. Exiting the car on the right side, once it is pulled over to the right, keeps the mechanic out of traffic. The car also acts as a shield for the rider once he has pulled over to the right.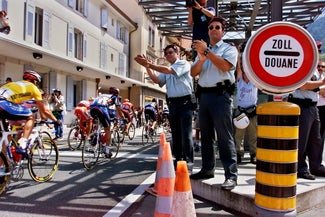 Q. Nick,
I noticed the Tour crossed into Italy this year. I've always wondered, how does the border crossing work? They obviously don't check into customs during the ride.
— Greg Drummond

A. Greg,
Thanks to the European Union, border crossings are much less of a formality. In fact, even driving a huge team truck across borders is usually accomplished without a stop of any kind. Switzerland is the most obvious exception, but then it isn't a member of the EU.
That said, during a bike race borders are often crossed. The only real drama I remember was during the mad cow mania a few years ago. Riders had to ride through pools of disinfectant crossing between France and Belgium. But even then passports weren't checked.
Getting around Europe is extremely easy. Crossing a U.S. border, however, is a different matter.