Ask Nick: What do mechanics do on long stages? Will Boardman's hour record be broken? And more …
What do mechanics do on long, boring stages? Will Boardman's hour record be broken? And more
Heading out the door? Read this article on the new Outside+ app available now on iOS devices for members! Download the app.
Editor's Note: VeloNews tech editor Nick Legan is a former ProTour mechanic who most recently wrenched for Team RadioShack at the 2010 Tour de France and elsewhere. His column appears here every Thursday. You can submit questions to Nick at asknick@competitorgroup.com, and be sure to check out Nick's previous columns.
Q.Nick,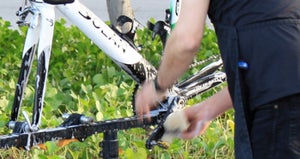 I've noticed that pros who ride Shimano pedals seem to use the same pedals throughout the season judging by the signs of wear on the steel plate. In contrast, every time I see a pro who rides Speedplay, the pedal bodies look brand new. From personal experience, they don't look new for long. So my question is this — do riders receive multiple sets of pedals during a season or do they typically ride a pair until there's a problem?
– Clint Schneider
A.Clint,
I think what you're noticing is that washing pedal bodies is an important part of a mechanic's job, especially when working for a Speedplay-sponsored team. The engagement mechanism of Speedplay pedals, as we all know, is in the cleat. And while I love this system, it is more susceptible to aggressive wear if it isn't regularly cleaned. When I worked with Speedplay teams I regularly took the time to clean and lube the cleats on the riders' shoes as well as the pedal bodies.
The other thing to consider is that the bikes you often see in photos are race bikes, which receive daily care from mechanics. If you washed your Speedplay pedal bodies every day, they'd look newer for a lot longer. I have personal sets of Speedplay pedals that have lasted many many years because I take the time to maintain them and the cleats.
One other thing I'd like to clear up is just how riders receive bikes and parts from a team. Obviously this varies from squad to squad, but riders don't receive anything in the way you're describing. That is, they aren't issued every pair of bib shorts, jersey, tire, cleats and pedals they'll get for the entire season at one time. Mechanics and soigneurs have back stock of inventory. If a rider crashes and ruins a jersey, he'll get a new one. Similarly, as he wears out cleats the mechanics will replace them. The inventory control of a team lies with the head mechanic and soigneur. It's up to them to communicate with the other mechanics and soigneurs about what they used at a given race and restock.
Q.Nick,
What do you do for hours in the team car following the peloton? Once the break gets established and the race settles down, it seems like it could get really quiet! Do you read a book? Take a nap? Check out the "scenery" on the side of the road? Have really deep philosophical conversations with the director?
— Kevin Reichlin

A.Kevin,
I've been lucky to spend many hours sleeping in the back of team cars. Those needed hours of rest have kept me youthful despite the long work hours as a mechanic. As you mention, most races follow a predictable formula of frantic start, break established, ensuing chase and finale. During the break established and ensuing chase parts there are many quiet hours to kill.
Fortunately I almost never get carsick. Even on mountain descents I've napped. Usually, I filled my time talking with the director (not often on matters philosophical though), analyzing riders, teams and tactics and definitely looking at the "scenery," whether countryside or the countrywomen.
During my first grand tour I brought along books, magazines and even my laptop to watch movies and keep a journal. I learned to do everything from the back seat of a team car. I'd pay bills on my phone, order flowers for my overseas girlfriend and message with friends back home.
The lulls are often broken up with riders needing clothing or drinks, stopping for calls of nature and talking to directors and mechanics in other team cars. Once in the Giro, I even took the wheel for several hours, allowing the director to nap on a particularly long, boring stage.
We also eat in the team car, as shown by the average girth of most directors and mechanics. Each day I checked for three essential items in the team car: our lunches, towels or cloth napkins (used for drying bottles and wiping our mouths after eating) and a trash bag. The rest is simply stuff you carry around for the riders (stuff like wheels, bikes, clothes, bottles, spare parts, etc.)
Inevitably, a puncture, a crash or an attack would snap me out of the relaxation. But that's the job.
Q.Nick,
Following on from Jack Bobridge's breaking of Chris Boardman's 'unbreakable' 4km pursuit world record and then your recent comments about the Superman position, I feel compelled to ask your opinion on the absolute hour record.
Since Superman was banned and the UCI implemented the Athlete's Hour (using non-aero bikes and drop handlebars), riders seem to have neglected the aero-assisted record. However given modern developments in bike design — both aerodynamics and stiffness — and increased R&D into riding position and training techniques, do you think Boardman's other unbreakable record of 56.375km will fall any time soon, using a current and legal UCI pursuit bike?
Obviously it would require a rider and their team to take on the challenge; but on paper (or wind tunnel) at least, do you think the Lotus bike, Superman and so on can be beaten within the UCI regulations of today? And perhaps more to the point, would the UCI recognize the achievement?
— Jonathan Bolton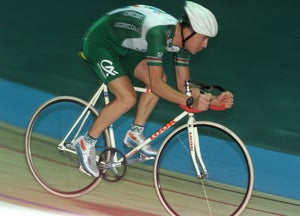 A.
Jonathan,
The hour record is something that has captivated me for years. I think that while attention isn't currently focused on it, the allure will always remain for me. I do believe that it is possible to break Boardman's record. While an idol in my mind, he and his record are certainly human.
Bear in mind when considering my opinion that I'm not a sports scientist, merely a fan of the record. That's why I spoke to Allen Lim about the record and his thoughts on it. He referred me to several studies about human performance records, one involving middle and long-distance running, another chronicling Indurain's successful attempt.
What I took from reading them is the inevitability of records being broken, though not often or in the case of the hour record, soon. Marathon running has its two-hour mark, but much like the four-minute mile it will be broken. One study predicts that it will happen in 2025.
Because so few athletes attempt the hour record, it will probably take significantly longer to surpass Boardman's achievement. And then, like most records it will take a "perfect storm" as Lim calls it. The athlete's physiology, morphotype, bicycle and training technology as well as the appropriate track and conditions must all conspire for records to happen.
So Boardman's record could be broken, but with the UCI's emphasis on the athlete's hour record there is little motivation to attempt it. If an athlete was to go for it, I'm not sure that the UCI would recognize it. And that's the key to the whole thing. No one is interested in a record that isn't recognized!
In discussing the hour record, it's important to point out that Boardman himself came up with the idea of the athlete's hour record. He and his team set about defining criteria for attempts like using velodromes at sea level, tubing profiles, minimum spoke counts, etc. But then Boardman pushed the limits on each piece of the technological puzzle. The bike he rode has little value as a mass-start race bike. It was built specifically for the record.
Great question Jonathan, thanks!
Q.Nick,
There seems to be a lot of hubbub about ceramic bearings in the amateur ranks these days. What kind of presence do ceramics have in the pro peloton? Obviously some wheels and bottom brackets, and even derailleur pulleys, come with them stock these days, but do pro mechanics often switch out the standard steel bearings for ceramics on pro bikes?
— John Beriault
A.John,
Absolutely. Other than headsets (and now, of course, there are ceramic headset bearings. Why? You got me!) all the bearings on a race bike are ceramic, whether full ceramic or a hybrid. There is no need from a performance or financial standpoint for ceramic bearings on training/home bikes. A good ceramic bearing, installed properly will increase efficiency, but to be honest the gains are very small.
I think that the average amateur racer, especially one with limited funds, should invest in a good bike fit, keeping new chains on his bike and paying a coach if they are looking to go faster. If you've already covered every base, give ceramics a spin (pun intended). They certainly won't hold you back.