Ask Nick: Would you buy a used car from this man? Ridin' wrenches
What do UCI WorldTour teams do with team cars after races outside of Europe such as the Tour of California or the Tour down Under?
Heading out the door? Read this article on the new Outside+ app available now on iOS devices for members! Download the app.
Q.Nick,
What do UCI WorldTour teams do with team cars after races outside of Europe such as the Tour of California or the Tour down Under? I saw a BMC team car parked in downtown Sacramento, California today while eating lunch.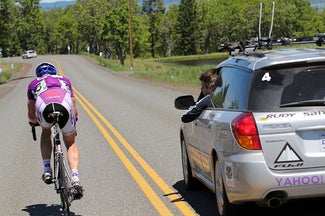 A week beforehand, I spotted a neutral support car from the TOC. I am wondering if they are just left there until next year and repainted or if they are eventually sold off to fans or someone looking for an eye-catching ride.
— William
A.William,
The car you saw is indeed a BMC Racing Team car and I'd guess that Sacramento native and BMC director, Mike Sayers was using it.
BMC Racing is based in Santa Rosa, California and have a truck and several team cars stationed in the U.S. Other U.S.-registered teams like Radioshack, HTC-Highroad and Garmin also keep a few cars stateside. But the rest of the top teams use rental cars that race organizers provide for them at races like ATOC. So there really aren't that many WorldTour team cars around in North America.
The ones that are here are often used for several years. One small note: team cars are rarely painted anymore. Vinyl graphic wraps cover the entire car in team livery. This keeps the paint protected for resale and makes changing the sponsor logos easier year to year.
Eventually, the cars are sold off. In fact, for a short time there was a HealthNet team car used for commuting and grocery-getting in Columbia, South Carolina. An old 7-Eleven team van could be spotted just a few years ago cruising around Boulder.
— Nick
Q. Hi Nick,
It's obvious that you ride as well as wrench. My question has to do with riding as a wrench. How many of the pro tean mechanics ride bikes? And how much time do you have for riding when you are on the road with a team? You go to some nice spots that most of dream about, do you have enough time to enjoy a ride? And do you ever ride with the pro rides?
— Leo
A. Leo,
Many pro mechanics ride. But the opportunity to do so regularly during the race season doesn't happen very often. That is the irony of working in professional cycling: you don't get to ride very often!
Days are long and energy is best saved for the next day. And space is often limited as well. There isn't a lot of room for personal bikes in team trucks. But when possible I'd bring mine along. One ride in a weeklong stage race really helped me de-stress and re-energize.
But don't count on having time to be super fit. Mostly my rides were recreational. Being a team mechanic is an "on-call" position and often when I'd have time to ride I would take a nap instead, or read a book, or watch a movie.
Many staff members run while on the road. It takes a lot less time and fitting running shoes into your luggage is easier than an entire cycling kit.
During training camps though I would sneak in a pedal. When the guys went out for five or six hours, I'd roll out for three. But you only get a few camps a year and often you're busy building new bikes during them.
Riding with the pros can happen. CJ Sutton used to beat me up on his easy days when I had time at home in Girona in 2009. But for the most part there just isn't time.
— Nick
Q. Nick,
In the pro races sometimes you see the team car come beside and hand a rider a drink in a can, already open of course. Is it some sort of cola or energy drink?
— Ron
A. Ron,
Cokes are popular late in a race. The sugar and caffeine give a kick and, for some, the carbonation can settle a rumbling stomach. Fanta is also popular. Aquarius is a Coke-owned electrolyte drink sold in Europe that comes in a can.
Cancellara used to ask for a small bottle of sparkling water, a Perrier or something similar. He said it refreshed him more than plain water.
In hot races, anything really cold is much appreciated by most suffering cyclists. But Coke seems to go down easiest.
— Nick
Q. Nick,
I was wondering about the recent photo of Christian Vande Velde's bike. Every single part and piece of his R5CA is lighter than my RS, which weighs 16 pounds. How can his bike meet the weight limit? Isn't it time for UCI to revisit and revise?
— Clark
A. Clark,
I'm sure that CVV's R5CA meets the UCI limit, but not without some work to get it up to the minimum. It isn't hard to build a bike under the 6.9-kilogram/14.99 pound UCI limit. Cervelo's R5CA frameset is exceptionally light, as are the parts that hang on it.
But in the effective 56cm size that CVV rides, his bike won't be hard to get to the limit. Solid Rotor chainrings add a bit of weight and improve power transfer and shifting. I didn't see a Rotor chain catcher, but that can be added if need be.
As far as the UCI revisiting the weight minimum….well, I wouldn't hold my breath. The UCI has stuck to its guns on most of the rules born out of the Lugano Charter in 1996. And really the rules are good ones. Most technical problems associated with the UCI are the result of poor official education. There is nothing wrong with rules, but their enforcement needs to be universal and consistent.
— Nick