Bart Wellens wins round 2 of 2011 U.S. Gran Prix of Cyclocross
Bart Wellens (Telenet-Fidea) soloed to a mud-spattered victory in round two of the Planet Bike Cup on Sunday.
Heading out the door? Read this article on the new Outside+ app available now on iOS devices for members! Download the app.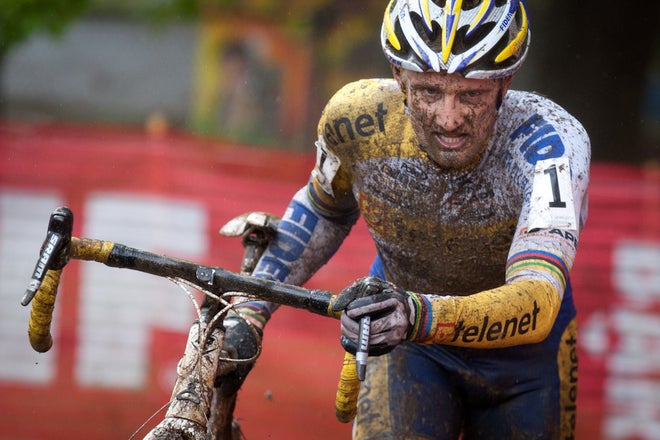 SUN PRAIRIE, Wisc. (VN) — Bart Wellens soloed to a mud-spattered victory in round two of the 2011 Planet Bike Cup on Sunday.
The Belgian put on a show of dominance for the relatively small crowd that braved the cold rain to watch the race in person — and for the rest of the field of pros, who saw what a two-time world champion can do in difficult conditions.
After taking a break for the women's race the rain returned with a vengeance for the second race in the Exergy U.S. Gran Prix of Cyclocross series. It was good news for riders known for their skills in the mud, including Wellens and European-based American Jon Page, who took second on the day.
"I was laughing to myself when it was raining really, really hard this morning," Page said.
Another celebrated mudder, Cannondale-Cyclocrossworld.com's Tim Johnson, crashed on the first lap and hurt his right shin. He dropped out on the next lap.
Belgian holeshot
The course was well-soaked by mid-morning Sunday, with the heaviest rain, thunder and even a brief hail storm hitting during the Masters race that preceded the pro women. Officials were keeping an eye out for lightning and possible funnel clouds that were mentioned in one forecast. Neither materialized near the race venue.
The rain picked up again as the men staged; during the race it stopped and started several times, with a rainbow rising behind the pits for much of the race.
Wellens' Telenet-Fideo teammate Rob Peeters (Telenet-Fidea) grabbed the hole shot followed by Page (Planet Bike-Blue Bicycles) and Christian Heule (Cannondale-Cyclocrossworld.com). Saturday's winner Ryan Trebon (LTS-Felt) was well back in the bunch in the early going.
Page soon slipped into second place, just behind Peeters, with Heule sitting third. Trebon was in sixth with Wellens to keep him company.
Going through the start-finish with four laps to go Wellens and Peeters had separated themselves from the others, and Trebon was leading the chase. The pace popped Page off the back, but Heule stuck with Trebon.
Wellens comes on

Wellens later said he had difficulty finding a tempo for the first lap or two, but then settled into a steady pace.
"I could just go one tempo, but that tempo was fast enough to beat them," he said.
Wellens had not brought mud tires to the U.S. and had to borrow a set of wheels from masters racer Bill Elliston, who had been showing Wellens and Peeters around Wisconsin all week. With mud tires (Challenge Limus) on the bike he started, but not on his pit bike, Wellens never switched bikes during the race. Meanwhile many of his competitors took a clean bike almost every lap.
His bike muddy but working just fine, Wellens shed his teammate at mid-race. Trebon was hitting his stride after struggling early in the day and soon settled into second place.
With three laps to go Wellens was all alone racing through the start-finish — and so was Trebon, perhaps five seconds behind. A resurgent Page fought back up to Trebon and passed him.
With two to go, Wellens was gone and looking unbeatable, accelerating out of the saddle as he went through the start-finish line, perhaps a dozen seconds ahead of the two Americans.
The battle now was for second place. Trebon was looking stronger than Page on the straights, but Page could make up ground on the technical sections.
On the last half lap, Trebon slid out on a side slope leading into the run-up and Page pounced, cranking to a satisfying second place after a frustrating race Saturday.
"We were both on the rivet," Page said after. "(Trebon) made a mistake and I was able to capitalize on it."
A cheerful Trebon said he had fun "playing in the mud."
"It's always fun in the mud, but sometimes it's a little more frustrating than others," he said. With a shake of his head, Trebon said his crash on the final lap, which allowed Page to grab the second spot on podium, was his only crash of the difficult race.
Race notes
Page, Wellens and Peeters are each headed back to Europe this week, while some of the Americans will head to the Gloucester Grand Prix in Massachusetts. The USGP resumes in two weeks in Fort Collins, Colorado.
Wellens took the series lead Sunday, but will not defend it, leaving Trebon positioned best in the series with three race weekends remaining. Trebon is followed by Peeters and Page, neither of whom are expected to race anymore USGP events this year. Jamey Driscoll is fifth.
Zach McDonald (Rapha-Focus) won the U23 competition Sunday. Saturday's U23 winner, Yannick Eckmann (Shimano-Pearli Izumi), was second and retains the series lead.
Quick results:
Sunday men's
1. Bart Wellens, Telenet Fidea Cycling Team, in 59:42
2. Jonathan Page, Planet Bike/Blue Bicycles, at 15
3. Ryan Trebon, LTS-Felt, at 27
4. Rob Peeters, Telenet Fidea Cycling Team, at 49
5. Christian Heule, Cannondale Pb Cyclocrossworld.c, at 1:01
Series standings
Name, Team, Race #1, Race #2, Total points
1. Bart Wellens, Telenet Fidea Cycling Team, 40 50 90
2. Ryan Trebon, LTS-Felt, 50 34 84
3. Rob Peeters, Telenet Fidea Cycling Team, 30 30 60
4. Jonathan Page, Planet Bike/blue Bicycles, 10 40 50
5. James Driscoll, Cannondale-Cyclocrossworld.com, 26 23 49