Bobby Sweeting and Leah Kirchmann take stage 2 of 2011 Tour of Elk Grove
Bobby Sweeting (Kenda-Geargrinder) and Leah Kirchmann (Colavita-Forno d'Asolo) win stage 2 of the sixth annual Alexian Brothers Tour of Elk Grove.
Heading out the door? Read this article on the new Outside+ app available now on iOS devices for members! Download the app.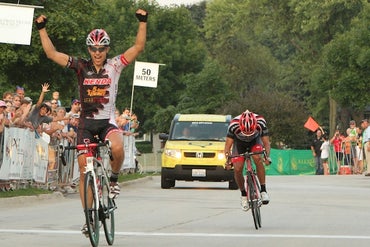 Bobby Sweeting (Kenda-Geargrinder) and Leah Kirchmann (Colavita-Forno d'Asolo) won stage 2 of the sixth annual Alexian Brothers Tour of Elk Grove on Saturday.
Men raced a 155km road stage while women tackled a 50-minute circuit race in Elk Grove, Illinois.
The men's race had no climbing but plenty of challenging turns and lots of breakaway attempts, including a 30-man escape that formed up about halfway through the stage.
As the gap approached three minutes race leader Karl Menzies' UnitedHealthcare team took charge and with four laps remaining the break had been retrieved and the attacks resumed.
A group of six got clear, chased by a larger group that included Rory Sutherland (UnitedHealthcare) and Jonathan Cantwell (V Australia). The lead group shattered while trying to keep ahead of the chase and only Sweeting and Luis Amaran (Jamis-Sutter Home) remained to contest the win.
Sweeting out-kicked Amara in the finale, with Giampaolo Cheula (Geox-TMC) taking third at 53 seconds back.
Meanwhile, back in the peloton, it looked like a Saturday club ride as the bunch sat up and let the two groups up the road decide the stage. They crossed the line 12 minutes behind the leaders.
Amaran took the overall lead from Menzies, who finished 51st on the stage. Amaran now leads Sweeting by three seconds on GC with Chad Haga (Kelly Benefit Systems) third at 57 seconds.
Women wait for the sprint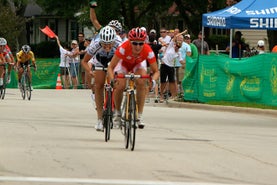 In the women's race, Tibco-To the Top and Colavita kept a tight leash on things, looking to contest the sprint. Race leader Anne Samplonius' NOW-Novartis team made sure none of the big names were able to get any time in the intermediate sprints and kept her near the front in what became a race of attrition, with a steady stream of riders slipping out the back.
The expected mass dash materialized and saw Kirchmann take the victory ahead of Joelle Numainville (Tibco-To the Top) and Theresa Cliff-Ryan (Colavita).
Samplonius finished seventh in the same time and retains her overall lead.
Sunday's third and final stage serves up a 115km circuit race for men and a criterium for women.
Quick results
Stage 2
Men
1. Robert Sweeting (USA), Kenda Pro Cycling-Spinergy, 3:22:07
2. Luis Romero Amaran (Cub), Jamis-Sutter Home, at 0:03
3. Giampaolo Cheula (Ita), Geox-TMC, at 0:59
4. Andrew Dahlheim (USA), Bissell Pro Cycling, at 1:03
5. Chad Haga (USA), Kelly Benefit Strategies-Optumhealth, at 1:01
Women
1. Leah Kirchmann, Colavita Forno D' Asolo, 50:17
2. Joelle Numainville, Team Tibco-To The Top, s.t.
3. Theresa Cliff-ryan, Colavita Forno D' Asolo, s.t.
4. Kacey Manderfield, Pure Energy Cycling-Proairhfa, s.t.
5. Carrie Cash Wootten, Team Revolution, s.t.
GC
Men
1. Luis Romero Amaran (Cub), Jamis-Sutter Home, 3:30:51
2. Robert Sweeting (USA), Kenda Pro Cycling-Spinergy, at 0:03
3. Chad Haga (USA), Kelly Benefit Strategies-Optumhealth, at 0:57
4. Fred Rodriguez (USA), Team Exergy, at 1:02
5. Darren Rolfe (Aus), Fly V Australia, at 1:08