Review: Bontrager Aeolus Elite saddle
The Bontrager Aeolus Elite saddle is an approachable snub-nose saddle that isn't too extreme in shape or size. It still offers a deep channel for soft tissue comfort.
Size Reviewed
145mm width
Price
$150
Brand
Bontrager
---
Heading out the door? Read this article on the new Outside+ app available now on iOS devices for members! Download the app.
In the 2008 movie, "Stepbrothers," Brennan and Dale (played by Will Farrell and John C. Reilly) are initially suspicious of each other, but as soon as they realize how much they have in common, they become inseparable. Perhaps it is a stretch, but that's kind of how things went with this new Bontrager Aeolus Elite saddle.
If you're like us, you spent the last 10-20 years riding on more traditional saddles. They had long, narrow noses. There were rarely cut-outs. They weren't always that comfortable when you got low in the drops.
Enter a new generation of saddles with long, wide cutouts, short noses, and dramatic curvature. You can see how we'd be skeptical at first.
Bontrager has joined a number of other prominent saddle companies with a snub-nosed seat of its own to accommodate that low, aero position. The good news is that we quickly made friends with this saddle — no wrestling or name-calling required.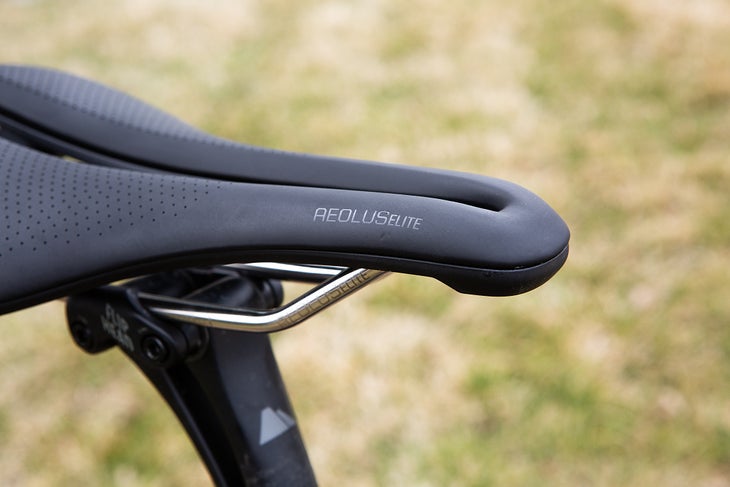 The Aeolus line isn't quite as extreme as some snub-nosed saddles. Perhaps that is why we found it more approachable and quite comfortable out of the box. In addition to the Elite model we tested, there is a carbon-fiber-railed Pro offering and an affordable $90 Comp model.
The Elite is a nice compromise between performance and price. Like its two siblings, it is available in two shell widths: 145mm and 155mm. You'll want to work with your local shop or bike fitter to figure out which is best for your sit bones. All three models have that wide tip-to-tail cutout, but the Pro model has slightly firmer padding.
Out on the road, we quickly settled into a comfortable seated position on the Aeolus. The shell has a generous curvature, which encourages you to stay put. On our first few rides, we could feel more pressure being placed on our sit bones. At first, that was a bit uncomfortable on long (5+ hour) rides. Fortunately, we've grown accustomed to the change in how the saddle supports our weight.
Riders that are more used to moving fore and aft on the saddle might dislike being constrained to one spot. Given that the Aeolus is a bit shorter than traditional seats, there is also less room to move around.
However, Bontrager designed this seat for someone who is trying to settle into a comfortable, aerodynamic position and churn out the watts while seated. Mountain bikers or 'cross riders who are always adjusting their weight distribution aren't exactly the target audience.
Since we've got the 200-mile Dirty Kanza gravel race coming up in early June, at this point, Bontrager's Aeolus Elite seems like the frontrunner for a 12-hour day of pedaling through the bumpy, windy plains of Kansas. The added padding of this model, relative to the Pro saddle, might actually be a boon as the day wears on.
If you're uncertain about swapping to one of these new-style saddles, you can take comfort in Bontrager's unconditional guarantee. Just send the Aeolus back if it isn't working for you.
Learn more about this trend toward snub-nosed saddles in this episode of the VeloNews Tech Podcast: