Cadex debuts new 50 Ultra Disc all-around aero road wheels
Cadex's new carbon-spoked wheels look to be competitively aero, but also very lightweight.
Heading out the door? Read this article on the new Outside+ app available now on iOS devices for members! Download the app.
Cadex Cycling, the premium performance component brand from Giant Bicycles, has today officially unveiled its new 50 Ultra Disc wheelset and a Cadex Aero Tubeless tyres. The new offerings combine for what Cadex describes as, "outright speed, everywhere you ride". First spotted on the new Giant Propel under Team BikeExchange's riders at the Tour de France, the 50 Ultra Disc is intended to be a versatile do-it-all aero road setup that complements the brand's existing 36, 42, and 65 models.
50 Ultra Disc Wheelset
As per usual with Cadex product launches (or any high-end aero road wheel these days, to be honest), the new 50 Ultra Disc wheelset's impressive-sounding stats make for interesting reading.
Leaning on updates brought to its shallower 36 unveiled last year, the new 50 mm-deep rim features a 22.4 mm internal width with a generous 30 mm external width. Cadex says the wider tyre bed creates a rounder casing shape for improved tyre support, grip and handling. Furthermore, Cadex claims the wider rim is optimised for high-volume tyres and designed to smoothly integrate with the tyre sidewalls to improve the aerodynamic properties of the entire system, while reducing rolling resistance relative to narrower tyres at higher inflation pressures, too. Cadex is also emphasising the new wheelset's improved aerodynamic efficiency (particularly in terms of crosswind stability), combined with unusually low weight and extremely high stiffness.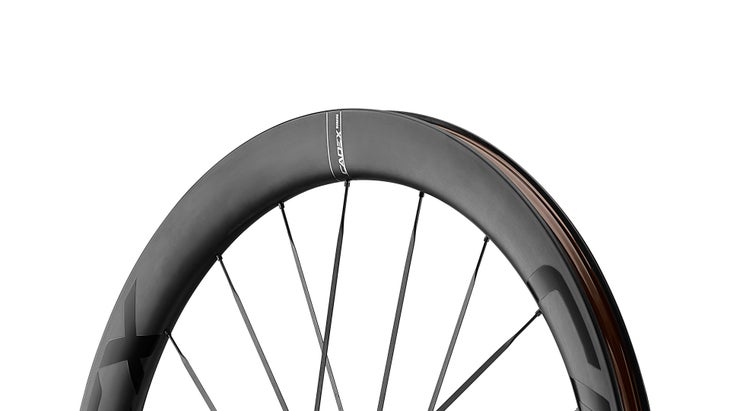 While the new aero rim is one thing, perhaps the most striking visual aspect of the new wheels is Cadex's new carbon fibre Super Aero spokes (yes, that's really their official name). Similar to the brand's current top-end wheels, those spokes contribute to the wheels' aerodynamic properties, but they're also a key contributor to other performance characteristics.
As compared to Cadex's existing carbon fibre spokes, the new Super Aero spokes feature a wider bladed profile — for added Super-ness — to more efficiently cut through the air, while still remaining very light with high stiffness characteristics. Despite this increased aero profile, Cadex claims the new spokes still offer improved crosswind stability.
The Super Aero Spokes feature the same aluminium ends Cadex currently uses in the standard Aero Spokes, so they're still serviceable and replaceable. That's always a good thing, even if the chances of finding a replacement spoke outside of a Cadex dealer are guaranteed to be extremely limited.
Those spokes are laced to Cadex's new R3-C40 Aero hubs. Cadex claims its new hub reduces aerodynamic losses, although we are awaiting a reply as to how much exactly the hub improves the wheel's aerodynamics. Hybrid ceramic bearings are standard, too, and while the general freehub mechanism design looks similar to other Cadex hubs, the ratchet tooth count is down slightly from 60 to 40 teeth (likely in an effort to reduce friction).
All told, the new 50 Ultra Disc wheelset weighs in at an impressive 1,349 grams, and the new wheelset is available soon with a pair set to cost US$3,500 / £2,650 / AU$4,600.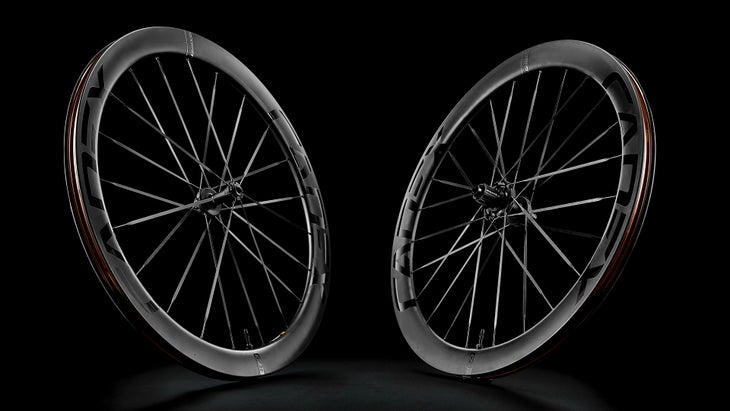 A new Aero Tubeless Tyre to go with them, too
Going along with the new 50 Ultra Disc wheelset is the new Cadex Aero Tubeless Tyre, which is said to offer decreased rolling resistance along with aerodynamic advantages.
Cadex is not the first to try their hand at aero road tyres; Zipp offered its Tangente dimpled aero tyres as far back as 2007. Zipp's approach focused on a pointier cross-section and a dimpled tread, though that ultimately came at the cost of increased rolling resistance.
Cadex, seems confident it has achieved that difficult balancing act. Relying on extensive CFD analysis and wind tunnel testing, Cadex landed on a tall and oval-shaped tyre profile, with thinner sidewalls and thicker mid-sections to form what Cadex describes as "a more streamlined, seamless interface for hookless aero rims".
As for the tread, the Aero tyre features Cadex's new RR-A silica-based compound and micro-file shoulder tread pattern, all of which is said to lower rolling resistance by 15% (presumably from the existing Cadex Race model) while improving cornering grip in both dry and wet conditions. The new tyre also includes Cadex's Race Shield puncture protection strip and existing 170 TPI nylon casing.
At 290 grams per tyre, the Aero Tubeless is far from the lightest option on the market, coming in at a claimed weight 40 grams heavier than the Continental GP5000 S TR. That said, if Cadex's rolling resistance and aero claims prove accurate, that additional weight won't matter as much.
Presumably in the name of aerodynamics, the new tyre is only available in a 25 mm width.
Cadex suggests the new tyres should be available soon, priced at US$100 / £65.
Testing, testing, 1, 2…
Cadex's new wheel-and-tyre combination is certainly billed as the new holy grail, but then again, that's standard practice for new introductions these days. Unfortunately, I haven't yet had a chance to try either the new wheelset or the tyres, so I can neither confirm nor dispel those claims (and CyclingTips head of tech James Huang only just recently received one sample set, and hasn't yet had a chance to test them).
In the meantime, Cadex has provided a raft of aero test data to back up their claims on both the new wheelset and tyres. Granted, the testing was conducted by Cadex itself and so feel free to ignore your doctor's orders this once and apply the usual pinch of salt.
Cadex conducted four rounds of testing, each comparing the new wheels and tyres to a selection of industry-leading competitors. The first and second test protocols were performed using the wheels and tyres only with no bike or rider, while the third and fourth test protocols were performed using a complete bike and Giant's "Grischa 2" articulated mannequin. Wind speed and wheel speed were set at 40 kph across all tests, while yaw angles were measured across a range from +20° to -20°.
The tests compared the new Cadex 50 Ultra Disc with the Enve SES 5.6, the previous-generation Zipp 454 NSW, DT Swiss 50 Arc 1100, and Roval Rapide CLX. The tyres on test included the new Aero Tubeless mentioned above, plus the Cadex Race 25c, Continental GP5000 25c, Specialized S-Works Turbo 26c, and the Vittoria Corsa TLR 25c. Finally, the testers used the Giant Propel Advanced SL Disc, Specialized Tarmac SL7, Canyon Aeroad CFR Disc, and Cervelo S5 during the complete bike tests.
In the first test, the testers paired all the wheels with the new Aero Tubeless tyres, which Cadex claims helps measure the aero performance of each wheel. Cadex's testing sees the new 50 Ultra wheelset coming out on top as the fastest wheel, but the differences were remarkably small. In fact, the tests show less than a single watt of difference between the new and current Cadex, Enve, Roval, and DT Swiss wheels, while the previous-generation Zipp 454 NSW tested 1.21 watts slower (it's unclear why Cadex didn't test the latest version).
The second test featured the new 50 Ultra Disc with Cadex's new Aero tyre, while the other wheels used a selection of other tyres. This elicited larger differences, with a 5.5-watt difference between the top-scoring Cadex and the Enve and Vittoria tying for fifth. While the second test results in another win for Cadex, the random selection of wheels and tyres doesn't fully confirm if the Cadex pairing is truly fast or if the other tyre and wheel pairings are simply a less optimal match for each other.
In the third test protocol, the test wheels were paired with the same tyre combinations as the second test and mounted on a Giant Propel Advanced SL Disc. Once again, the Cadex 50 Ultra Disc with Cadex Aero 25c tyres came out as the winners, with a 4 W spread from first to last. The test also looked at the crosswind stability of each wheel and tyre combination with the additional side load experienced by each wheel measured in newtons. Interestingly, the new 50 Ultra Discs finished in third place in this test, behind Roval and Enve.
Lastly, the fourth test looked at how the new 50 Ultra Disc wheels faired across a range of industry-leading race bikes when compared with the same common commercially available competitor wheel-and-tyre combinations. Again, the new 50 Ultra Disc was shown to be the fastest across all the bikes against the range of tyre and wheel setups tested in the same bikes.
Unsurprisingly then, the new Cadex wheel and tyre system tested fastest overall across the four tests conducted by Cadex. Reading between the lines of Cadex's own testing suggests perhaps the biggest aero differentiator across its testing actually came from the tyre, and not the new wheelset. That said, even if the new 50 Ultra Disc is only on-par with other top competitors, the low weight and high stiffness we've noticed with other Cadex carbon-spoked wheels could prove to be an interesting factor — and if nothing else, the new tyres could prove to be a relatively cost-effective way to save a few watts by themselves.
More information can be found at www.cadex-cycling.com.