2022 Cannondale Synapse Carbon 2 RLE review: One smooth ride
An overhauled endurance road platform meets modern all-road capability. It's wonderful but there's a but.
Heading out the door? Read this article on the new Outside+ app available now on iOS devices for members! Download the app.
What does the category of endurance road mean today? Is it a pure road bike that's simply more relaxed in its fit to offer better comfort for more people? Or is it a road bike that's also trying to be gravel-lite-bike? When it comes to the newly overhauled Cannondale Synapse Carbon, the answer to both questions is yes.
With tarmac roads and endless gravel roads better kept than my lawn, the CyclingTips Steamboat Field Test offered the perfect opportunity to test the theory of whether a modern endurance road bike is all the gravel bike many of us need. And so, while the new Synapse Carbon wasn't directly comparable to anything else we had on test, it still felt like the perfect place to take it for review.
All of our testers loved this bike, and yet, it had some things that distracted from the high praise. This is a wonderful road bike that many will find joy in owning, but there are some important things to consider…
[ct_story_highlights]What: Cannonale's latest endurance road meets all-road bike. ||Key updates: No more silly proprietary components, room for 35 mm rubber, increased ride comfort, aero tube profiles, SmartSense electronics. ||Weight: 8.91 kg / 19.64 lb (as tested, without pedals, 51 cm). ||Price: US$5,550 / AU$9,000 / £5,800 / €6,300.||Highs:Smooth ride quality, versatile tyre clearance, stable yet-not-sluggish handling, Shimano Ultegra Di2, easy to service component fitments, classy subdued styling. ||Lows:SmartSense and the fact it's a forced feature you're paying extra for, wheels could be fancier for the money, mis-matched thru-axles.[/ct_story_highlights]
A synopsis of the new Synapse
I've previously squeezed most of the juice from what's new in the new Cannondale Synapse Carbon, and would encourage you to check out that article if you'd like to know it all. For everyone else, here's a brief recap of what this new model has to offer.
The Cannondale Synapse Carbon has long stood as an endurance road bike with sportier handling and a lighter weight than many of its direct competitors. It's an endurance bike that the CyclingTips team has got on extremely well with over the years, although in our eyes, a few odd component fitments here and there always kept it from being the true benchmark that it was otherwise capable of being.
For 2022, Cannondale gave the Synapse Carbon a complete overhaul. What remains is the sporty handling and a relatively simple approach to comfort. What's gained is room for up to 35 mm tyres (allowing for a 4 mm surrounding gap) and the versatility that such room affords. And what's gone are the strange and often-proprietary component fitments; these have been replaced with the bike industry's most standard of fitments – there's even an English threaded bottom bracket (yes, you read right).
Despite a regular 27.2 mm round seatpost replacing the previously used 25.4 mm number, Cannondale claims the new Synapse Carbon offers a smoother seated ride than the last. And with a heap of exposed seatpost due to the vastly low-slung top tube and dropped seatstays, you can see how this comfort has been achieved.
Meanwhile, the frame looks more like every other new road bike with its truncated airfoil-shaped tubes in an effort to gain some free speed. Those shapely tubes have seen a whisker of weight added, with a claimed frame weight of 1,035 g (56 cm, painted).
The geometry across the six available sizes isn't a huge departure from the previous iteration, with the stack and reach figures (which mostly define how a bit fits) carrying over almost business-as-usual. Meanwhile, the chainstays have grown by 5 mm to 415 mm, the head tube angles are a little steeper, and the seat tube angles subtly slacker. Oh, and the smallest 44 cm size is no longer in the range – boo.
Cannondale makes a big deal about its "Proportional Response size-specific design", or as I would describe it, bikes that are properly designed for each respective size rather than a 56 cm that is scaled up and down. In theory, this means that Cannondale has paid attention to ensuring the handling isn't compromised in any of the frame sizes, while the tube profiles and carbon layup are adjusted accordingly, too.
Unlike previous iterations (and much of the competition), Cannondale only offers a single level of the Synapse Carbon frame. Components, paint, and attached accessories change throughout the different price tiers of the new Synapse Carbon range, but the carbon layup of the frame remains the same. And so, the findings of our review are quite likely applicable to whichever price point tickles your fancy.
The mention of attached accessories are two words I don't often use when talking about complete bikes, but Cannondale being Cannondale, it found a new way to be unlike any other brand. The new Synapse Carbon features a host of semi-integrated electronic accessories from Garmin and Lezyne that are collectively called SmartSense. Here, a single USB-C battery pack mounted on a special dock at the down tube is used to power both the integrated Garmin radar/rear light and the Lezyne front light. Certain models also add a small head unit for the radar. And all SmartSense-equipped models feature a speed sensor on the front wheel that triggers the system to auto-start, all while optionally using its built-in GPS to record your ride for viewing or upload once you're done. This is a big and polarising talking point of the new bike, one I'll return to.
The new Synapse Carbon range starts from US$2,400 and tops out at US$7,000. As tested, the Synapse Carbon 2 RLE sells for US$5,500 and features Shimano's new Ultegra Di2 12-speed groupset. The bike rolls on Fulcrum Rapid Red 500 wheels, with the shallow-depth alloy rims wrapped with Vittoria Rubino Pro 30 mm tubeless-ready tyres. Those tyres measure an actual 31.95 mm on the 23 mm-width rims. The handlebar is from FSA, while Cannondale supplies its own stem and carbon seatpost.
The "RLE" in the name is about the SmartSense accessories and means the bike features integrated radar and lights. Our size-small tester weighed 8.91 kg (19.64 lb) without pedals, but with a couple of not-light lights.
A buttery ride
Endurance road bikes have a bit of a strange stigma to them. Part of it is that much of the bicycle industry pushed such bikes to newer riders and an older generation of road riders who were getting a little too creaky in the lower back for a full-blown race rig. And I think that continued stigma is unfortunate because when compared to more race-focussed machines, the Synapse Carbon is likely the better bike for most.
Cannondale may have made some substantial changes to the Synapse Carbon recipe, but what remains is the rewarding feeling of a pure road bike, just one that offers a more relaxed fit and a smoother ride.
From the first pedal stroke, I was pleasantly surprised by the new Synapse. In my mind, this bike would feel soft, dull, and unresponsive to the effort. Instead, it felt sharp and reactive, not unlike a good race bike. And it offered that lively feeling without any sense of discomfort. Front to rear, in the saddle and out, it's exactly as smooth as it needs to be to save you from feeling beat. Tickle me impressed.
And I'm not alone in that opinion. "When I think of this bike, I just think of butter," said our pro-rider-on-sabbatical, Ellen Noble. "Everything about it felt super smooth."
"Great ride quality. Very smooth and composed. So, so comfy," added CyclingTips' head of tech, James Huang. "Yet it doesn't feel soft at all, either up front torsionally or especially out of the saddle pedalling. Power transmission feels superb. I suspect the super sloping top tube and heaps of exposed seatpost help a lot in this respect."
The overall weight of our tested model is underwhelming. Ok, it's heavy. And yet, it didn't come up as a negative with any of us. Despite those wide puncture-resistant tyres and not-feathery alloy wheels, the bike retains a light and whippy feel to it. Climbing out of the saddle provides a nice responsive feel where the bike sways back and forth without additional effort. It's a feeling that James and I attribute to the smooth ride, one that keeps its momentum without making you feel the resistance of the surface beneath.
The fit of this bike suggests it's a lazier handling machine, but a look at the 56-58 mm trail figures will tell you that's not the case. The bike steers with minimal effort and can dodge a pine cone at a moment's notice. And yet, it balances that with a slightly longer wheelbase that gives stability at speed. Mindless confidence is what this bike offers, and I can only offer praise for that.
Fit-wise, the Synapse Carbon remains a little more stretched out and lower in the front end than a Trek Domane or Specialized Roubaix. In this sense, it strikes the balance between pure race bike and a more laid-back weekender, not too unlike the Canyon Endurace, BMC Roadmachine, and Cervelo Caledonia – and that's some pretty wonderful company to have.
Looking to test out the quoted 35 mm tyre clearance (well, mainly to do some skids), we fitted some Schwalbe G-One RS gravel tyres in a 35 mm size width. The rims were pre-taped for tubeless and these tyres inflated easily without needing a dedicated tubeless inflator.
Everything we liked about the Synapse Carbon on the road carried over seamlessly to the dirt. Those wider tyres helped to take the edge of quickness off the steering and just provided more stability in return. Meanwhile, the already smooth–enough ride got smoother with the higher quality and more supply tyre casing offering an improvement over the stock Vittoria Rubino Pro tyres.
If your gravel roads sit in a 1-3 grade range, then a bike like this truly is all the gravel bike you need. It still feels lively and efficient on the road, yet doesn't complain or trigger anxiety when hitting well-kept dirt. And the general simplicity of the fitted components means there's little to worry about.
That said, there are limits to treating a road bike fitted with 35 mm tyres as a gravel bike. The chosen Shimano Ultegra gearing offers a 1:1 gear at the lowest, but that may still be a little too tall once things get ultra steep and slippy. Meanwhile, you'll be hunting for better traction and comfort of wider rubber once things get rough.
As James says, "I wouldn't want to push it too much on gravel, but if your local version of 'gravel' mostly consists of dirt roads, this would be plenty of bike."
Shimano Ultegra Di2 12-speed, oh my
It's difficult not to climb onto a soap box and sing praise for Shimano's latest iteration of Ultegra Di2. This new 12-speed groupset offers benchmark-level smoothness in both pedalling and shifting. The ergonomics of the more compact hoods (compared to the competition) are wonderful. And the brakes provide finite control with minimal effort. Not a single negative remark was made by any our testers.
Cannondale has equipped the easiest gearing range offered: a compact (50/34T) crank up front matched with a wide range 11-34T cassette at back. It's a good fit for a bike like this, especially one that's likely to spend its time rolling on larger volume rubber (30 mm +). And while such a wide range cassette may have previously left you hunting for less sever jumps in cadence with each shift, 12-speed makes this less of a concern.
Both James and were thrilled to see Cannondale acknowledge that modern features and simple component fittings can go together. The threaded bottom bracket is the most obvious example, but the theme extends to the external seatpost clamp, round seatpost, and partially exposed cable routing (cables aren't routed through the bar, stem, or headset). These are all old features that the industry moved away from over the past decade, and it's great to see them come back.
Add the set-and-forget nature of Shimano Di2, and your service bill will likely stay quite small. And thinking long term, you'll never struggle to find a suitable headset, crankset, seatpost or other components for this bike.
The provided FSA Gossamer Compact handlebar or Cannondale alloy stem aren't fancy, but both do exactly what they need to. That handlebar offers a completely non-offensive shape that is a good match to the bike's more accessible fit. Meanwhile, the provided Fizik Tempo Argo R5 offers a modern short-nose design and a comfortable level of padding that once again left the test team mostly without complaint.
As already mentioned, the rolling stock of this bike is functional but perhaps a little unexciting. The Rapid Red 500 wheels are an OE-specific (original equipment) version matched in detail to the company's Rapid Red 5 wheelset. These are an alloy offering intended with gravel riding in mind, with a 23 mm internal rim width that offers good support to wider road (and gravel) tyres. The 1,760 g paired weight is an indication of the price, and that not-so-feathery weight comes without any aerodynamic benefit in the rim shape, too.
Still, it's nice that Cannondale use a name-brand wheel with proven durability. It's a wheel that offers wide-open tyre compatibility in either tubed or tubeless use. And better yet, if ever required, you won't struggle to find spare parts for these wheels. That said, the wheelset is one obvious area that leaves room for performance improvement in the bike. A lighter and more aerodynamic carbon wheelset would be a worthwhile upgrade to this bike, especially if you plan on using it as a dedicated road bike.
The provided tyres sit in a similar vein to the wheelset. They're durable, reliable, puncture resistance, perfectly functional, and yet, offer room for improvement. As James remarked, the Rubino Pros have a habit of feeling somewhat dead on smooth roads, and a tyre with a more supple casing will provide better rolling efficiency while improving the ride quality, too.
For those who regularly find themselves riding in the rain will be pleased to know the Synapse can handle full-length fenders. There's also now mounts on the top tube for a snack pouch, and an extra bottle can be carried under the down tube.
Cannondale has previously used Mavic's SpeedRelease dropouts on its bikes which have made compatibility with some indoor trainers tricky. This Synapse features standard thru-axle dropouts, a move I applaud. However, what I don't applaud are the mis-matched bolt-up thru-axles front and rear, with one requiring a 5 mm hex key and the other needing a 6 mm one. Thankfully a thru-axle specialist company like Robert Axle Project will let you fix such lazy design without breaking the bank.
With so much to love about this bike, there are, unfortunately, a few major sticking points – and they're all related to Cannondale's new SmartSense system that is pre-fitted and built into the bike's price.
SmartSense, an aspirational feature you're forced to own
Cannondale has a long history of bucking trends and treading its own path. And while so much of the Synapse has walked away from Cannondale's unusual way of doing things, the exception is seen with the SmartSense accessories.
The idea of SmartSense is quite cool. Most road cyclists have now adopted daytime running lights in order to increase their odds of being seen. Similarly, the Garmin Varia radar is a hugely popular accessory that has a loyal following with those that ride outside of the city. Cannondale simply aimed to make using these accessories simpler through automation and only having to worry about charging one central battery. The intention is that you roll out the door, and your accessories figure out when they need to be on.
And the system is all setup through Cannondale's own phone app, which works rather well. The app can also be used as your bike computer screen, working with the GPS-enabled wheel sensor and rear radar to give you a whole host of features. Meanwhile other cool features include the ability to monitor your usage of the bike, record your fit dimensions, see the bike's specs in case you needed to order a spare part, and even schedule routine maintenance notifications.
Unfortunately, the idea of SmartSense may be great, but the execution just isn't up to the level of this otherwise great bike. All of our testers agreed that the front (Lezyne) and rear (Garmin) lights were unexpectedly large in form, yet lacking in brightness. The central battery (another Garmin product) is big, but its capacity won't let you run the system for as long between charges as you may hope – just two to three hours (multiple factors will impact the actual runtime) in the very brightest setting. And the general use of it proved to have a few annoying quirks.
"Something like this shouldn't be finicky at all, but it unfortunately still is." said James, who initially found himself fighting the system in order to wake it from its sleep mode. And when you see a tech editor fighting with a cycling accessory, you know at some point others will, too.
Then there's also the weight issue. Including its wires, the SmartSense system adds 462 g to the bike (excluding the battery cradle, which is counted in the frame weight). It's a pretty disappointing figure when you consider that running comparable accessories with self-contained batteries is often lighter.
And there are other small nuisances, too. The seatpost-mounted rear light and radar make it trickier to install and then access a saddle bag – and some bag designs simply won't work. Meanwhile, the rear light is wired through the top of the seatpost, meaning there's a hole into your seat tube awaiting your next wet ride. Worse yet, James remarked that the slacker frame seat tube had him wanting a seat post with less offset (to get the saddle more over the bottom bracket), and yet, the wiring through the seatpost means your options for fitting other 27.2 mm posts are vastly more limiting.
There's also the issue that the central battery isn't responsible for the Di2 shifting, and so on this specific model, you have two rechargeable batteries to keep a check on – although given the longevity of the SmartSense battery, having the shifting on its own circuit isn't a bad thing. And while we previously praised the Synapse Carbon for keeping its cables external of the headset, James and I don't like that there's a messy SmartSense wire at the front of the bike (the brake hose length could be cleaned up, too). Yeah, we're hypocritical like that. Lastly, I've praised Cannondale's move away from proprietary component fitments, but the SmartSense battery dock is a quilty exception.
Overall we'd like this system to be more compact, brighter, more efficient on battery usage, and lighter.
Ok, so the SmartSystem does work. It doesn't rattle, it's reasonably easy to use, and as mentioned, the concept has merit. However, I just wish you weren't forced to buy it if you want a nicely equipped Synapse Carbon. I'd much rather see the frame have provisions for this integrated system and Cannondale then offer it at a reduced cost to the bike's owners. Sure it'll be harder to install after it leaves the factory, and fewer customers will end up owning it, but they'll sell vastly more of these wonderful bikes.
A dreamy bike, spoiled
Cannondale may have made the new Synapse Carbon look like any other well-rounded road bike available today. However, it manages to separate itself in its wonderful ride. This truly is a versatile, capable, efficient, and impressively smooth-riding bike that would surely make cycling more enjoyable to almost anyone who seeks a more forgiving riding position than what a full-blown race machine forces (and truly, that's most us). And it's only made better by the standard component fitments that make it simple to service.
Certainly, there's a lot to love about this endurance-meets-all-road-bike, but unfortunately, you'll need to buy into the SmartSense system to enjoy it. If only SmartSense were an optional extra, this is otherwise one of the best general riding road bikes on the market today.
Gallery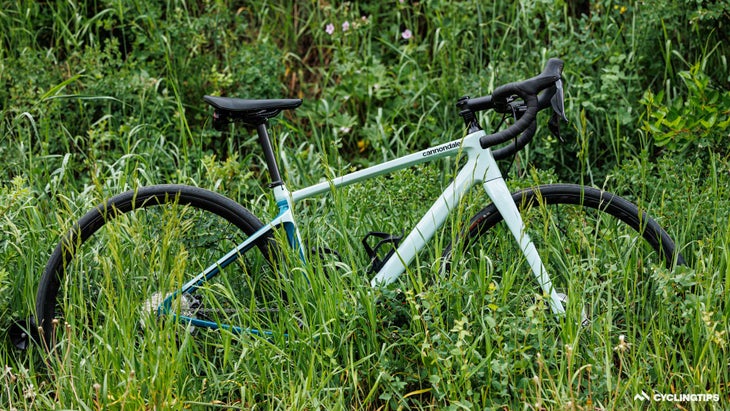 [ct_highlight_box_start]CyclingTips Field Test group bike tests are never paid for by the participants, but they're still only possible with some outside assistance. CyclingTips would like to thank the generous support of Assos for this year's Field Test.[ct_highlight_box_end]