Cannondale's prototype aero bike: What we (think we) know
We dig into the details of the new prototype Cannondale aero road bike spotted at the Giro d'Italia.
Heading out the door? Read this article on the new Outside+ app available now on iOS devices for members! Download the app.
Want to watch the Giro d'Italia? Stream all the stages on Fubo.tv for a special first-month introductory rate of $19.99. Subscribe now >>
ISEO, Italy (VN) — Joe Dombrowski stopped on his way to sign-in before stage 17 to chat. He was riding his Cannondale SuperSix Evo Hi-Mod — not Cannondale's as-yet-unnamed aero bike. That's not too surprising given the hilly profile of stage 17. But Dombrowski revealed he's likely to ride the new aero rig again during the 2018 Giro d'Italia.
"I rode it for a stage in Israel, and another stage in Italy. I'm planning on riding it in Rome," he said. "It's a fun bike. Stiff."
Dombrowski's talents lie on the climbs, not the sprints, so this isn't likely to be his tool of choice. After getting a closer look at the new bike on a team car before stages 16 and 17, we reached out to Cannondale for details. The response: "Cannondale has a strong history using trusted teams and athletes for future product development. We have no other details to share at this time."
In lieu of official details here's what we think we know about it (emphasis on think) from the precious few moments I've gotten to spend with it.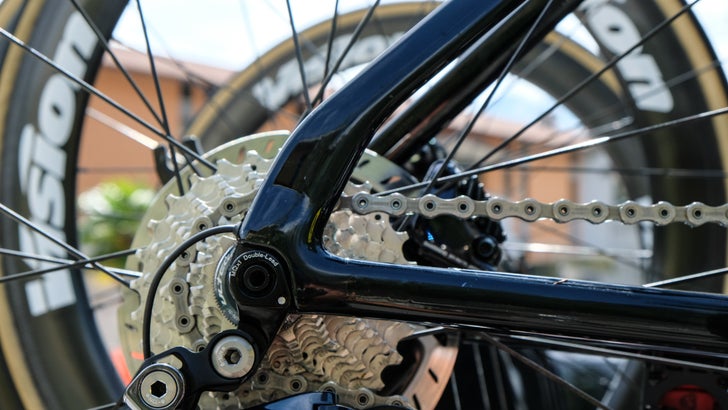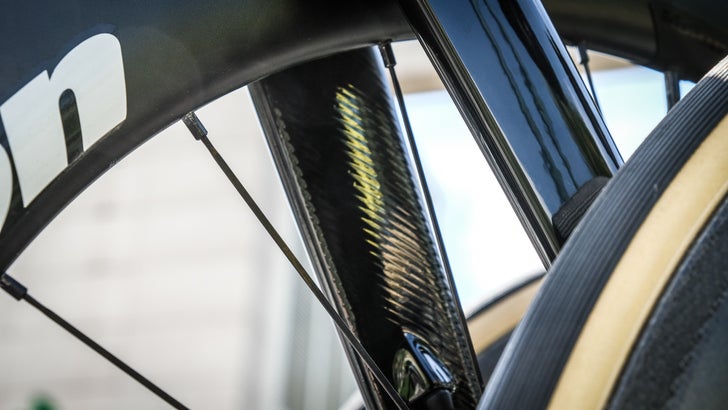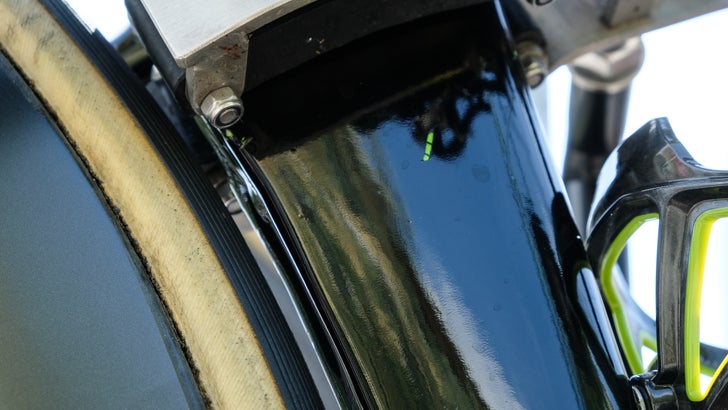 Disc brakes may be the only option
Cannondale has already put pro riders on disc-equipped bikes, especially when it comes to aero designs. Just look at its TT bike as an example. So clearly Cannondale's not afraid to go all in on discs.
And generally, in the past, companies like Cannondale have developed rim-brake-equipped bikes first, then translated the ride to a disc version. That's what it did with its popular all-around bike, the SuperSix Evo Hi-Mod. But with this aero bike, we're seeing the disc brake version come first. It's possible we won't see a rim brake version at all. (Caveat: if pros request it, Cannondale might develop a rim brake version. But that's a big maybe.)
It's probable that this bike was designed exclusively for disc brakes anyway. Just look at the curve in the seat stays near the dropouts. While I'm only guessing here, it looks like this bend is there to accommodate a disc brake caliper while still allowing engineers to keep the chainstays very short. Combine this with the cutout in the seat tube and you've got a rear wheel that's tucked up right underneath the rider.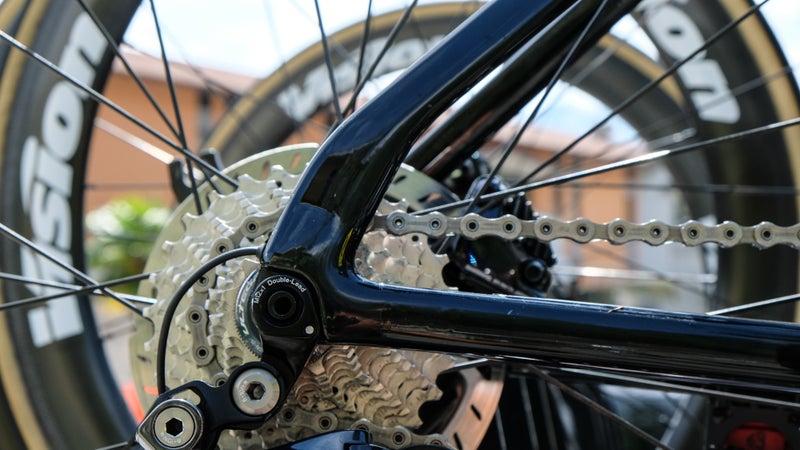 This bike is going to be super stiff
Dombrowski said it himself, but there are other clues. First, that seatpost is absolutely massive. This is generally where it's possible to create some compliance in notably stiff aero bikes by including a small-diameter seatpost or a dedicated compliance feature like Trek's IsoSpeed decoupler, but Cannondale seems to be taking the opposite tack. Is there some other compliance feature within this beast of a seatpost? Perhaps, but it appears Cannondale is looking elsewhere to provide compliance.
Where, exactly? The dropped seatstays, for starters. It's possible we're seeing an evolution of Cannondale's SAVE features here. The dropped seat stays allow flex in both the top tube (which is flattened slightly to accommodate this movement) and in the seat tube. So this appears to be where Cannondale is banking on compliance. That and, of course, wide tires on wide rims.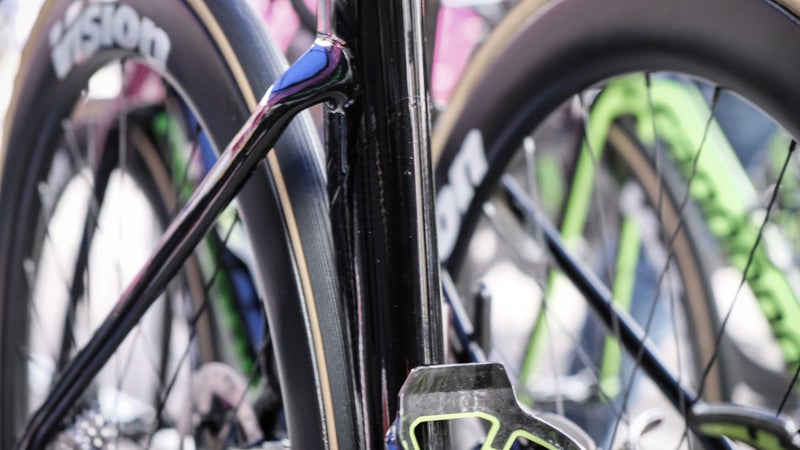 Those ridges look like aerodynamic features
We've already written about those ridges on the seat tube and the inside of the fork blades, and while this could simply be misdirection (this bike is painted black to hide a few things), it's equally possible that these ridges are aerodynamic features. The inside of the fork blades often cause drag-inducing turbulence, so those ridges may help separate air flow from the fork blades to prevent eddies behind the blades, thereby reducing drag. Again, this is conjecture, but we have seen similar features on wheels (Zipp 454NSW wheels, with its Sawtooth texture, is a prime example of this).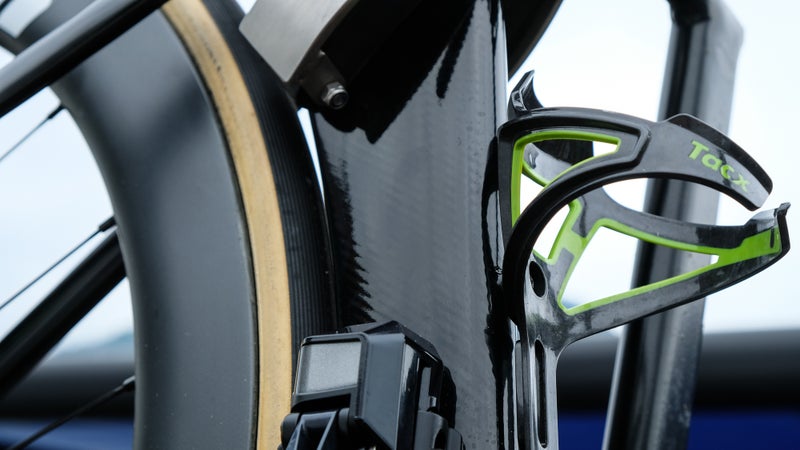 Cannondale certainly did its homework
Just look at the finer details like the bottle cage placement. We've heard from other manufacturers that bottle placement can have an effect on aerodynamics, and it's possible to reduce drag by placing the seatpost-mounted bottle low in the main triangle. That seems to be the case here.
The down tube, too, is not simply a block shape. There are curves leading from the integrated head tube/fork into the down tube, presumably to help guide airflow. The same can be said near the bottom bracket area.
The head tube cable routing port looks incomplete
Okay, we might be stretching here, but I'm having a hard time believing this is the finished product. While it would certainly make for easy cable routing, it also leaves open the possibility for cable housing exposure. When it comes to aero design, round shapes are bad. With all the other details and careful design decisions throughout the bike, it seems like Cannondale's got something else planned here.
My guess: the head tube will work with some sort of proprietary integrated handlebar and stem. We've seen such systems on countless aero bikes, from Trek's Madone to Orbea's Orca Aero and Scott's Foil. Since Cannondale has proven in the past that it's adept at creating activity-specific systems (Once again, just take a look at the company's SAVE system), my guess is we still haven't seen the full package here.