Review: Canyon Ultimate CF Evo Disc 10.0 LTD
Here's how good the Ultimate CF Evo Disc from Canyon is: I could only find two faults with it.
Size Reviewed
56cm
Price
$12,000
Brand
Canyon
---
Heading out the door? Read this article on the new Outside+ app available now on iOS devices for members! Download the app.
Here's how good the Ultimate CF Evo Disc from Canyon is: I could only find two faults with it. One is the price, and that's to be expected for a superbike like this. The other is the hardshell saddle, which hurt me to sit on but was replaced easily enough. Everything else about this bike seems just about perfect.
Basics: Lightest production disc-ready frame on the market; integrated cockpit; SRAM Red eTap AXS drivetrain
Pros: Incredibly lightweight, lithe, stiff, and fun to ride
Cons: Harsh, uncomfortable saddle
On paper, the bike's feathery 13-pound build is the story. Climbers can immediately take delight in that, while the rest of us consider the tradeoffs: Is it noodly? What's the handling going to be like? What about componentry — am I sacrificing performance for weight savings?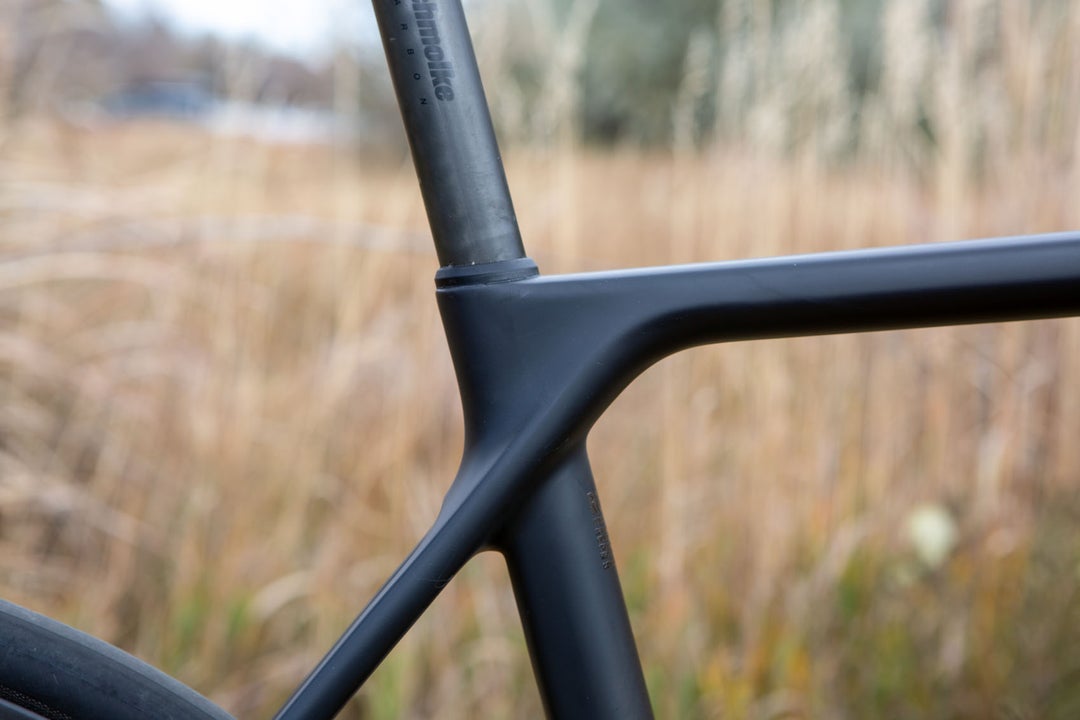 The Ultimate CF compromises nothing. While it may punch in the same weight class as stripped-down climbing bikes, it feels like much more than that. It's super stiff, for starters, which means you get heaps of power transfer on climbs and during sprints.
It also means steering becomes predictable, and you're not fighting any slop when you point the Ultimate CF where you want it to go. It's pinpoint steering, sure, but you won't get that sense of nervousness, like you're wrangling a spooked kitty. The Ultimate responds to your light touch tactfully.
That is, right up until you get all Caleb Ewan over the bars; that's when you'll notice the product of a steep head tube angle and short wheelbase. With your weight far forward, the Ultimate reminds you about its 73.25-degree head tube angle and short 996mm wheelbase. You'll have to pay attention to your steering input in this position; there's little room for error. Unless you're a pretty aggressive sprinter, though, this probably won't matter much to you. In all other situations the handling feels intuitive and just the right amount of responsive.
Perhaps most strikingly, the Ultimate spins up to speed incredibly quickly. That's likely due to how light it is, but the wheels deserve a special mention here.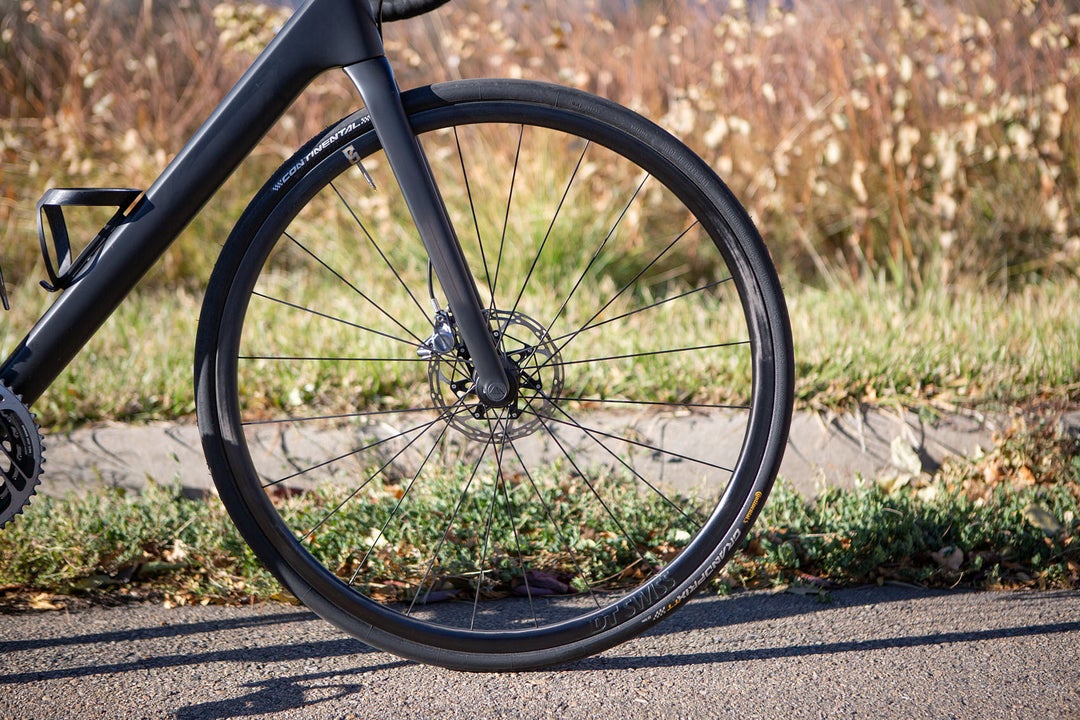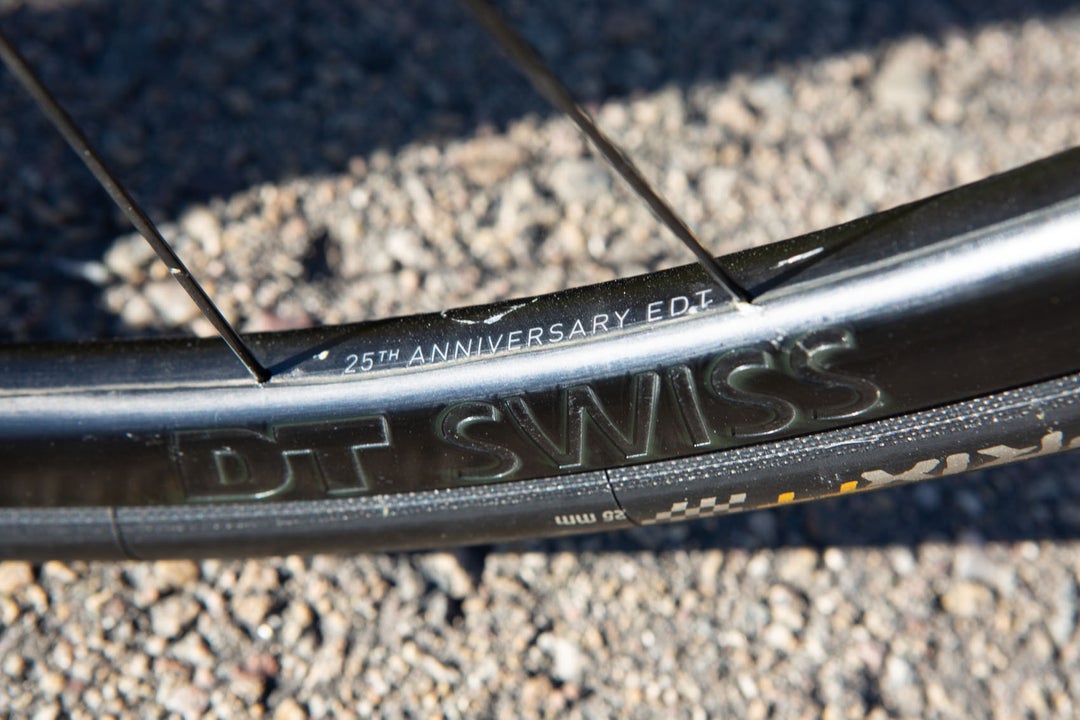 The DT Swiss PRC 1100 Dicut 25th Anniversary Special Edition Wheels weigh just 1,255 grams. They feature 24mm tubeless-ready rims and ceramic bearings, not to mention some cool DT Swiss all-black graphics to match the stealthy black paint job on the frame. It stands to reason that less weight means less mass you need to get moving, which is probably why the bike seems to launch from a standstill.
The wheels also complement the lithe ride on climbs and offer plenty of lateral stiffness. But more importantly, they track well at high speeds, particularly in corners, a testament to that stiffness and an 18mm inner rim width that takes full advantage of your tire's width and shape.
Because the frame is quite stiff, much of the compliance is built into the Schmolke TLO UD Carbon seatpost. It's a bit more springy than I generally prefer, but it does what it's intended to do: scrub off some of the harshness enough to keep you comfortable for long miles. That springiness is a tradeoff I'm willing to accept in exchange for a frame that feels like it's jumping ahead of me when I mash the pedals.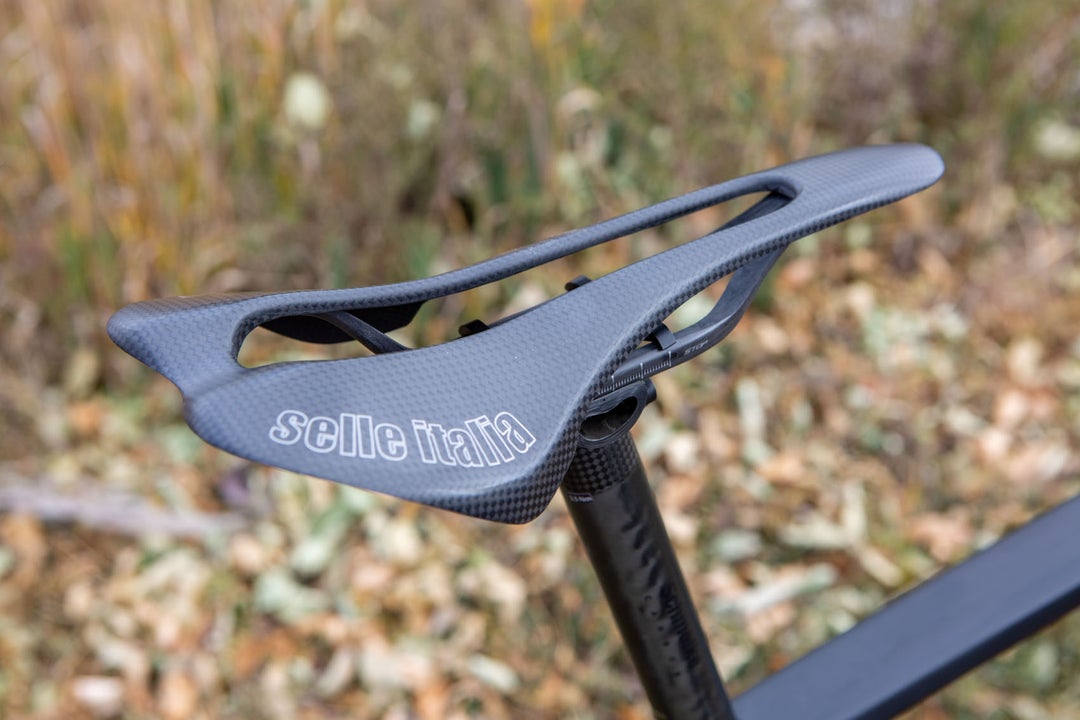 That said, the frame's stiffness can be jarring at times. If you're after a luxurious comfort ride, you won't find it here, but pure racers probably won't mind. The Ultimate has the mannerisms and personality of an eager race bike. It's not trying to be anything else.
The saddle on top of that seatpost looks pretty unfriendly. For me, it definitely was. (Chris Case didn't mind it, though.) Selle Italia's hardshell SLR C59 saddle exists almost solely to provide the lightest saddle solution possible. No padding of course means far less comfort, especially if you're rocking a thin race chamois. While it's not an unbearable saddle to sit on, I would still swap this out for something padded for daily use. (Selle Italia's Novus Boost Kit Carbonio Superflow has been my saddle of choice.)
The integrated cockpit is notable for a couple reasons. First, it is a good example of the category-blending trend, borrowing from aero bike design to complement a climbing bike. That means Canyon didn't just think about making this bike light; there are aerodynamic touches, too, which benefits most riders in daily riding situations, right up until the road gets steep enough (around 6% or so) to make the light weight worth it over the aero touches. Adding the integrated, aero-shaped cockpit presents an ideal compromise that benefits you throughout more of your ride.
And second, it's notable because this cockpit is actually pretty comfortable. The tops taper as they extend outward, which means they feel more rounded underneath the taped sections of the bar. Yet the exposed center section (where your stem bolts would otherwise be) is flattened and smoothed over the top and bottom. The bar tops also feature a slight backsweep, creating a comfortable position for your hands and wrists.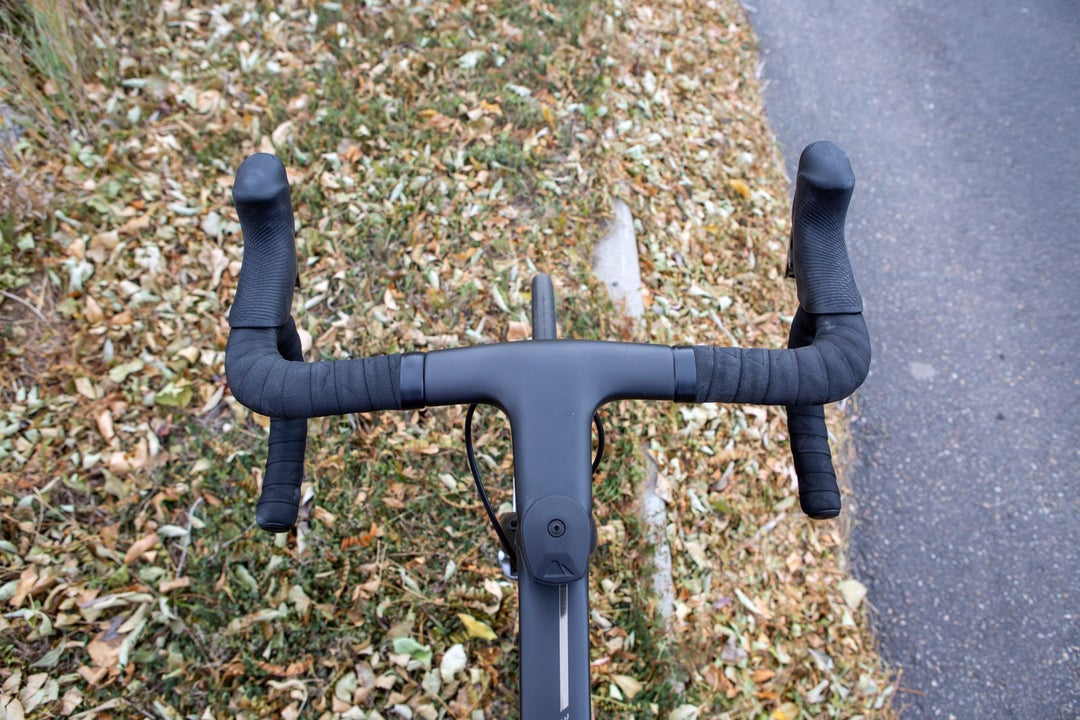 So while you'll pay a premium for this lightweight racer, Canyon has managed to make a superbike worthy of the price tag. That said, it's still a superbike, so chances are you don't need this bike unless you're competing at the top echelons of the sport. If you've got the coin to drop, this bike sure is a lot of fun, and it trades on exceptional handling that's striking given its gossamer weight.
At just 13.1 pounds, this is perhaps the lightest disc brake road bike you can buy. Canyon has succeeded at a heretofore impossible task: creating the lightest disc brake equipped bike without sacrificing handling, stiffness, and basically everything else we love about race bikes. Everything about this bike screams. It's fast, lithe, confident, fun. The weight is just the cherry on top.