Chris Sheppard, Alice Pennington take 2010 Cross Crusade No. 4
Chris Sheppard uses the muddy Portland course to build fitness for Canadian nats while Alice Pennington pads her lead in the Cross Crusade series.
Heading out the door? Read this article on the new Outside+ app available now on iOS devices for members! Download the app.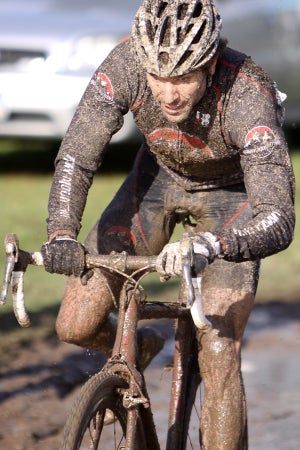 Cross Crusade No. 4 at Portland International Raceway turned into a mud bath Sunday as a thundering herd of more than 1,000 riders battled on a course drenched with several inches of rain in less than 24 hours.
Chris Sheppard (Rocky Mountain Bicycles) continued his preparation for November's Canadian nationals with another impressive win in the men's race, gaining the lead on the second lap and building an advantage of several minutes by the end.
In women's competition, Team S&M's Alice Pennington outpaced rival Wendy Williams (River City Bicycles), opening an early lead and then pulling away again on the second-to-last lap to take the win by a handful of seconds.
By the time the category A men, women and masters hit the former national-championship course for their 3 p.m. start, a full day of racing had churned, trampled and remixed the Oregon mud into a thin, runny goo that flowed like red-hot lava rather than clinging like peanut butter. The venue is relatively flat, with just one major run-up for most of the categories. Promoters added an extra U-shaped run-up for the A racers, the only stretch of green grass they'd see all day.
Damian Schmitt (Sunnyside Sports) and Brett Luelling (BuyLocal.com) jumped into the lead and immediately stretched the men's field to its limits as they raced into a headwind on the gravel road that took them to the far south end of the course.
Sheppard relied on Rocky Mountain teammate Donald Reeb to help him bridge up to the leaders and then took over.
"I had a poor start and Donald bridged me up in that wind," Sheppard said. "From that point on I was just trying to nail all the lines. All the guys in the top 10 have beat me here and there, so I was just trying to push myself and prepare for nationals."
Sheppard had nearly half a minute on a chasing group led by Erik Tonkin (Kona-FSA) early in the third lap, about 20 minutes into the race. From there, the Canadian national and Bend resident steadily built his advantage as Tonkin battled Sheppard's teammate Ben Thompson, Team S&M's Spencer Paxson, and Corsa Concepts teammates Shannon Skerritt and Aaron Tuckerman.
In the end, Skerritt won the battle for second, outlasting Paxson (third), Tonkin (fourth) and Tuckerman (fifth).
Sheppard will miss the next three series races, including the doubleheader next weekend in Astoria and the penultimate race at Washington County the Sunday after that. With scoring based on the best seven of eight races, Skerritt — with two second-place finishes, a third and an eighth — could be well positioned to sneak into the series overall lead.
Pennington does it again
After finishing second in the first two races of the series, Pennington notched her second consecutive win Sunday, adding to her series lead over Williams, who won the week-two race and finished second Sunday.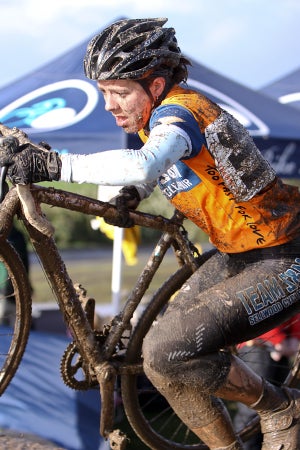 The Team S&M rider got a quick start over the muddy-but-fast course, which involved a lot of deep muck but also featured plenty of hard-packed gravel and paved roads. The women hit the course several minutes after the masters men, and Pennington said she used the traffic to help build her advantage.
"I definitely used some of the guys to draft the road sections," Pennington said. "I built a gap of about 20 seconds. I think Wendy was doing the same thing with the guys, using them to draft, because she actually caught me on the second-to-last lap. She's really good at this pedally, sloggy stuff through the mud."
The masters traffic played a role again as Pennington slipped between two men while Williams was blocked. The move provided enough of a gap to give Pennington a margin she could hold to the finish.
"On the run-up there were these two masters right in our way," Pennington said. "I took a hole shot right through them, and she didn't quite make it around them. I had a little gap, and that was the difference on the last lap."
Williams agreed, saying that traffic from the men's race, along with an illness she's still recovering from, proved to be too much to overcome.
"The guys were aggressively taking her line passing," Williams said. "We were battling it out and they just kept getting in the way. It was frustrating. I was happy that I actually got back to (Pennington), but I just didn't have any more to go."
Pennington, third overall last year's at Cross Crusade, now has a solid series lead over Williams.
Quick results
Men
Chris Sheppard, Rocky Mountain Bicycles
Shannon Skerritt, Corsa Concepts
Spencer Paxson, Team S&M
Erik Tonkin, Kona-FSA
Aaron Tuckerman, Corsa Concepts
Women
Alice Pennington, Team S&M
Wendy Williams, River City Bicycles
Laura Winberry, Elite Endurance
Anna Christiansen, Ironclad Performance Wear
Abby Watson, Embrocation Cycling Journal