Compton dresses for success when the temps fall
When the 'crossing gets cold, Katie Compton turns up the heat with soft, warm and versatile clothing.
Heading out the door? Read this article on the new Outside+ app available now on iOS devices for members! Download the app.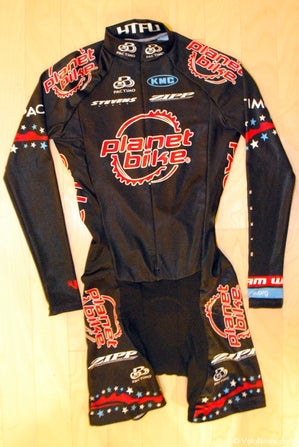 When the 'crossing gets cold, Katie Compton turns up the heat with soft, warm and versatile clothing.
Compton starts up top with the Skull Cap by Bap of Steamboat Springs, Colorado. The Skull Cap uses a basic polyester wicking fabric to help keep the head dry and warm.
"It's a good under-helmet hat because it's thin but it's not tight and it covers my ears. It's perfect," says Compton.
For a skinsuit, Compton uses the long-sleeve Accent by Pactimo, another Colorado-based apparel company. It uses a Miti Italian Lycra fabric and an Ascent chamois, and has an extra-long zipper for easy entry and exit.
Underneath the Accent Compton wears an assortment of Icebreaker base layers depending on the temperature. Icebreaker doesn't sponsor Compton, but she's willing to buy their gear. The base layer that she brought down for photographs, the Oasis Crewe, is light and made of 100 percent merino wool.
"It fits well," says Compton. "It's a great product. I wear just that and the skinsuit when it's cold. When it's about 35 and up I'll just wear a short-sleeve version. If it's less than 35 I'll wear this one. If it's in the 20s I wear a thicker version of that. If it's really cold I'll wear a short-sleeve layer, a long-sleeve layer and a skinsuit.
"I bought a Icebreaker base layer when we were in Oregon at some point. I tried that one and then I got another. Now I pretty much buy Icebreaker whenever I can get a deal. If I had to choose between Patagonia and Icebreaker — Icebreaker."
To keep her hands warm and functioning properly, Compton wears Giro gloves. If it's cold, she picks the Ambient; in cool conditions, she goes for the Blaze. Both use a neoprene lining on the back of the hand to fend off wind and wet and Clarino, a synthetic leather, for the palm. The wrist strap uses a large Velcro patch for a sturdy hold and a large piece of soft fleece over the thumb serves as an ultra-soft nose-wiper. Finally, both gloves use silicone strips on the thumb and first two fingertips to provide a trustworthy grip. The defining feature of the Ambient glove is the X-Static anti-microbial fleece lining, which acts as an extra insulator in cold conditions.
The Ambient gloves "just fit really well — that, and they are water resistant," says Compton. "You can actually feel the bars and the shifters. I don't usually use those if it's less than 35 but I'll probably wear those even if it's freezing because the thick gloves are too difficult."
She wears the Blaze gloves in races when the temperatures top 40.
"They are pretty warm and they are great in the mud because you can still have a good grip on the bars," she says. "I've actually worn those when it's been 55 degrees and they've still been really good."
For leg warmers, Compton uses Milano by Pactimo. Lined with a dense, soft fleece, the Milano is designed to remove moisture and retain heat. Pactimo also advertises that the snug fit mimics the benefits of compression tights.
"If you're wearing leg warmers and gloves and the full winter kit you might as well go warm," says Compton. "I don't understand people not covering up their legs in a 'cross race, it's not like they train like that."
Lastly, you'll find Compton wearing a pair of mid-weight Four Merino socks by Swiftwick. The Four Merino provides a small amount of ankle compression for better blood flow. The fabric is composed of 60 percent merino wool, 30 percent nylon and 10 percent Lycra.
"They keep your feet warm when they're wet because they are wool," says Compton. "It's a good, even compression around the ankle. They're great when it's cold and you're running with mountain bike shoes, which don't provide much padding."