Dombroski, Johnson double up in Hamptons
Amy Dombroski and Tim Johnson double up in the final weekend of the 2009 North American Cyclocross Trophy series.
Heading out the door? Read this article on the new Outside+ app available now on iOS devices for members! Download the app.
By Fred Dreier
Amy Dombroski's acceleration in the final corner of Sunday's Whitmore Landscaping Super Cross Cup paved the way to her second victory of the weekend. The race marked the final event of the 2009 North American Cyclocross Trophy (NACT) series.
Dombroski's surge through a tight U-turn opened a small gap on Georgia Gould (Luna), with whom she had battled for the entire 45-minute race. She held the gap — no bigger than a few bike lengths — to the line.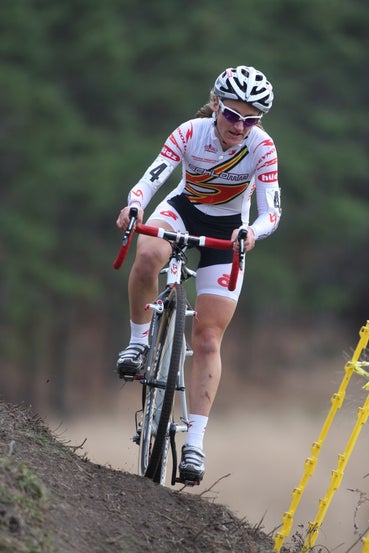 "I led into the U-turn and sprinted out of it as hard as I could," said Dombroski (Schlamm p/b Clement & Primus Mootry). "My original plan was to try and get a gap on her earlier. Georgia and I were swapping attacks right and left. "
The win came a day after Dombroski battled with Kelli Emmett (Giant) on the same course — organizers ran Sunday's race in the opposite direction — and won.
Dombroski and Gould traded blows for the lion's share of the women's race after the Luna rider surged into the lead from the gun. On the opening lap the two distanced themselves from chasers Kelli Emmett (Giant), Laura Van Gilder and Mary McConneloug (Kenda-Seven-NoTubes). Dombroski tried to shake the Luna rider on the flats, while Gould tried her hand on the course's five steep uphills.
"I didn't have the extra oomph to ever make it stick today — Amy would always close it down on the flats," Gould said. " I kept telling myself to race smart and then I took the final corner really wide."
Behind the two, Emmett attacked to hold onto third, with Van Gilder and McConneloug rounding out the podium.
For Dombroski, who had struggled through the opening months of the season, the winning weekend is a major confidence booster heading into the U.S. Gran Prix of Cyclocross finals December 4-5 in Portland, Oregon, and the USA Cycling national cyclocross championships December 10-13 in Bend, Oregon. A three-time U23 national champion, she will jump into the elite ranks for the 2009 nationals.
"My coach and I timed it well this year, and I feel like I still have some room to get faster," Dombroski said.
Cannondale-Cyclocrossworld.com dominates again
It was a near repeat of Saturday's men's race in Southampton, as Cannondale-Cyclocrossworld.com teammates Tim Johnson, Jeremy Powers and Jamey Driscoll again swept the podium. Johnson took his sixth NACT victory of the year, which like Saturday's win, came after catching and then dropping his teammate Powers.
Johnson caught Powers at the race's midpoint, and the two spent five laps battling with each other before Johnson pulled free.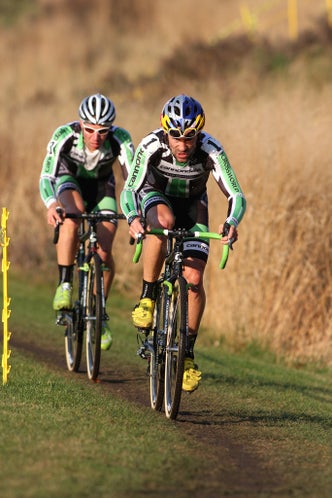 "We were smashing each other as best as we could — just because we're teammates doesn't mean we're going to go easy," Johnson said. "It was constant. It was like a team time trial or a training ride with a teammate where you're putting each other on the limit and squeezing a little bit more."
Powers sprang to his advantage on the second lap, after an early group formed containing the three Cannondale riders, Ryan Trebon (Kona-FSA) and 19-year-old Swiss rider Valentin Schertz (Pro Cycles-Scott). Trebon set an early fast tempo to try to pull Powers back. But after two laps, the Kona-FSA rider pulled aside to let his companions do the work.
That's when Johnson put in his dig. Within a lap, Johnson bridged up to his teammate and assumed the front of the race. Behind the two, Driscoll also attacked and gained a gap, while a resurgent Adam Craig rebounded from a bad start to ride into fourth.
Powers battled with Johnson, surging and slowing over the 1.7-mile course. Then, on a small incline on the course's backside, Johnson put in an acceleration that shed his teammate.
Ssked if he questioned his teammate's decision to chase him down and then drop him, Powers said no.
"It's fair game. What am I going to do? Teammate or not, it's how it rolls," Powers said. "We wouldn't pull punches on anyone. After an hour we're both flogged. We can see it in each other's face."
Powers was quick to label Johnson the fastest man in American cyclocross right now, but when asked if he agreed, Johnson said no.
"I would never make that call," said Johnson, who won the 2007 national title.
Agreeing with Johnson was Trebon, the reigning national champion, who hopes to defend his stars-and-stripes jersey next month in his hometown of Bend. Trebon admitted he was not on top form in Southampton, but said he will be firing on all cylinders come December.
"I don't think I've lost any mojo — I'm not worried about (nationals)," Trebon said. "There's still a lot of racing left this year."