Eurobike tech: A wheelset duel! Bontrager thrusts and Zipp paries
NIck Legan takes a look at some new wider wheel designs from Bontrager and Zipp. Plus a look at some special brakes that work on the wider rims.
Heading out the door? Read this article on the new Outside+ app available now on iOS devices for members! Download the app.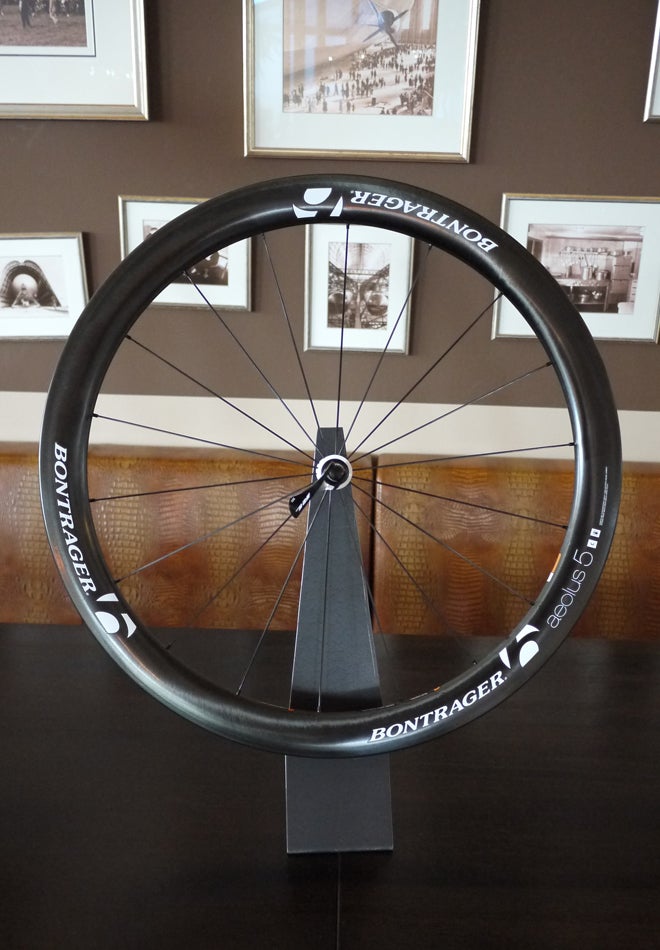 FRIEDRICHSHAFEN, Germany (VN) — The wheel wars are well underway. Wide, narrow, deep, shallow, pointed and rounded are all hotly debated characteristics of any modern carbon road race wheel. The trend toward wider and wider rims has many convinced that they could be faster if only their brakes opened up a bit more (more on this below). Bontrager officially debuted its D3 line of aero wheels at Eurobike Thursday. Zipp had its new 303 Firecrest, in both tubular and clincher version, on display.
We've seen Bontrager's new line of aero carbon wheels under both Leopard-Trek and RadioShack riders most of the 2011. Saxo-Bank and others have ridden Zipp's 404 and 808 Firecrest wheels since their debut at the Kona World Ironman Championships last year. Here's a quick rundown on the latest from both Bontrager and Zipp.
Bontrager's Aeolus D3 line
D3 refers to Bontrager's Dual Directional Design. More specifically Bontrager spent a lot of time researching both rim as a leading edge and the tire as leading edge. Engineers found that the tire as leading edge is actually more important than the rim's leading edge in most circumstances. Only as yaw angles increase dramatically does the rim's leading edge become important again.
Much like HED and Zipp, Bontrager found that a wider rim improves the aerodynamics of the tire as a leading edge. A wider rim keeps the air attached to the rim/tire shape longer and therefore produces less turbulence/drag. The leading edge of the Bontrager rim is rounded, though it doesn't seem quite as bulbous as Zipp's Firecrest.
The new Aeolus D3 line includes four models, each with a different depth. The Aeolus 3 is 35 millimeters deep. The 5 is 50 millimeters, the 7 is 70 millimeters. The 9 is, you guessed it, 90 millimeters deep. All the rims are 27 millimeters at their widest point (which isn't at the brake track but below it).
Brakes for wider rims: Tektro's R970 magnesium stoppers
While HED has made wide rims for some time, the latest wheels from Zipp and Bontrager are pushing the limits of what current brakes can handle. Certain aero and time trial bicycles, like the current Shiv from Specialized, have brakes that simply don't open enough for Firecrest-width rims to pass through. It becomes necessary to shave down even already thin cork pads or remove pad holder spacers.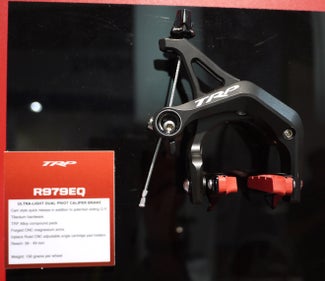 In speaking with TRP's Lance Larabee, he said "we design our brakes to work on rims from 19 to 30 millimeters in width. We have one of the newest designs around and our brakes actually work better on wider rims. They lose a little bit of power on 19-millimeter rims."
To VeloNews' knowledge these are the only brakes designed with this in mind (other than some lower end brakes that have quick release that open extra wide for high volume tires). TRP offers its R979 brake in four variations actually, making it apparent that they are well aware of the market.
The brake has two cable pull options: SRAM/Campy and Shimano. TRP also offers the $600 magnesium brakes in SL and EQ versions: the SL forgoes a traditional quick release (fine if you use Campy) in order to save weight and the EQ features a new cam quick release that feels really good.
The entire line uses 18 spokes in the front and 24 in the rear. The new hubs were developed in-house and use DT Swiss internals. DT Swiss spokes are held in place with Alpina's locking nipple to ensure tension consistency.
The Aeolus 5 clincher weighs in at 1,520 grams and costs $2,700. The tubular version runs $2,300 and is a bit lighter. Clincher versions are in the works for the entire line, but the 5 will be the first one available. Weights for the other models in the lineup weren't available just yet. Unlike Zipp's Firecrest clinchers, the Bontragers have no weight limit. Custom color decals and white spokes are available for an additional $200.
When Bontrager representatives began talking about their in-house testing they made one thing very clear. They found that rim shape is more important than depth. The industry has misled consumers for some time on this point (according to Bontrager). A super deep, narrow rim won't necessarily be faster than a shallower rim with a better shape. According to the company, Bontrager's wheels test faster than many competitors' deeper section rims. So you're saving energy and weight. The shallower rim also handles better in crosswind situations.
Zipp's new 303 Firecrest
When Zipp launched the 404 and 808 Firecrest wheels, the industry knew it was only a matter of time before we saw a 303 version. And it didn't take too long, less than a year in fact.
The new rim is 45 millimeters tall and 28.5mm wide (outside rim width). Zipp has abandoned the tiroidal shape it had previously employed. In fact the 202 is the only carbon wheel left in the Zipp quiver that uses the shape. The 303 version of the Firecrest is very slightly different from the deeper rims. It isn't simply a smaller 404. And yet, according to Zipp, the 303 performs almost as fast as the 404 and the clincher version gives up nothing to the tubular version.
2012 rear hubs see two small changes that increase rear wheel stiffness by 7 percent. The non drive-side bearing now sits 7.5 millimeters wider (closer to the dropout) and the non drive-side hub flange is canted eight degrees to help with spoke alignment. Word is that builds go more smoothly and the whole wheel structure is improved.
The other new item across the Zipp wheel line is hub and spoke color options. All wheel models are now offered in both silver and black hubs and spokes. The silver is a bit darker than previous years. Zipp calls its pewter-like finish Falcon Grey. Zipp calls the darker option Beyond Black (actually the same finish as SRAM's Black Red group).
Clinchers weigh 1,498 grams and will run you $2,700. The tubular version saves weight and money at 1,198 grams and $2,300.