Evenepoel vs. Pogačar at Liège-Bastogne-Liège: Sunday's monumental clash should set the tone for years to come
Tour de Hoody: Their budding rivalry will drive the narrative across the rest of this decade.
Photo: Belga/AFP via Getty Images
Heading out the door? Read this article on the new Outside+ app available now on iOS devices for members! Download the app.
Remco Evenepoel versus Tadej Pogačar — it's the matchup of the season.
After dancing around each other like two heavyweight boxers waiting for the big payday, the peloton's two biggest stars face off for the first time in 2023 in Sunday's Liège-Bastogne-Liège.
And the expectations couldn't be higher.
Maybe it's a bit too much to call "Armageddon in the Ardennes," but in terms of budding rivalries and showtime hype, this is about as big as it gets in cycling right now.
Wout van Aert vs. Mathieu van der Poel? That's so 2021.
Right now, there are no two riders who bring as much bravado and thrills-per-kilometer to racing than Pogi and the RemShow.
Their styles are a bit different, but both have their DNA hard-wired for winning.
Evenepoel is a bit more showboating, a brings a bit of football-style brashness to racing. In contrast, Pogačar races with youthful effervescence unseen in decades in a sometimes stodgy sport.
And what makes things even better is that they race to win every day the line up.
There are no preparation races for these guys. They're ambitious, young, and still haven't endured the burden the heavy weight of regret or disappointment.
What makes the prospect of Sunday's matchup even more thrilling is that neither are wheel-suckers or content with winning by inches. These two win in exclamation marks.
Long-distance bombs are the signature style of both riders.
Evenepoel brings a penchant for drama
So what happens Sunday?
Liège could see the action start fast and heavy.
Last year, Evenepoel won with a searing solo attack. Pogačar won in a five-up sprint in 2021. Both like to race to destroy their rivals early, and dominate the tone and direction of a race.
Can someone else step up? Rivals were left flabbergasted Wednesday at Flèche Wallonne, with French rider Victor Lafay saying, "Pogačar is from another planet."
On paper, Evenepoel will be coming in fresher, having last raced in late March at the Volta a Catalunya. Pogačar revealed ever slight cracks on the Mur de Huy when he waited to move until 200m to go. Was it due to fatigue? Or was he simply racing like a cold-blooded killer?
🤩 Rendez-vous sur le Quai des Ardennes pour couronner deux vainqueurs monumentaux !

🤩 See you on the Quai des Ardennes to crown two monumental champions!#LBLwomen #LBL pic.twitter.com/BvX0Y7RRxk

— Liège-Bastogne-Liège (@LiegeBastogneL) January 25, 2023
Evenepoel's flare for the dramatic might have cost him the win at the Volta a Catalunya, will he make a similar mistake against Pogačar?
His post-up to celebrate a win in stage 3 at the Volta might have cost him a click of the second hand, and a chance to snatch the leader's jersey.
A few laughed that off, and said let the lad celebrate. Yet instead of racing with the leader's jersey, Evenepoel was forced to try to attack Primož Roglič for the remainder of the week even if they were tied on time. The more experienced and canny Roglič was able to fend off Evenepoel even if the Belgian might have been the strongest rider.
Can Evenepoel do what only Wout van Aert and Mathieu van der Poel have been able to manage so far in 2023, and beat Pogačar?
It will be interesting to see how they race Sunday.
If the long bombs come early, it could be a mano-a-mano duel long before La Redoute.
Or can someone else step up to elbow into the frame? It will take more than a mere mortal to beat these two.
Just to add another layer of drama, Pogačar is also chasing the so-called "Ardennes Treble," by sweeping Amstel Gold Race, Flèche Wallonne, and Liège in the same season. Only Davide Rebellin and Philippe Gilbert have done it in men's racing, and Anna van der Breggen achieved it in 2017.
The volume will go to 11 on Sunday.
Pogačar at top of his game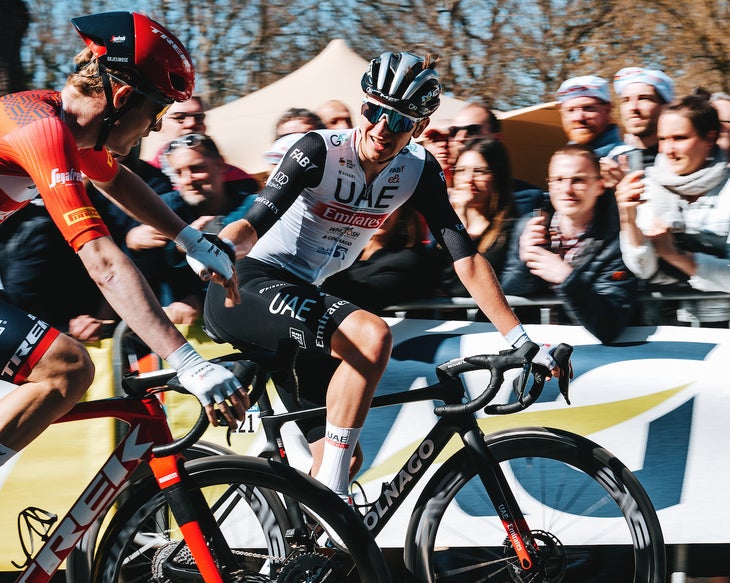 In what's emerging as the rivalry of the decade, the peloton's two brightest comets haven't crossed paths very often.
In fact, last year's Tirreno-Adriatico was their first and only stage race matchup so far in their careers already entering their fifth season.
Though there will be more one-day sparring later this season, with the next big date to circle on the calendar coming at the road world championships in Scotland and perhaps again at Il Lombardia, Sunday's big match is their first race against each other in 2023.
Either by coincidence or design, the pair simply haven't raced against each other that much.
In 2021, one went to the Giro d'Italia, the other to the Tour de France. Last year, Pogačar was back at the Tour only to be dethroned by Jumbo-Visma, and Evenepoel blazed to victory at the Vuelta a España in his history-making victory that was Belgium's first grand tour winner in four decades.
If things go to Evenepoel's masterplan, he will win the Giro in May, and then make his highly anticipated Tour debut next year.
There's a slight possibility both could show up at the Vuelta in August, but that's unlikely.
So far, Pogačar has a leg up on Evenepoel in terms of depth and quality of palmarès. Two yellow jerseys and four monuments are already part of his crowded trophy shelf.
Evenepoel is catching up fast, with one grand tour, one monument, and one ever elusive rainbow jersey.
It remains to be seen if Evenepoel can reach the same level as Jonas Vingegaard and Pogačar in the Tour. All signs suggest he can, but he needs to prove it.
All roads lead to the 2024 Tour de France.
Rivalry for the decade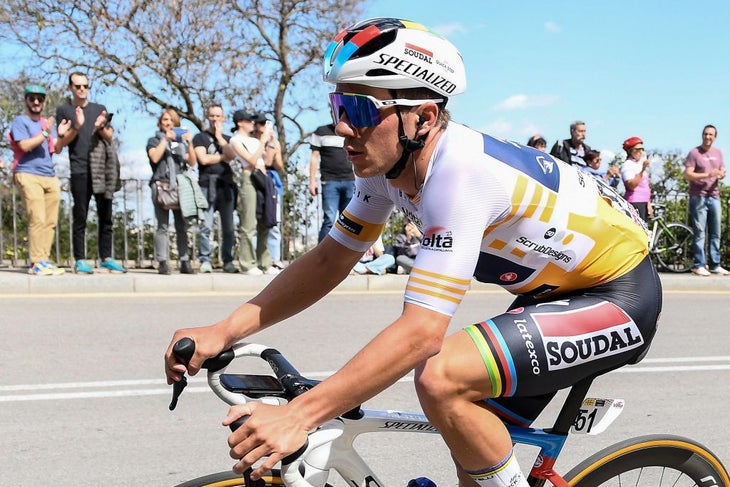 Both are writing history in every race they start.
Sunday's race is newest chapter in what will be one of the top storylines in what's already the best of times in elite men's road racing.
Evenepoel and Pogačar are more alike on the bike as they are dissimilar in their personalities.
Both have their respective teams completely built around them. One rumor going around the team pits is that UAE Team Emirates is so loaded with money that there isn't even a budget.
What's astonishing at Soudal Quick-Step is that Patrick Lefevere has ditched his decades-long love affair with the northern classics to back Evenepoel and his grand tour aspirations.
Of course, the cagy Belgian manager never had a rider like Evenepoel before, so he wants to bring home a yellow jersey to Belgium to cap his long career.
Evenepoel has endured one thing that Pogačar hasn't so far in their respective careers, a serious injury.
When the young Belgian careened into the ravine at the 2020 Il Lombardia, many thought the light might have been snuffed out too early. Perhaps because he's so young, Evenepoel bounced back without missing much of a beat.
It might have taken Evenepoel a bit longer to hit his sweet spot — remember, neither of them are even 25 years old yet — there's no arguing that they're already at the very top of the sport.
131 années d'histoire, mais une autre chance de l'écrire
Tadej Pogacar et Demi Vollering ont rendez-vous avec l'histoire.

131 years of history, but a chance to write a new one.
Tadej Pogacar and Demi Vollering have a date with history.

⛰️#LBL #LBLWomen pic.twitter.com/I2wBENGtcW

— Liège-Bastogne-Liège (@LiegeBastogneL) April 20, 2023
Pogačar says he simply loves to race and win. There's no cockiness, no bravado. Some have compared him to a young Greg Lemond, a rider with preternatural skills who can do just about anything on a bike.
That racing-on-instinct playbook and perhaps a touch of overconfidence likely cost him the yellow jersey in 2023.
Jumbo-Visma caught him in a trap on the Col du Galibier last summer, and then Jonas Vingegaard drove home the stake. The Dane deserves all the credit in the world for beating the rider who just about everyone says is unbeatable when he's on a good day.
And these days, that's been every race Pogačar's started so far in 2023.
This week, Pogačar did show signs of maturity Wednesday at Flèche Wallonne when he resisted the temptation to try to attack before the final wall. No one's won in a long-distance attack in decades at the mid-week classic, yet Pogačar wisely played the odds, and saved his matches in the charge up the Mur de Huy.
Sunday should be a phenomenal race.
Can it be as good as what we've seen so far in the northern classics? It will be hard to match the dynamism and fully stoked drama of the Tour of Flanders, but let's hope so.
Their budding rivalry should morph into one that will carry the narrative across the rest of this decade.
This could develop into the next Coppi vs. Bartali, Lemond vs. Hinault, or Contador vs. Armstrong.
Unlike those previous rivalries, there's no personal enmity (at least not yet), only the rush of winning and joy of the game.