Evoc Road Bike Bag Pro review
Evoc's Road Bike Bag Pro is the first air-travel-ready bike bag that lets you ship or fly with your drop bar bike without removing handlebars or aerobars. It takes minutes to pack and protects your bike from rough handling and most impacts. Related: Orucase B2 Bike Travel Case Review…
---
Basics
Max wheelbase 1,060mm; max saddle height 860mm
---
Pros
Fast and easy to pack, just remove pedals and loosen seatpost bolt; case rolls smoothly and effortlessly, and collapses when not in use
Cons
Expensive; it's easier to get the bike on the bag frame into the bag with two people; it doesn't fit flared gravel bike bars
---
Our Thoughts
The Evoc Road Bike Bag Pro is the best bag you can buy for flying with a road or triathlon bike, as well as with many gravel bikes. It takes the stress out of readjusting your bars on arrival, and out of removing and reinstalling your derailleur. Fewer bolts to mess with means less time tweaking your bike fit, less chance of a stripped bolt, and more time to ride.
---
Size Reviewed
300 liters
Price
$895
Brand
Evoc
---
Heading out the door? Read this article on the new Outside+ app available now on iOS devices for members! Download the app.
Evoc's Road Bike Bag Pro is the first air-travel-ready bike bag that lets you ship or fly with your drop bar bike without removing handlebars or aerobars. It takes minutes to pack and protects your bike from rough handling and most impacts.
Related:
Who should buy the Evoc Road Bike Bag Pro
Any road biker, triathlete, or gravel rider who rides a bike with straight to moderately-flared handlebars and travels to race or ride should own this bag. There is no better case for shipping or flying with a dropbar bike with the handlebar on. It's a nightmare to get to your race or vacation destination, unpack, and find out your bike is broken. A high-quality bike case is a great investment.
Other cases, however, require you break down your bike to various degrees. Most commonly, you have to unscrew pedals, unbolt handlebars and detach the derailleur. The Pro Bike Bag is not only highly protective, but it was less stress to pack and reassemble a bike for travel because we didn't have to remove the handlebars or derailleur.
Assembly
The fabric and plastic case ships without the sail stay stiffeners and structural plastic tubes that give the case shape and stability installed. It is a bit of a jigsaw puzzle to assemble and figure out which plastic parts slide into which sleeves, and I wore work gloves to do it. The fit was tight and it took some wrangling to get the stays and tubes into their sleeves. When we put this bag together we didn't have a user manual. The user manual makes matching stay and tubes with sleeves significantly easier.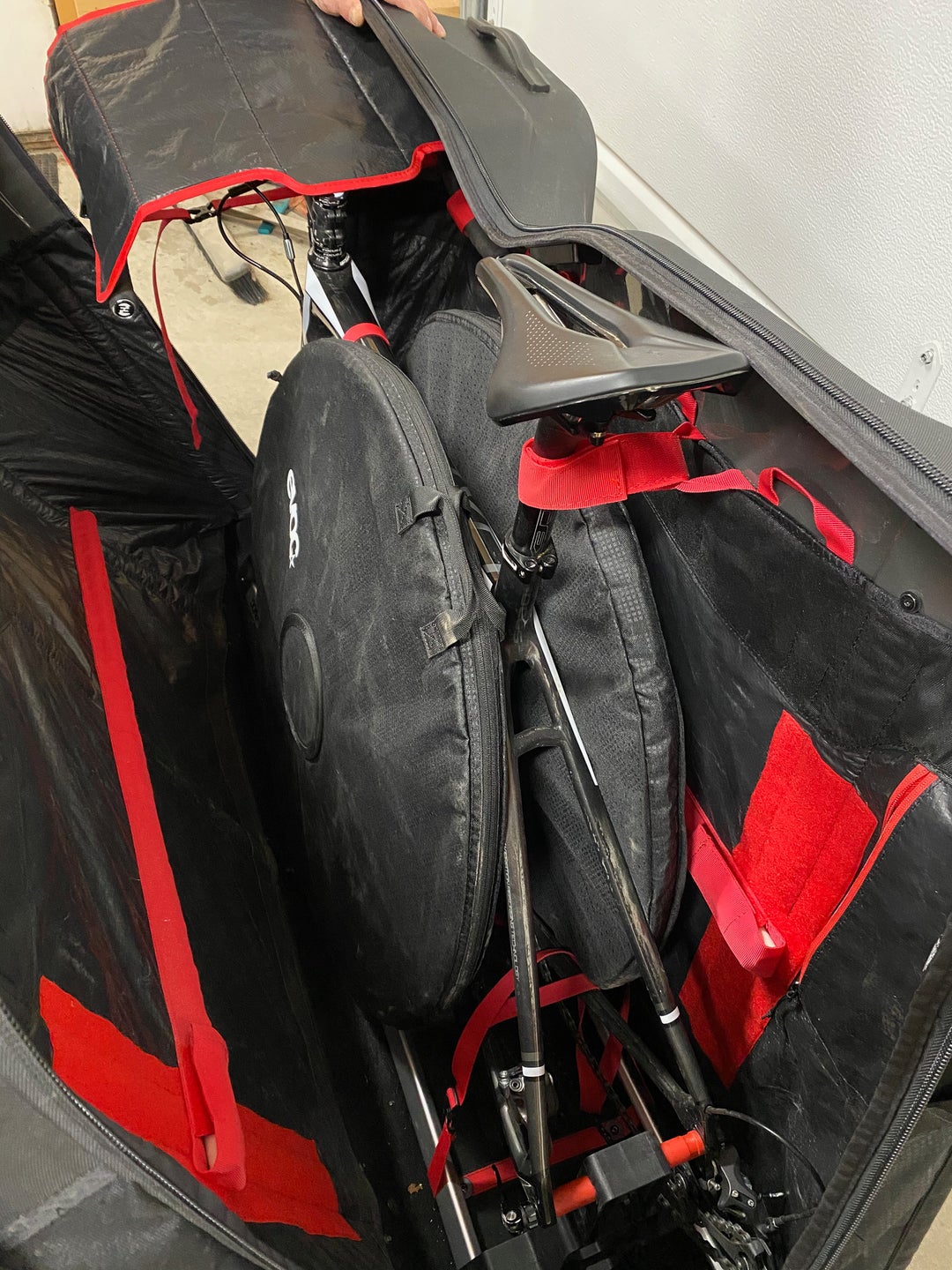 Packing the Evoc Road Bike Bag Pro
The Bike Bag Pro comes with a removable aluminum and plastic stand. Front and rear bike axles/skewers thread through cylindrical sleeves in "hubs" at both ends of the frame. The hubs have up to four possible heights, and the rear hub slides forward to match the wheelbase of your bike. It's easy to swap axle/skewer sleeves—the case comes with a variety of options from 5mm quick-release to 12mm thru-axle in front, and 5×130, 12×135 and 12×142 rear axle adapters, so you can use this bag for bikes of different sizes and specs.
With wheels off, the bike frame mounts to the stand and secures with its axels/skewers. Strap the pad over the handlebars and stem, zip wheels into wheel bags, and load the bike on the stand into the case.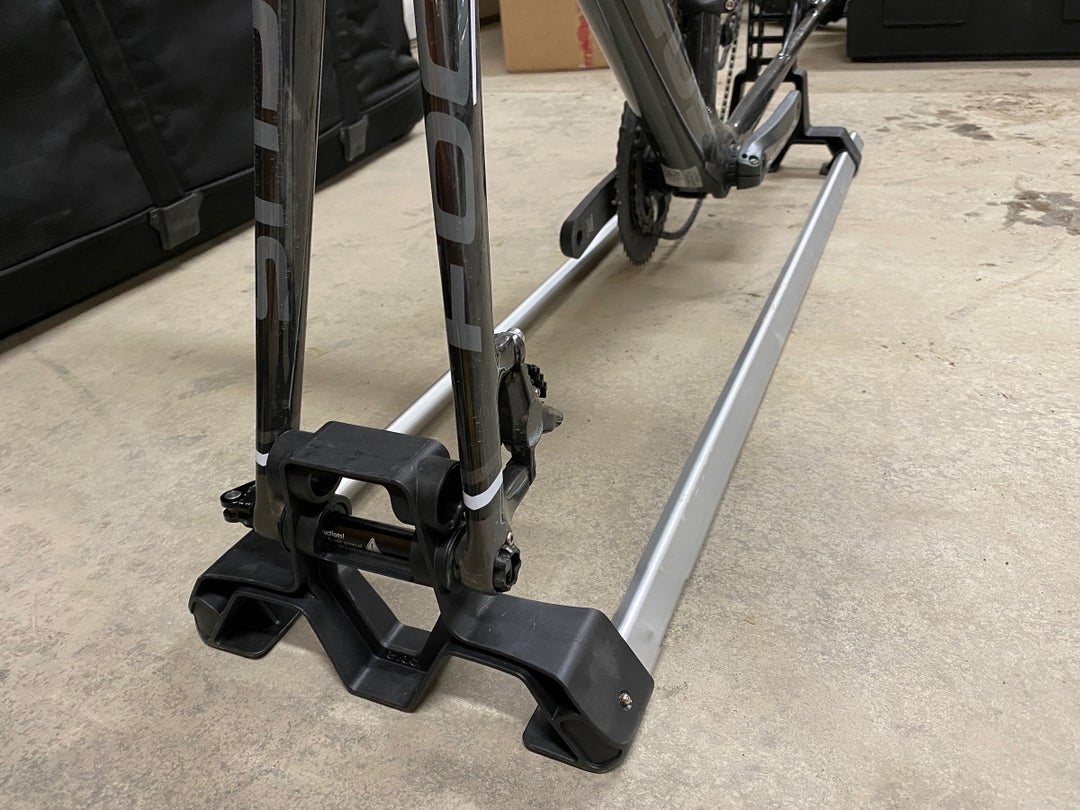 Loop straps over chainstays and the bike top tube and clip them with quick-release buckles. Then, slide wheel bags slide into the case on either side of the frame to protect it. Thread broad Velcro straps through loops inside the case and secure them around the seat post, which may need to be adjusted for packing, and around one side of the handlebar.
Then, Velcro in the adjustable side impact absorber spreader bar, which attaches to both sides of the rear of the case to protect the rear triangle from side impacts. Zip the bag, stow your pedals in one of the bag's inside or outside pockets, clip on the front wheel, and you're ready to pull the case to the check-in counter or UPS Store before stashing the case's removable front wheel in an outside pocket.
How it protects your bike
The molded shell case has an impact-proof polycarbonate cover in key areas, stiffened and reinforced by polyethylene boards, glass fiber and plastic stays and rods, with extra foam padding in key locations on an EVA-molded base. Not only does the case deflect impacts, but it also distributes forces.
With the bike mounted on the included stand and strapped down, the bike saddle, seat post, down tube, head tube, and fork help diffuse downward pressure in the same way your bike frame diffuses impact as you ride. The hybrid softshell/hardshell bag is broad in front, to accommodate bars, and narrow in the back to keep the bike and wheels from jostling around, with a spreader bar to prevent side compression in the rear, and three wheels on the bottom and several handles on the outside to make moving it into and out of the airport easy.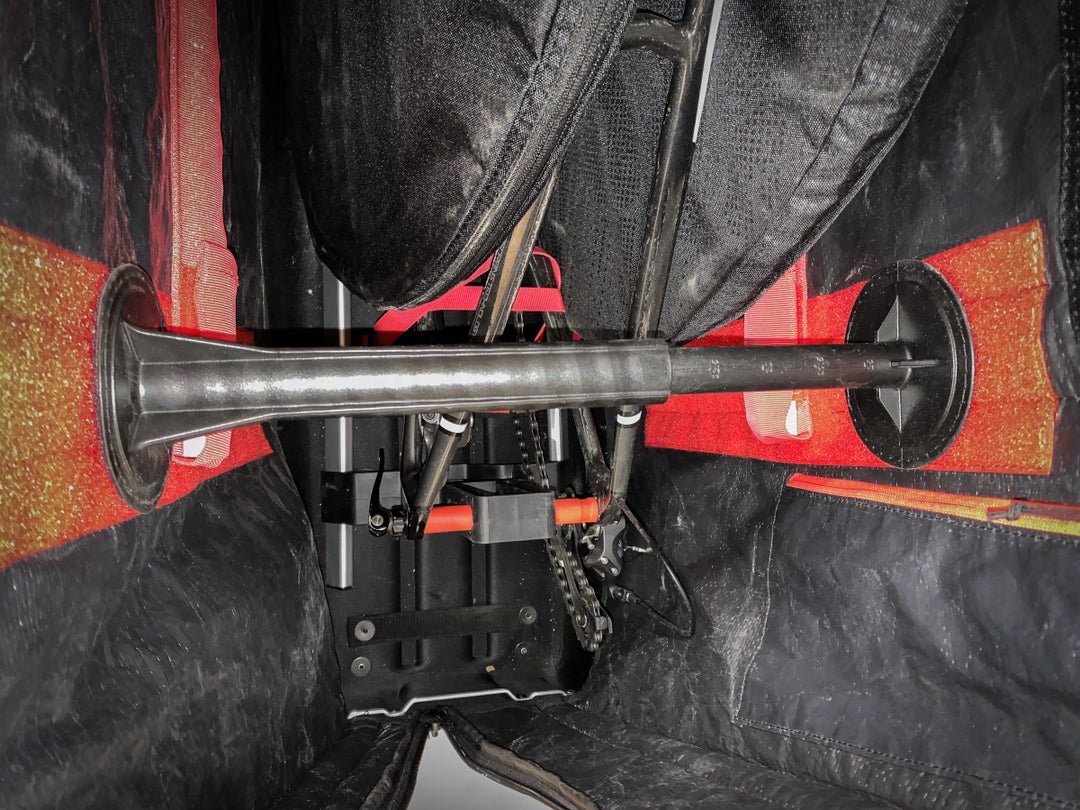 What's great about the Evoc Road Bike Bag Pro
We loaded a Cannondale Topstone (size medium) and flew three legs from Burlington, Vermont to Hailey, ID. It took me less than 15 minutes to load my bike. A month later, I loaded the case with a Niner Magic Carpet Ride (size small) and flew from Denver, Colorado to Amman, Jordan, also three legs. On both trips, the bike arrived in perfect condition, and on arrival, it took me less than 15 minutes to remove it from the stand, install wheels and pedals, and retighten the saddle. I didn't need to mess with the handlebar angle or fuss with torquing bolts. I put wheels and pedals on, readjusted my seat height, and hit the road.
With all three wheels installed, the case rolls effortlessly — similar to a suitcase with four wheels. That made it easy to maneuver, even when I was wrangling other bags.
If you ride a relatively light bike, you'll sneak in under the 50-pound mark with the bike in the case.
What's not
We tried to load a Fuji Jari (M) into this bag, but the exaggerated flare of the Jari's spec bars didn't fit. Evoc says the Bike Bag Pro Road accommodates aerobars. We weren't able to test that claim. 650b gravel wheels with 47c tires did not fit into the included wheel bags, but 700c wheels with 28c tires did. If you're packing a gravel bike in this bag, you can buy aftermarket wheel bags to fit. Evoc opts for smaller bags to prevent road and triathlon wheels from rattling around.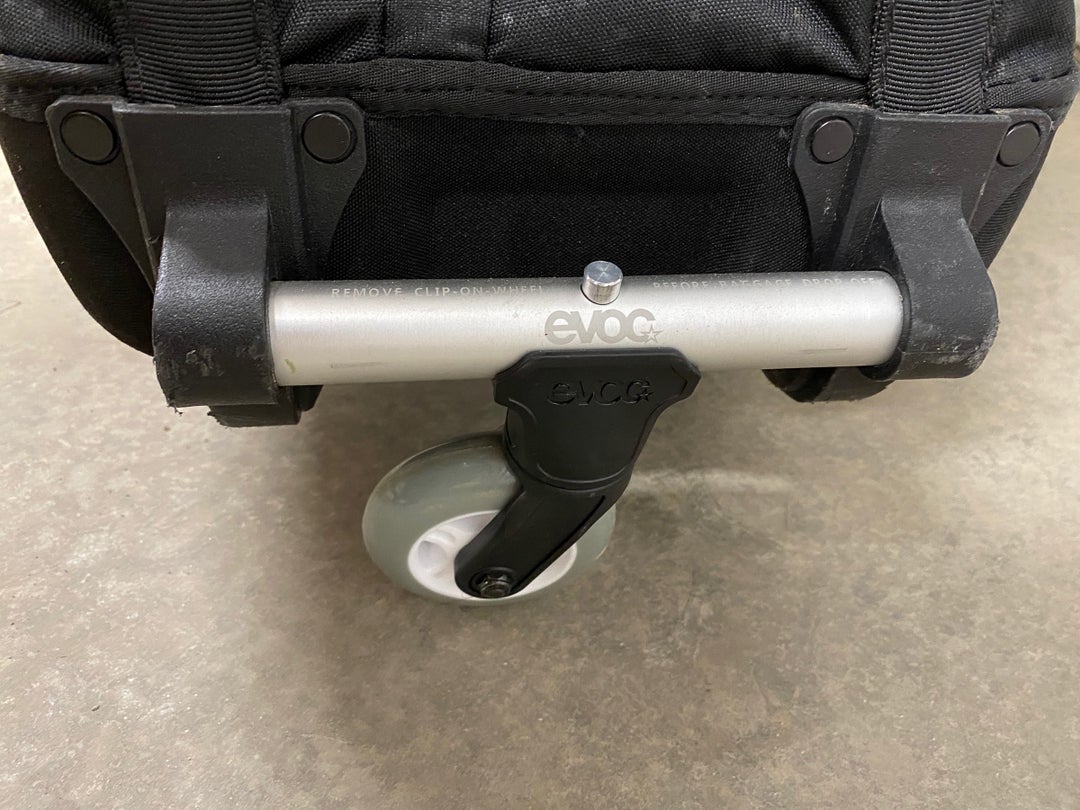 The case does not fully unzip, so one side lays flat on the ground like other Evoc Bike Bag Pros. That makes loading the bike on the stand into the bag awkward. Once you've done that step, however, the rest of the packing is a cinch.