First Ride: Pirelli Cinturato tire
Italian tire company Pirelli expands its line-up with an all-season tubeless tire to handle mixed terrain and pavement alike.
Heading out the door? Read this article on the new Outside+ app available now on iOS devices for members! Download the app.
SIENA, Italy (VN) — Pirelli has rounded out its lineup of road cycling tires with the rubber most of us are likely to use. It's wide, tubeless, and reinforced for everyday riding. Meet the Cinturato (which translates from Italian to "belted"), a tire that Pirelli says you can ride on just about any surface short of singletrack.
This certainly seems like a reaction to the ways road cycling is changing. Much has been made of gravel bikes over the last few years, but it's a safe bet that most of us are still on our road bikes. We're simply seeking out new types of roads.
That's why the Cinturato makes sense: It sticks to the roots of road cycling but ups the ante should you choose to rip some gravel from time to time, or if your home roads are just kind of lousy.
In that vein, Pirelli prioritized a few characteristics: extra comfort, more mileage, grip, and higher puncture protection. It looks like any other road tire. But its unremarkable appearance hides a lot of neat features to address those stated goals.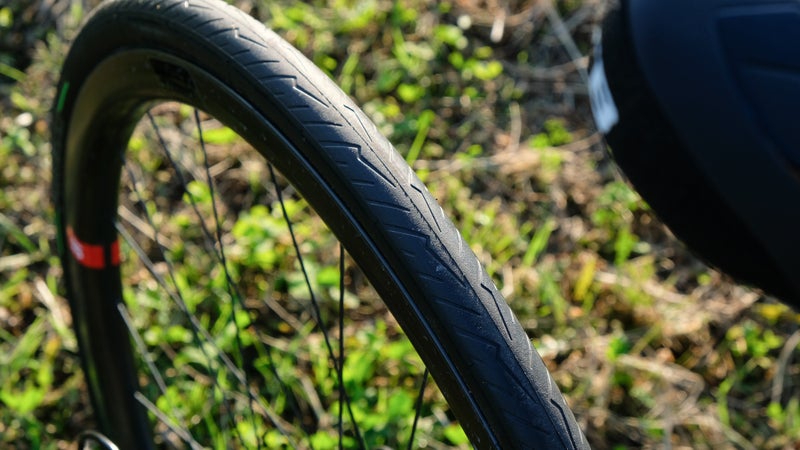 First, it's offered as a tubeless-ready tire, which is a first for the Pirelli lineup. We have covered the benefits and drawbacks of road tubeless ad nauseam, so we won't spend much time on it here. But Pirelli is quick to note that tubeless has benefits beyond just reduced weight and puncture protection. For starters, tubeless tires tend to offer more compliance due to lower pressures, making for a more comfortable ride.
Tubeless setups also eliminate the hysteresis of the tube (hysteresis is deformation over time), which means there's less material to resist deformation when the wheel system encounters a bump. Samuele Bressan, Pirelli's product manager for the Cinturato, was quick to note that it's actually easy to create a comfortable tubeless tire; it's much more difficult to translate that comfort to a tube-type setup without compromising other tire characteristics.
To further combat punctures, Pirelli has created a special rubber compound that incorporates Aramid fibers into the tread. These fibers end up getting dispersed randomly throughout the tread, creating a cross-hatch pattern, of sorts. This helps prevent objects from puncturing the tire, leaving fewer gaps through which an object can directly pierce the rubber. Pirelli calls this system Armour Tech.
Often when companies attempt to make a tire that's puncture-resistant, some combination of grip, comfort, or speed suffers. To eliminate such tradeoffs, Pirelli developed SmartNet Silica, which is a proprietary rubber compound. There are actually two different rubber compounds here, which Pirelli calls the cap and the base. The Armour Tech system lives in the base. The cap is made from a different compound that's aimed at increasing grip in wet conditions while minimizing rolling resistance.
The Cinturato comes in four sizes: 700 x 26mm (290 grams), 700 x 28 (320 grams), 700 x 32 (350 grams), and 700 x 35c (380 grams).
Now that the road lineup is complete for the moment — aside from a tubular tire, which the company has been testing with Aqua Blue Sport's riders — Pirelli says we can expect to see mountain bike tires in the not-too-distant future too.
First ride
The white, dusty roads of Strade Bianche are rapidly earning their place in bicycle race royalty. The race may not be legendary yet, but it's bound to be. Punchy tarmac climbs, quick and winding blacktop descents and transitions straight into white gravel roads that weave their way through Tuscany ultimately funnel riders to one of the most majestic sites in all of Italy — after a leg-destroying climb into the piazza in Siena. That's where we had an opportunity to test out the Cinturato tires.
We didn't ride the entire course, just a primo piatto. It was enough to get an early impression of the Cinturato, not the full story. (We'll be doing a long-term test to get a sense of the tire's durability and performance in a variety of weather conditions.) While early impressions are generally positive, we're hesitant to give a complete assessment of the tires until we've had more rides on them. Fortunately, Pirelli provided us with our own set to take home and test on the tarmac and gravel in and around Boulder, Colorado.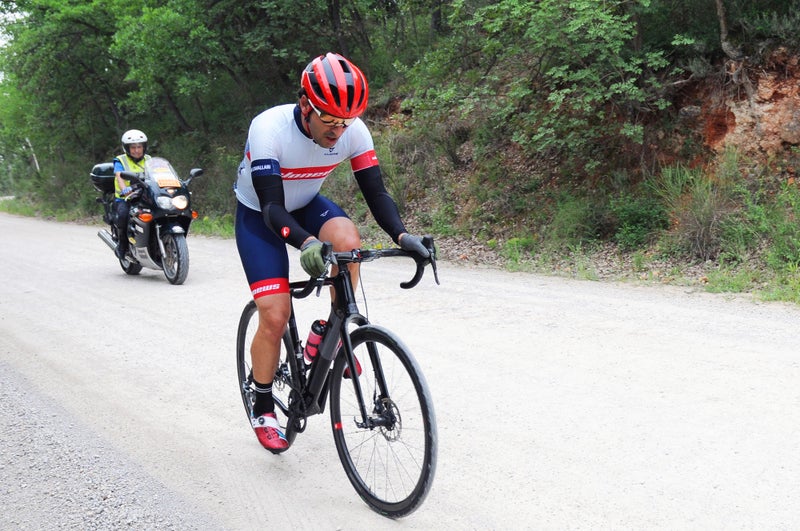 Here's what we can say: While ripping down a winding descent through the hills of Tuscany, the tires hooked up shockingly well in everything from tight corners to wide sweepers. Pirelli said that the tires should allow us to lean over more, and that certainly felt true. Conditions were generally dry, though, so we can't speak to any wet weather performance claims that Pirelli makes.
And unlike other "all-season" tires we've tested, the Cinturato tires don't feel like dogs when it comes to going fast. They seem to roll smoothly on the blacktop, which has a lot to do with Pirelli's rubber compound. And they're fairly light for a tire that stakes its reputation on durability. Those two factors combined make this tire feel lither than we expected.
It's also important to note that we tested the tires with tubes in them. It was unclear why we didn't get to test the tubeless setup. That means we can't speak to the added comfort that Pirelli claims as a result of a tubeless setup.
And finally, we've only got a few miles on the tires, so it's impossible to say whether these tires are any more durable than other comparable tires on the market. Sensing a theme?
So while we'll have to wait for a long-term test to make any concrete claims about Pirelli's newest offering, our initial impressions indicate that this is a fast-rolling and surprisingly supple tire for rubber that supposedly fits in the endurance or all-conditions categories. If the Cinturato's long-term durability is as good as Pirelli says it will be, the Italian company might just have a top contender on its hands.