First Ride: Shimano Dura-Ace R9100
Shimano's latest road group offers better front shifting, improved ergonomics, a derailleur that affords more gear range, and powerful brakes.
Heading out the door? Read this article on the new Outside+ app available now on iOS devices for members! Download the app.
It's Interbike time, and that means we're getting our hands on some of the freshest cycling equipment of the year — Shimano's new Dura-Ace R9100 mechanical group is first up. We set out for some testing just as Las Vegas was waking up (or in some cases, just going to bed) as we rode out to Interbike's Outdoor Demo in Boulder City, Nevada. A 20-mile segment of bike path provided plenty of gentle swoops, tight turns, and short but painful kickers to give Shimano's group, which launched earlier this summer, a solid run-though.
At first glance, the new mechanical Dura-Ace doesn't look all that different from its previous iteration, Dura-Ace 9000. But the group is loaded with small changes, redesigned features, and updated ergonomics that come together for cleaner, crisper shifting and better ergonomics.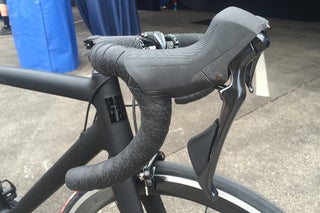 First up, the Dura-Ace R9100 tackles ergonomics with smaller, textured hoods and shifters that have 14mm of reach adjust. The shift levers will come set at ¾ of the reach adjust, meaning you can move them forward four millimeters for a longer reach or can move the levers closer to the bar by 10mm, depending on your riding preferences. We like to run our shift levers close to the bar for better grip when in the drops, and this added adjustment is plenty to get our smaller hands in the right position. The lever stroke is crisp and delivers a quick shift without much effort, even when shifting from the small chainring to the big with a single finger and light touch on the shifter.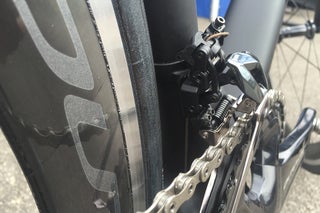 Dura-Ace R9100's front derailleur sees the most extreme changes with a new design and better cable-routing options. The cable can run straight from the frame into the derailleur without kinking or twisting, making for a lighter shift feel. It also means you can run full housing all the way to the derailleur for protection from the elements. A cable tensioning adjustment on the front derailleur also eliminates the need for an in-line barrel adjuster.
The rear derailleur uses Shimano's Shadow low-profile design that keeps it in line and at a consistent distance from the cassette for better shifting. This also keeps the derailleur tucked away instead of sticking out to the side — when looking at it from behind the bike — so it's better protected in crashes or mishaps. Like the front derailleur, the rear also has improved cable routing for crisper shifting.
We are excited to see the new Dura-Ace rear derailleur has been updated to work with an 11-30-tooth cassette for a wider gear range and more gearing options. Judging by Shimano's consistently conservative claims of derailleur gear ranges in the past, we're guessing that we'll actually be able to shift an 11-32-cassette just fine with this new derailleur but we'll start tinkering once we're back in the VeloNews tech room to confirm.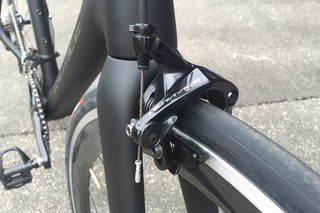 Dura-Ace R9100's new brake design was another place we saw small changes make a big difference. While 9000 brakes were no slouch, the new version offers even more bite. The dual-pivot brakes felt smooth with a gentle and gradual grab as we pulled harder and harder on the levers. Going into one of the tight switchbacks on our test ride, we braked late into the corner and had plenty of stopping power without resorting to the full-hand, "oh-shit" grab on the levers. Longer brake arms on the dual pivot brakes now accommodate 28mm tires, and judging by the amount of room to spare on our test bikes, we'd bet you could get 30-millimeter rubber in there without a problem.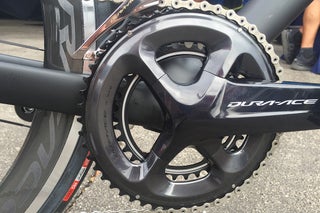 Finally, Shimano updates its four-arm crank with a wider crank arm for added stiffness. But this doesn't mean it's heavier. Shimano removed materials from the crank where it wouldn't affect stiffness, keeping the whole system's weight down compared to the previous model. The new design also moves the chain line half a millimeter outboard, which accommodates bikes with shorter chain stays or those built for disc brakes, without increasing the Q-factor.
All of these small changes come together for a near-perfect system with lighter and noticeably smoother shifting that works with riders of all shapes and sizes. We still prefer Shimano's Di2 electronic shift systems over mechanical, but if you want that mechanical click feel and sound with each shift, R9100 is hard to beat.