Fizik Tempo R5 Overcurve shoes review
The Tempo R5 Overcurve shoes from Fizik offer a high-end look and feel at a mid-level price. They're ideal for narrow-footed riders.
---
Basics
Single Boa dial closure, velcro strap over toe box; Overcurve ergonomic construction; carbon-reinforced nylon sole
---
Pros
Look and feel like a top of the line shoe; Boa dial snugs up nicely; great heel cup
Cons
Narrow toe box puts pressure on outside of the foot; velcro strap only offers limited adjustability
---
Our Thoughts
The Tempo R5 Overcurve shoes offer a high-end look and feel at a mid-level price. That's enough of a selling point for most riders. The heel cup offers excellent stability, while the Boa IP-1 dial allows for easy on-the-fly adjustment. Just keep in mind that these shoes are designed for narrow-footed riders, so if your foot has a fair bit of width to it, you might get some pressure that can lead to discomfort.
---
Size Reviewed
44
Price
$149
Brand
Fizik
---
Heading out the door? Read this article on the new Outside+ app available now on iOS devices for members! Download the app.
Fizik makes a great-looking shoe, there's no arguing that. The Tempo R5 Overcurve shoes certainly fit that narrative, with a shiny finish that adds depth even though the shoe is only one color throughout. The Tempo R5 shoes look like they cost twice as much as they do, and generally, they feel like that too once you start riding. But like any shoe, whether you like the Tempo R5 Overcurves or not largely comes down to your foot shape. These shoes don't work for my foot, but they will certainly fit just right for some riders, and they offer decent stiffness and comfort at a great price.
Related: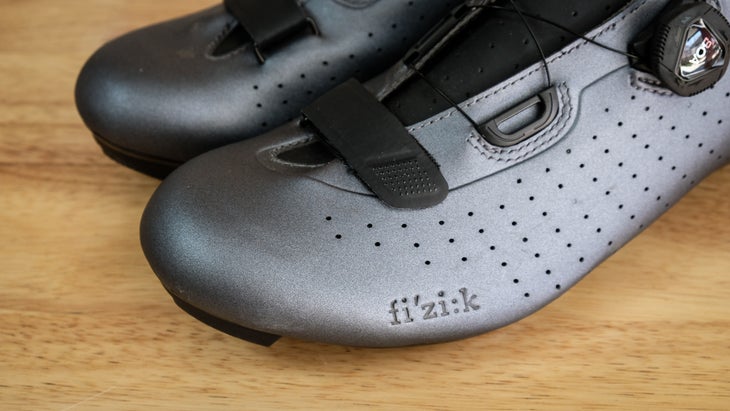 Overcurve fit
Let's talk about my feet. For starters, I have a very high instep, so in general, it's pretty difficult for me to find a shoe that fits comfortably. Usually I get pinching from the shoe's tongue around the top of my instep and ankle, especially if the Boa lacing routs in a wraparound configuration meant to pull the shoe's upper around the ankle. Fortunately, I didn't get any pinching or discomfort here while wearing the Tempo R5 Overcurve shoes, so that's a point in Fizik's favor here.
The toe box is fairly narrow and it curls up slightly on either side. This put pressure on the outside of my foot, and my little toe went numb on every ride I did with the Overcurves. This is, for me, a common problem with narrow shoes, so the Tempo R5s aren't especially unique in that regard. I prefer a wider toe box to keep pressure off my feet, thereby avoiding the numbness issue, but this might not be a problem if you have narrow feet.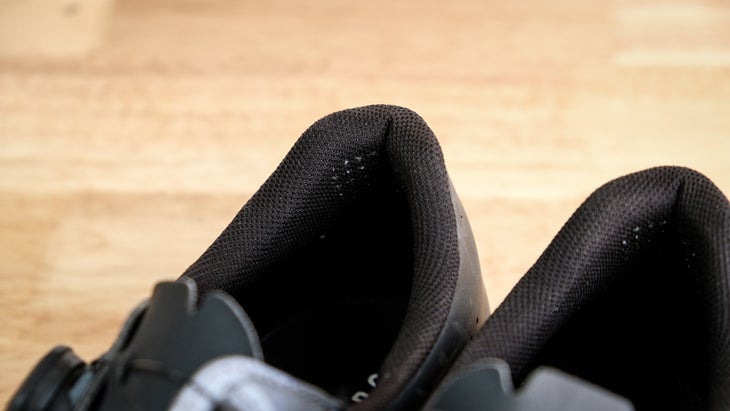 The Overcurve's heel cup is excellent. It kept my feet planted in all situations, from sprints to climbs to spins. Generally, the Tempo R5s offer a comfortable, pinch-free fit that seems tailored for performance. On top of that, the sole feels plenty stiff, though I wouldn't categorize the Tempo R5 Overcurves as one of the stiffest shoes out there. If you're after optimal power transfer, you might want to consider a stiffer, full carbon-soled shoe.
The Tempo R5s feature a single Boa dial accompanied by a velcro strap over the toe box. The Boa dial works wonderfully as expected, though I did have some trouble getting the velcro strap to pull tightly enough. It seemed to top out, as it were, at which point it wasn't possible to tighten the forefoot anymore.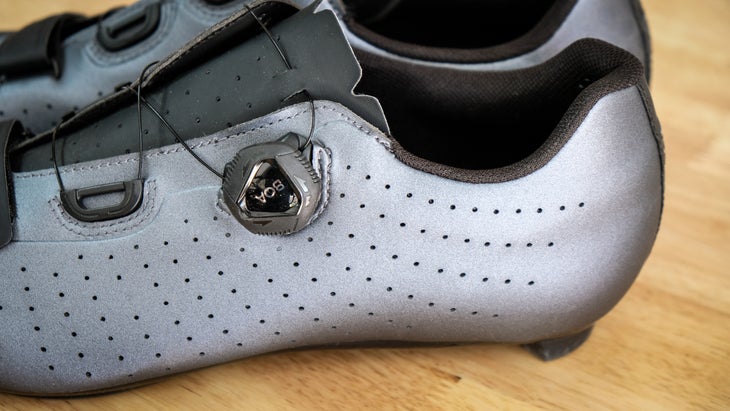 Riding the Tempo R5 Overcurves
I spent a fair bit of time climbing in the Tempo R5 shoes. The days were warm but not hot, and as far as I could tell, the ventilation was good but not great. That's far less important to me than a good fit and stiffness anyway, so generally, I enjoyed riding the Tempo R5s. They aren't the right shape for my foot in general, but I wouldn't fault Fizik for that. These shoes seem designed for narrow-footed riders.
Since the Tempo R5s are priced as a mid-range shoe, it seemed clear to me that they were punching well above their weight. These are good shoes that perform better than most in the price range. That said, I found them to be a bit too flexy for earnest sprints, and I found myself yearning for a bit more tailored fit than I'm used to on higher-end shoes. For the money, though, the Tempo R5s offer excellent looks, a good fit, and decent venting.