Francesco Chicchi wins stage 4 of the Amgen Tour; Dave Zabriskie defends lead
Francesco Chicchi (Liquigas-Doimo) proves fastest of an elite crop of sprinters, winning stage 4 of the 2010 Amgen Tour of California.
Heading out the door? Read this article on the new Outside+ app available now on iOS devices for members! Download the app.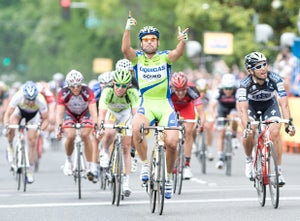 Francesco Chicchi (Liquigas-Doimo) proved fastest of an elite crop of sprinters on Wednesday, winning stage 4 of the 2010 Amgen Tour of California.
The stage was set for a mass dash to the line after a four-man break — the survivors of a group twice that size which took off right from the gun, spurred by Rabobank's Lars Boom — was finally shut down on the first of two finishing circuits in Modesto.
Boom was the last man standing, pulled in with just 6km to go, but he was not the last Rabo' to make a run for it — teammates Maarten Tjallingii and Paul Martens both tried last-ditch attacks as the field swept around downtown Modesto.
But in the end, it was a day for the sprinters, and Chicchi put the wood to the world's best, bolting up alongside and past Haedo, and leaving Cav' in his dust.
"Peter Sagan put me in good position from 300 meters to go," Chicchi said of his young teammate who won the bunch sprint the day before. With two strong sprinters on the California squad, Liquigas decided to ride for Chicchi today, putting riders into the chase of the breakaway throughout the day.
Race leader Dave Zabriskie (Garmin-Transitions) retained the overall lead, and all the other favorites for the overall crossed with the main group.
"Those guys rode awesome today," Zabriskie said of his teammates. "Every single one of them, from the beginning to the end, they did a great job. There is not one single person who is not willing to put themselves on this cross for this race."
RadioShack's Lance Armstrong had a mishap in the finale, but did not appear to be hurt. More important for him, his troubles came within the 3km limit and he was given pack time on the day.
The early break
The stage covered 121.5 miles (195.5km) from San Jose to Modesto and took in two KOMs and two sprint points. After two parade laps around San Jose, the peloton faced the Category 1 Sierra Road climb at mile 8.1 (13.1km). But eight guys were in too much of a hurry to wait for that first ascent and attacked at kilometer zero.
The men in the break:
Lars Boom (Rabobank), 26th at 1:47
Jurgen Van de Walle (Quick Step), 29th at 3:08
Max Jenkins (UnitedHealthcare-Maxxis), 34th at 6:03
Robert Britton (Bissell Pro Cycling), 48th at 15:20
Ryan Anderson (Kelly Benefit Strategies), 60th at 17:51
Davide Frattini (Team Type 1), 63rd at 19:21
Jeremy Powers (Jelly Belly), 80th at 28:41
Scott Stewart (Team Type 1), 112th at 33:54
The eight quickly took time on the bunch, leading by two and a half minutes as they approached the California Travel and Tourism KOM at Sierra Road. Anderson took top honors there, followed by Britton and Boom.
Frattini, Stewart and Jenkins fell off the pace and found themselves caught in no-man's land, a minute behind the break and two ahead of the bunch.
Anderson and Frattini had battled for KOM points from a break the day before, as well.
"It was a lot harder today," Anderson said. "The group I was with had Lars and a lot of strong guys. Right out of the blocks they were going hard up the climb, they were shedding people who were with us. It was great, and I was pretty happy to make it over that one with them, and pick up the most amount of points I could."
The hares and hounds raced along a fast, flat, sinuous course en route to visiting downtown Livermore for the first Herbalife sprint of the day, in which Boom out-kicked Powers and Anderson. By now he was also the race leader on the road, with the first chase 2:10 back and the field containing golden jersey Zabriskie nearly six minutes behind, led by Garmin and RadioShack.
Next came the very difficult ascent of Mines Road, where the riders faced nearly 30 miles of narrow, twisting road, climbing most of the way before a long descent into Patterson.  Anderson added the Mines Road KOM to his collection — "I suffered to make that one," he said — in front of Van de Walle and Britton. Behind, the bunch — still nearly six minutes behind — absorbed the chasing trio on the climb.
Adios, says Anderson
Having taken the lead in the mountains competition from Thomas Rabou (Team Type 1), Anderson sat up and dropped out of the break.
The surviving quartet — Boom, Van de Walle, Britton and Powers — began the mostly downhill stretch to Patterson and the second Herbalife sprint with an advantage of some five minutes on the pursuit, still being led by RadioShack and Garmin.
"It was pretty sweet," Powers said. "We were out there shredding hard. It was pretty awesome. But I was super sketched out going 50 miles an hour, bikes completely leaned over, with potholes."
As a light rain began to fall, RadioShack and Garmin increased the tempo with an assist from Liquigas-Doimo, whose men were working for best young rider Peter Sagan (fourth overall at 17 seconds) and Chicchi. The gap began coming down, to 4:50 at the 114km/70.8-mile point.
HTC-Columbia began contributing as well, thinking of stage-1 winner and points leader Cavendish, and the gap fell further as the bunch barreled along Del Puerto Canyon Road, to 4:15 with 66.7km (41.4 miles) to go.
Ten miles from the Patterson sprint the gap had dipped under three minutes despite a rash of mechanicals in the pursuit — Tony Martin (HTC-Columbia) and UnitedHealthcare-Maxxis teammates Chris Baldwin and Karl Menzies all required wheel changes on the terrible tarmac of Del Puerto Canyon.
Going Boom (and boom) in Patterson
The wind picked up as the break approached the Patterson sprint, becoming a crosswind from the left that saw a handful of riders guttered and struggling to keep pace with the chase. The leaders' advantage had grown once again, to 3:25, as Boom pushed the pace with 43km (26.7 miles) to race.
Boom took that second sprint ahead of De Walle and Britton, moving into second behind Cavendish in the points competition. And then it was 26 miles of flat, straight roads to Modesto, where the riders faced two finishing circuits downtown.
An inexplicable crash on an arrow-straight stretch took down or delayed a couple dozen riders — UnitedHealthcare's Baldwin and Menzies, Kiel Reijean (Jelly Belly), Fly V Australia's Bernard Sulzberger, Jonathan Cantwell and Ben Day, Theo Bos and Heinrich Haussler (Cervélo) and Jason McCartney (RadioShack), among others — and U.S. champion George Hincapie (BMC Racing Team) just barely managed to dodge the carnage.
The pileup seemed to energize the pursuit. With 32km to go, a reduced chase led by RadioShack was just two minutes behind the four leaders. Race leader Zabriskie was caught in a second group and time trialed back to the first group with Sagan on his wheel.
The weary break was grinding along into a stiff wind and losing time rapidly as a strong chase reformed. Jens Voigt and Stuart O'Grady (Saxo Bank) were there. So too were Mick Rogers and Eisel (HTC), Hincapie, defending champion Levi Leipheimer and Armstrong (RadioShack), Belgian national champion Tom Boonen (Quick Step) and Rory Sutherland (UnitedHealthcare).
As the chase grew in numbers and strength the break had just a half-minute's advantage with 26.5km (16.4 miles) to race. Britton tried to launch himself out of the break, to no effect. First Boom latched on, then the others.
Britton went again, and once again Boom went with him. This time, Van de Walle and Powers needed more time to regain the two leaders. And behind, the field finally had the escapees in its sights.
The final kilometers
With its prey in view on the long, straight road, the field let the foursome dangle for a bit, giving them a little more rope, about a minute's worth. A weary Powers finally threw in the towel, sliding off the back of the break.
And then Boom drilled it with 16km (9.9 miles) to go. Van de Walle and Britton looked at each other as the Rabobank man accelerated away.
Behind, the field, led by HTC, Garmin, Liquigas and RadioShack, swept up Powers. Ahead, Van de Walle dragged Britton back to Boom and rolled right on past. Boom quickly grabbed his wheel, and Britton came along for the ride. Their advantage was just 40 seconds.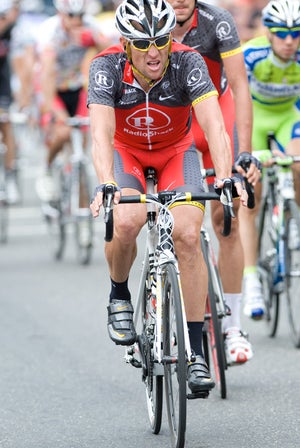 With 10km to go the three leaders were clinging to a gap of just 30 seconds, and Britton was barely hanging on as Van de Walle and Boom traded punches. The Rabobank man attacked once again going onto the finishing circuit, opening a substantial lead, and Van de Walle let Britton handle the chase. It didn't go well.
SpiderTech led the field onto the finishing circuit, sweeping up Van de Walle and Britton, but Boom soldiered on. His effort was in vain, though — the man who launched the day's break was finally caught, too, with 6.5km to go.
Boom shrugged off his big effort after the finish — "Rabobank has a branch here, and it was a beautiful day."
As the bunch roared through town Yaroslav Popovych (RadioShack) overcooked a corner, stacking it badly enough to require a bike change. Fabian Cancellara (Saxo Bank) flatted. Both would lose time.
Cervélo muscled up to the front going into the final lap, hoping to set up Bos for the stage win, as they did Thor Hushovd in 2009. Rabobank's Tjallingii tried a desperate, last-ditch attack, but failed to derail the big black train.
Then another Rabo' went — this time Martens — as yet another crash took Armstrong out of the bunch. Unlike Popo' and Cancellara, he was within 3km and would receive field time at the finish.
Ahead, as Martens, too, was retrieved, Quick Step came to the fore for Boonen. Then HTC fought its way back to the front, trying to slingshot Cavendish to the line. But the green jerseys of Liquigas were there as well — and it was Chicchi taking the victory from Saxo's J.J. Haedo, with Cav' third best. On this day, at least.
Brian Holcombe and Ben Delaney contributed to this report.
Quick results
Stage
1. Francesco Chicchi (Liquigas)
2. J.J. Haedo (Saxo Bank)
3. Mark Cavendish (HTC-Columbia)
4. Theo Bos (Cervelo)
Overall
1. Dave Zabriskie (Garmin-Transitions)
2. Mick Rogers (HTC-Columbia), at 0:04
3. Levi Leipheimer (RadioShack), at 0:06
4. Peter Sagan (Liquigas-Doimo), at 0:21