Gallery: Trick tech at the TT World Championships
We take a look at some of the not so obvious new time trial tech and advancments on show at the World Championships.
Heading out the door? Read this article on the new Outside+ app available now on iOS devices for members! Download the app.
As the curtain falls on the 2022 World Time Trial Championships with the Mixed Team Relay, we thought there was probably no better time to take a look at some of the tech on show over the past four days of time trial action. There was of course, all the usual aero rig goodness, including the latest frames, helmets, shoe covers, and custom aero extensions you would expect at Worlds-level time trialling these days.
But some new and curious tech choices caught our eye, here's the best of what we could pick out.
New Ridley Dean Fast
Where better to start with than with a brand new prototype time trial frame from Ridley? The new bike was spotted under Belgian Alec Segaert as he raced to second place in the U23 race. If Segaert's links to the U23 and WorldTour Lotto-Soudal squad weren't enough to give away the unbranded frames identity, the Ridley-branded fork, which looks like it has been borrowed straight from the Ridley Noah Fast, all but confirmed the new frame is a Ridley prototype.
Ridley has since confirmed the bike is a prototype Dean Fast Disc, but can't yet share any details. In fact, it could be at the Giro next May before we hear any further details on the new bike.
Base layers
Mention aero clothing, and typically, most of us will think of skinsuits, aero socks, overshoes, helmets, and gloves, but base layers seem to be the new frontier. Long story short, Team Sky and Castelli developed their "vortex generating" skinsuit arm bumps and Geraint Thomas went on to win the prologue at the 2017 Tour de France. The UCI didn't like this and banned the bumpy armed skinsuit, mandating in article 1.3.003 that "modifications to the surface roughness of clothing are authorized but may only be the result of threading, weaving or assembling of the fabric. Surface roughness modifications shall be limited to a profile difference of 1mm at most."
Endura also had its Encapsulator suit banned as a result of the rule change, but of, as is so often the case, a new rule from the UCI simply means a new opportunity for the cleverest minds to find a new advantage over the competition. It was in the final time trial of the 2020 Giro d'Italia when we first heard about the potential of a base layer offering an aero advantage, with Tao Geoghegan Hart said to have used a base layer with much taller ribbing under his smooth, rule-compliant skinsuit, in chasing the aero gains lost with the 1mm UCI rule.
Fast forward to this year's worlds, and some of the top contenders have brought their base layer A-game.
Skinsuits
Before we all rush off to glue spaghetti sticks to our base layers, there were also plenty of new skinsuits on show presumably offering potential time trial gains. So many time trial gains, in fact, that some riders and teams have gone fully AWOL on sponsor commitments to race what they have either tested or perceive to be the fastest or at least faster kit.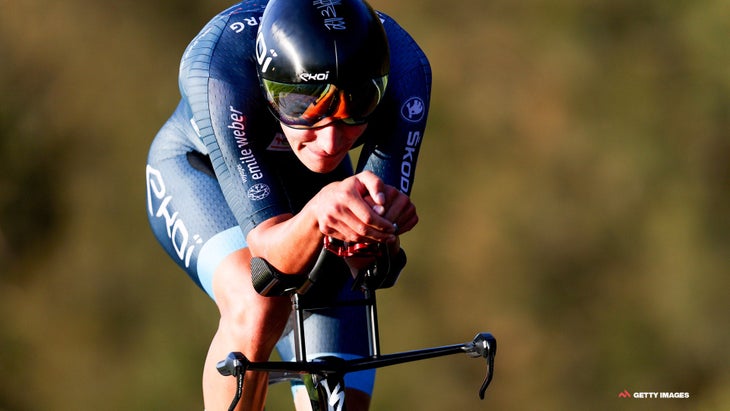 Ganna
As we mentioned earlier, Ganna had so much interesting tech that he needed an entire section to himself. In addition to those Bolero Sleeves, the former world champion and Hour Record hopeful had a new suit and bike, plus newish aero extensions, helmet visor, and hefty dose of black tape.
Ganna's new bike
Ganna also had a brand new bike for his ultimately unsuccessful world title defence. The new Bolide F first appeared back in June at the Tour of Switzerland, and the Ineos Grenadiers have been putting it to good use ever since. Gann's new rig is simply stunning, as much so as his "old" blue one pictured below.
Now a moment for the blue version of the same bike.
The young guns are looking ever more the pros, both in terms of performance, positions, and equipment
Another moment, please, to appreciate Adam Holm's time trial position. I have no idea if it's fast, how sustainable it is, or if he can even see where he is going, but oh my, it looks good. Maybe even one of the best-looking time trial positions ever?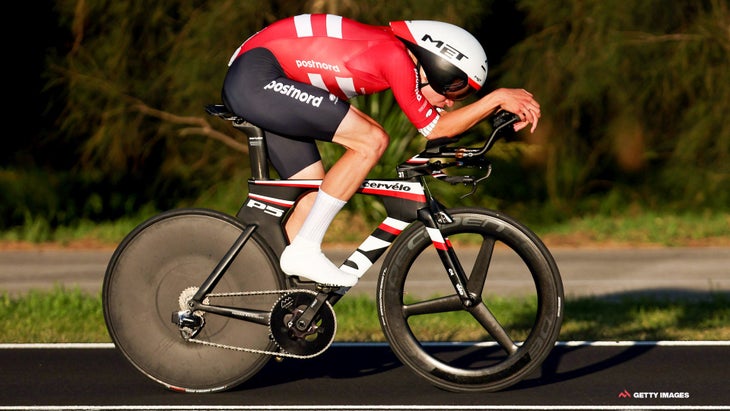 Speaking of "seeing where you are going", Lucas Plapp can't take his eyes off that new Princeton CarbonWorks Mach 7580 TS (TriSpoke) front wheel. The tri-spoke is available through Princeton's "Pro-Equip" program for now, with more information expected from Princeton soon.
Britain may have the time trialling tradition, and a considerable gold medal haul from these championships, but Switzerland is rapidly becoming the most dominant nation. The Swiss took the win in the mixed team relay time trial, following a bronze for Reusser and silver for Kung in the individual events. Not only do the Swiss have some of the best time triallists in the world, but they are also clearly very clued in to optimising their setups.