Calmer, wiser Primož Roglič ready for Giro d'Italia rerun: 'I am like good wine'
Sepp Kuss on Jumbo-Visma's pink jersey ambitions: 'Primož is stronger than he was four years ago. He is a candidate for victory.'
Photo: AFP via Getty Images
Heading out the door? Read this article on the new Outside+ app available now on iOS devices for members! Download the app.
Primož Roglič says he's a strikingly different rider than the one who fell short of victory in the 2019 Giro d'Italia and then unraveled at the 2020 Tour de France.
Since then, he's won three editions of the Vuelta a España, brought home an Olympic gold medal, secured one monument, and won just about every other stage race he's started.
On Saturday, and older, wiser Roglič is ready for all comers as he takes on unfinished business with the Giro and his quest for the pink jersey.
"I am like good wine, the older the better," Roglič said in a media call. "You grow up, you are somehow wiser, and you have more experiences. We will see in the coming days if I am stronger. We did everything and we are ready to go full gas."
Also read:
In 2019, Roglič was just finding his feet in the peloton as one of the ascendant forces in grand tour racing. The former ski jumper came late to bike racing, and after showing promise in his earliest forays, the 2019 Giro was meant to be his crowning moment.
Yet after taking pink early, he and Vincenzo Nibali miscalculated and let a daring raid by Richard Carapaz disrupt the plan in the Italian Alps.
The next summer, Roglič was in store for another stinging disappointment when his near-perfect Tour unraveled on the infamous meltdown in the final time trial against compatriot Tadej Pogačar in the 2020 Tour de France.
Those experiences shaped him but didn't scar him.
Roglič's engine remains as strong as ever, and he says he's racing smarter.
"I am now for quite a while at the best level, competing with the top guys," Roglič said. "When you are all the time there, a lot of nice things happen, but also some things that maybe you don't want to happen.
"That is part of it," he said said. "But we are here now, and we are looking forward to the next adventure."
Showdown with Remco Evenepoel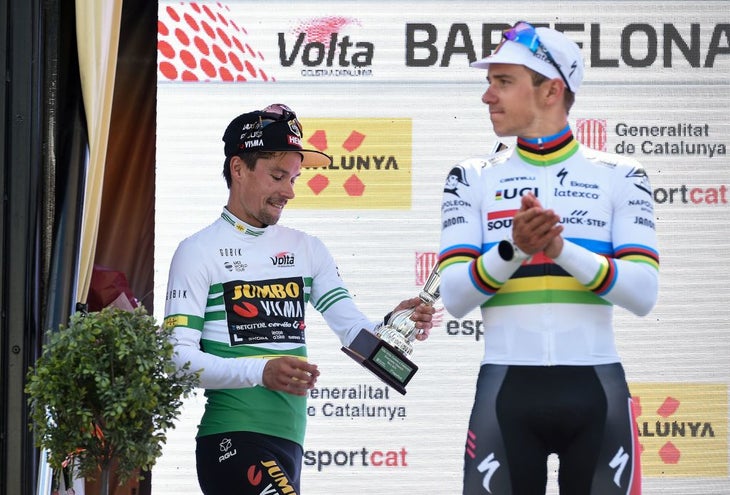 Many are expecting to see Roglič and Remco Evenepoel light up the climbs and time trials across the Giro.
Both start Saturday as the preeminent favorites. Roglič cautioned he cannot take his eyes off other rivals, a lesson learned from the Carapaz coup a few years ago.
"Remco is one of the strongest ones, and he is in super-great shape. The rest of us will try to make his life a bit harder," he said. "It's not just a battle between him and me, there are a bunch of big champions and strong guys. It will be a big fight."
The pair squared off at the Volta a Catalunya in what was a thrilling preview of what could lie in store this month. They were evenly matched in the mountains, with Roglič racing with icy calculation to squeak out the win.
🇬🇧 Primož Roglič, to crown an exceptional career ➡️ https://t.co/WXqncuVgUM
.
🇮🇹 Primož Roglič, per coronare una carriera ➡️ https://t.co/dgvjD1DKn7
.
🇪🇸 Primož Roglič, coronando una carrera ➡️ https://t.co/0JUibg6PSZ
.
🇫🇷 Primož Roglič, pour couronner une carrière… pic.twitter.com/x7dkFpGvOi

— Giro d'Italia (@giroditalia) May 5, 2023
Roglič has also endured a few rough and tumble seasons, with heavy crashes at the 2022 Tour and Vuelta, sending him to the surgeon's office in the off-season.
He's clearly back at his top level, and at 33, he's back at the top of his game.
"I hope to have this level all the way through the Giro," he said. "In my case, it's quite simple, to try to stay healthy and keep the team around me, and do our best, and we will see what it means against all the best.
"The final week is always a decisive week in any grand tour," he said. "For sure if you need to choose when to have the best legs it would be ideal to have it in the last week."
All month long, Roglič will be exorcizing the ghosts of Giro's past, and channeling the winning vibe of the Vuelta treble.
Kuss on Roglič: 'Primož is stronger than he was four years ago'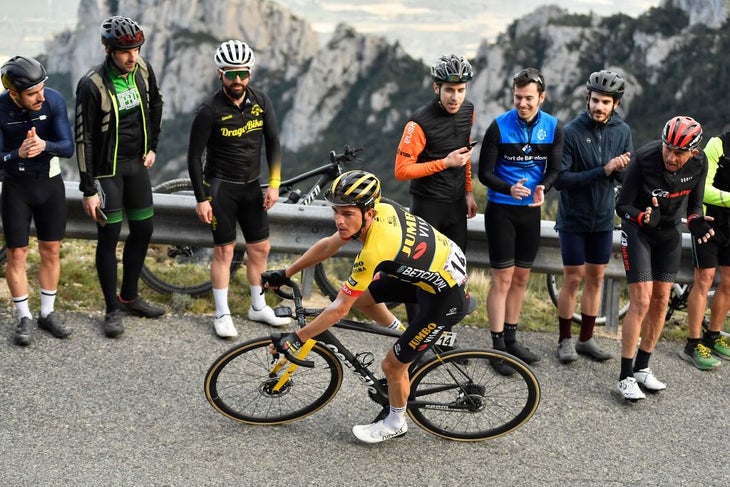 One late addition to the team is American climbing ace Sepp Kuss. He came in a replacement for Wilco Kelderman, who suffered a heavy crash at Tirreno-Adriatico.
Kuss is a familiar hand within the team and will fit easily into Roglič's ambitions.
Speaking to AS, Kuss echoed the sentiment that Roglič is in pole position for pink, and the meltdown at the Tour in 2020 won't repeat on the penultimate climbing time trial during this Giro.
"Primož is stronger than he was four years ago. He is a candidate for victory," Kuss said. "The [time trial] stage is similar to the Tour stage a few years ago, and you can lose a lot of time. Primož told me that it's horrible, narrow, steep, with bad asphalt. It will be a key day.
"I don't know how he'll react, I guess it depends a bit on what's happened before and where we are."
Roglič not worried about COVID-19
Roglič has brushed off the potentially decisive impacts a recent outbreak of COVID-19 infections inside the team will have on his pink jersey bid.
Robert Gesink and Tobias Foss were zapped by COVID-19 earlier this week, and then Jos van Emden, an experienced veteran, was infected Thursday.
On Friday, key helper Jan Tratnik crashed out in time trial training and is replaced by Thomas Gloag.
Four new replacement riders are being shipped in, and counting five with Kuss for Kelderman, but Roglič is taking the unwelcome surprise with typical aplomb.
"For sure it's not something you wished for. We will deal with it, and we go with the guys who will be here," Roglič said. "We take extra steps to stay healthy. I hope nothing happens. Looking to me, things won't change that much. I have to do what I have to do, and do my best on the road."
STAGE 1️⃣: 19km time trial from Fossacesia Marina to Ortona 🌊. A flat route which does, however, present some small pitfalls in its final part 🏁
.
TAPPA 1️⃣: cronometro di 19km da Fossacesia Marina ad Ortona 🌊. Un percorso pianeggiante che riserva però qualche piccola insidia… pic.twitter.com/lt6wkExoKa

— Giro d'Italia (@giroditalia) May 6, 2023
More than anything, Roglič is pragmatic, and his philosophy is quite simple.
"Be fast and do our best," he said. "You just have to be fastest at the finish line, it's no big science.
"I am ready to race. We had a few surprises, but whoever is with me, we will be ready to race all the way to Rome. That's when you want to have the pink jersey."