The forgotten story of Andy Hampsten's 1988 Giro win
The full story of the 1988 Giro is about so much more than the freezing climb of the Passo di Gavia. Hampsten had to be willing to lose.
Heading out the door? Read this article on the new Outside+ app available now on iOS devices for members! Download the app.
The full story of the 1988 Giro d'Italia is about so much more than the freezing climb of the Passo di Gavia. Over three weeks, Andy Hampsten withstood repeated attacks by a Eurocentric peloton. And a late-race, unorthodox tactical decision nearly cost him the victory.
This is the complete story, one best told by the men who were there.
The 3,300 feet up Italy's Passo Duran is harder than Andy Hampsten thought it would be, and that is the first mistake. Perhaps he should have known; perhaps it is the construction and bad pavement that tips the balance in his rivals' favor.
The climb comes early in the 1988 Giro d'Italia's 19th stage. Hampsten wears pink, gained five days earlier when the race crossed the snow-covered Passo di Gavia, a day that will go down in cycling history. Only two days sit between this pink jersey and the final time trial in Vittorio Veneto. A win would bring Hampsten and his Team 7-Eleven a historic victory. No American has ever won the Italian tour, and Team 7-Eleven has come to this race as plucky underdogs. Dutchman Erik Breukink of Panasonic is second overall, two minutes down. The Swiss Urs Zimmerman is in third overall, just over five minutes down. He is not content to stay there, and he attacks.
Zimmerman's smooth pedal stroke ekes out 45 seconds as the top of the Duran approaches. Hampsten could have followed, he tells a VeloNews reporter later, but it felt too early — much too early. There are nearly 140 kilometers to go and he still has those five minutes over Zimmerman in hand. The pink jersey feels safe. He can see his Swiss rival one switchback ahead. Surely there is no cause for concern. And then suddenly there is. Italian climber Stefano Giuliani attacks and quickly joins Zimmerman. Almost immediately, the two begin to pull away from Hampsten's group.
The story of Andy Hampsten's Giro victory goes beyond his exploits on the Gavia and its spectacular snow. It is also about the moments when the race was almost lost, and thus truly won. This story is best told through the memories of the men who were there.
We begin with stage 19, 233 kilometers through the Dolomites to Arta Terme that began with the Duran. For a few tense hours that day, Hampsten was willing to lose the 1988 Giro d'Italia. He had to be, if he wanted to win.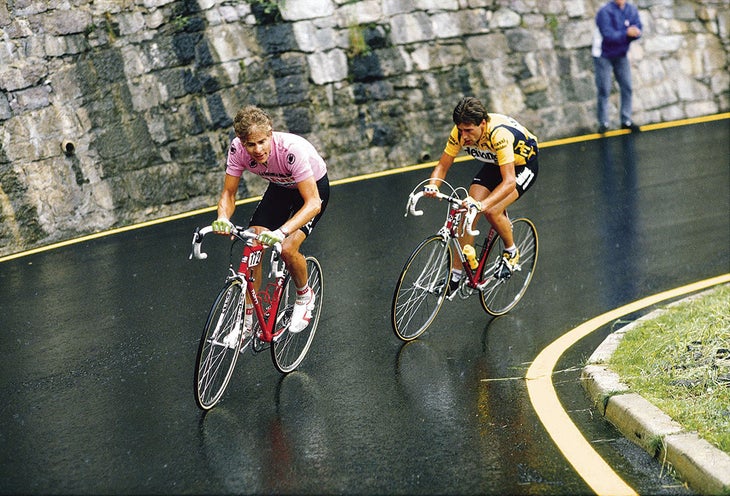 ANDY HAMPSTEN: I make the decision not to follow Zimmerman so early on this long stage. And then Giuliani jumps across. Now, I'm not so sure about my tactics. The group is decimated and we have a few hours of mountains and hills to go. I have Jeff Pierce and Breukink and a few other guys. We're on this climb, so it's to my advantage, but the break is minutes up the road and Breukink is making me chase. I'm afraid he'll play the obvious card and attack me on the flats, and I'll never get him back. I go back to the team car and talk to [team director] Mike Neel. I'm like 'This is really bad.' He tells me I need to be willing to lose the race in order to win the Giro.
JEFF PIERCE (7-Eleven teammate): We're pulling time back on the climb and then losing it on the descent. It was like three minutes but growing.
Breukink panicked and came up to us and I thought he was going to cry he was so upset. He didn't understand why we weren't catching these guys. Mike [Neel] comes up in the car to tell us there's a group of guys about two minutes back. If we keep killing ourselves maybe we make the time back to the break, but it's going to be close.
JIM OCHOWICZ (7-Eleven team founder/manager): We did have some allies in that Breukink was in the same boat, and Panasonic was a strong team. It was a tense stage. I remember Jeff and Andy coming back to the car and there was some fright on their faces when they really realized the situation.
The pink jersey is floating away across the Dolomites. Alarm bells are ringing. The only source of calm is Hampsten's considerable buffer, built through the first and second weeks of the race and confirmed on that frightful stage over the Gavia. To understand this Giro, and how its outcome came down to a stage that few recall, we must first look to the time Hampsten previously gained.
We head back to the opening week of the race. It is clear that 7-Eleven is no normal team. They are innovative and hopeful underdogs. They are ambitious but cognizant of the hurdles that stand in their way. Italians dominate the Giro, and foreign teams and riders often find themselves battling an entire peloton of adversaries. Americans were still the new kids on the block, but a lack of old-school tradition can be a benefit, too.
OCHOWICZ: Our biggest challenge was to keep everybody healthy. We were really focused on that part of the mission. I was always nervous about food contamination, and I was a bit worried that somebody would spike our drinks or something. We were in hotels with some of the other teams that were our rivals. I'd sit there early in the morning until late at night making sure the food wasn't played with on the table. I was really paranoid in that Giro!
[pullquote align="right" attrib="Andy Hampsten"]"I go back to the team car and talk to Mike Neel. I'm like, 'This is really bad.' He tells me I need to be willing to lose the race in order to win the Giro."[/pullquote]
PIERCE: We didn't trust anything that came out of the kitchen. We brought our own drinks and food because we were in that paranoia stage where we are not going to have anybody poison our food. Mike [Neel] would check out the kitchen before a meal. There were so many stories of guys getting poisoned.
ROY KNICKMAN (7-Eleven teammate): I got sick and was throwing up during the first week. I have a few memories of hot days where I could barely pedal and just got dropped. I was back home in Denver by the time they got to the mountains.
In my perception we weren't always taken seriously. Even before I was on the team, 7-Eleven was the novelty American team. 'They're not a real team,' is what the Europeans thought.
HAMPSTEN: Before the prologue, we're on this TV show. All of the teams are lined up and the guys are interviewed, and everybody is saying that someone else is going to win. 'Oh, [Gianni] Bugno will win.' 'Oh, [Franco] Chioccioli will win.' Nobody says 'Yeah, I'm going to win.'
We're bored out of our minds just standing there in our sweat suits. Then [teammate Raúl] Alcalá is at the front of our row and they ask him, 'Raúl, what do you think?' He says, 'Oh, Andy is going to win.' We jumped up with our arms out and were like, 'Yeah!'
Who will win the Giro? "We will." It is a brashness that the Italian fans, the tifosi, appreciate through the first week, as Hampsten shows his form with a second place in stage six, on the race's first mountaintop finish in Campitello Matese. His teammate, Roy Knickman, falls ill and must abandon, but the team is otherwise healthy and optimistic.
Stage 12 is the first opportunity for Hampsten to take serious time out of his rivals. Novara to Selvino, 205 mountainous kilometers culminating with a mountaintop finish. The games commence with 10 kilometers remaining, drawing out the leaders. Chioccioli is there. Marc Madiot is there. Zimmerman is there. Breukink is there.
Hampsten attacks late. Only Breukink can follow. But that's all he can do: follow. Then he can't even follow anymore. "Hampsten asked me to come through," Breukink tells reporters after the stage. "But I couldn't. Hampsten is the strongest climber here."
OCHOWICZ: We'd have our team meetings in a café every morning. We'd drive to the race start, and then about five kilometers from the start, we'd stop and unload the bikes. We'd go into a café and buy some coffees, sit around and the riders would put on their clothes, put the leg cream on and their race numbers. We'd go over the medical report from Max Testa, and Mike would talk about racing strategy for the day. Then we'd pay the café, maybe take some photos, and then ride from the café to the start. It was easy.
HAMPSTEN: On the penultimate climb [of stage 12] the pace is fast but steady, and I'm out of water. Half the guys are local, and I see a guy I raced with as an amateur get a bottle from a fan. He has two great bottles. I never take a drink from anyone else. I love this kid though, and he is on Carerra, which is definitely an opposing team. I'm like, 'Do you mind, can I have a drink?' I think he's going to tell his captain that I'm out of water, but he just gives me the entire bottle, no problem. I've never forgotten that.
[pullquote align="right" attrib="Hampsten"]"I attack and nobody comes. I thought they must be playing a joke on me. I'm pedaling up this false falt and I'm flying. It's the best day."[/pullquote]
So the final climb is this beautiful climb with lots of switchbacks. All of the Italian guys want to win it. I just played it by the book: I attacked once from five kilometers out and broke things up. I had [Raúl] Alcalá there. I remember thinking, 'This is terrible, we're going really slow.' It's nerve-wracking, because now we have three kilometers to go. I'm used to accelerating in these mountains, and I have a few more in me. So I attack and nobody comes. I thought they must be playing a joke on me. 'They're so funny!' I'm pedaling up this false flat and I'm flying. It's the best day. Everything hurts but I'm flying up this mountain. I have the Oakley Pilots on my head, and I know that I get a $1,000 bonus if I get my photo in them. I want to buy a house, and $1,000 is a lot of money!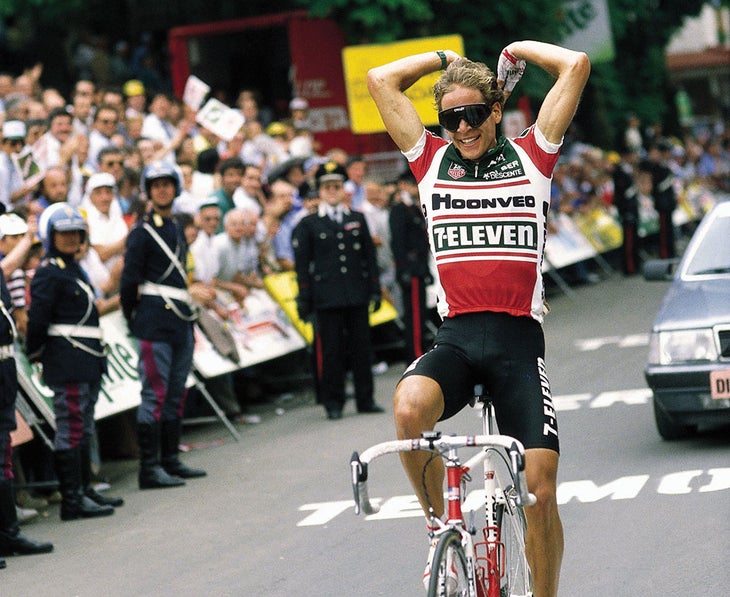 The Gavia. Ask many of the riders in the '88 Giro about that race and it's the only stage they can recall with clarity. One of the hardest stages in the history of pro cycling has a way of hanging in one's memory.
This is supposed to be Hampsten's day. Stage 14 is perfect for him. The team has intel that the Gavia is a harder climb than many are expecting, and the dirt section appeals to a man who spends his offseason riding unpaved roads in the mountains of Boulder, Colorado.
The peloton wakes on June 5th to pissing rain and temperatures just above freezing. That's in the valley. Surely it's snowing at the top. There's some confusion: Will the stage be canceled? Shortened?
No. Race on.
OCHOWICZ: I remember the Gavia meeting. The weather conditions for the day prior were pretty bad, and they got worse overnight. I went to the local ski shop and bought winter gloves for everybody the night before. I bought as many gloves as I could. We gave them to the riders that morning when they started. We had the team meeting and Hans Hess was there from our clothing sponsor, Descente. He was just listening, having a coffee, as we talked about the strategy. My plan was to drive up ahead of the race to the top of the Gavia and then hand out bottles of hot tea and hats and jackets. We took off early, and it took forever to get up there because there were several avalanches on the way up. We drove up and at halfway the road turned to dirt, and it was like 'Whoa, how are these guys going to get up this?'
HAMPSTEN: It's the team meeting and [Mike] Neel talks us into putting lanolin on our entire bodies, not just our legs. It's like we were preparing to swim in the English Channel. Nobody has seen [the Gavia] or scouted it. We hear it's this one-lane steep dirt road, and I love dirt.
So the break goes up the road with [Johan] van der Velde and eight others, but we don't worry about it. By the time we go down the [Passo] Tonale, I'm frozen. It's just bucketing sleet at the top. It's as bad as it can be. We're going along the valley and I'm just thinking 'Poor me, poor me!' Then I look around. I see Chioccioli and he has the leader's jersey and just a rain jacket. He looks like he's seen a ghost. I mean he's just dead!
So we are riding up to [the Gavia] and there is this beautiful hairpin. Max Testa had told me the road turned to dirt here and became just one lane through a stand of larch trees. The hairpin is at 14 kilometers from the top. The guys lead me out, and I just feel like a sitting duck because everyone knows I'm going to attack.
[pullquote align="left" attrib="Hampsten"]"The guys lead me out, and I just feel like a sitting duck because everyone knows I'm going to attack."[/pullquote]
DAG OTTO LAURITZEN (7-Eleven teammate): The Gavia was the coldest day of my life. Normally I like tough weather. I always have been quite strong in extreme weather because a lot of riders are beaten before the start. I also remember that I had never been so cold! We were working very hard at the bottom of the [Gavia]. It's raining and getting slushy and we are keeping a good pace. Then the road turns to dirt or gravel. And after a while Andy had to leave us.
HAMPSTEN: I do the first of three hard attacks once it turns to dirt, and I was gone. The switchbacks were really tight, and you can look down and see everyone, and nobody is close. It doesn't matter if somebody has a really good team. I go past the soigneur where there is hot tea, and the chalkboard says Breukink is at 47 seconds. I'm opening up and trying to be cool because I know I'm not racing for the top — I'm racing for the descent, so I don't want to go too hard. It's the 1980s and I have this "Flock of Seagulls" hairstyle. I call the team car up and put on this neck gaiter, and I put it over my nose and get a wool cap. When I put [the hat] on — because I had wonderful hair — this snowball rolls down my back off my hair. I'm not even melting snow on my head I'm that cold!
RAÚL ALCALÁ (7-Eleven teammate): I tried to stay in the first group but I can't, I'm freezing. I'm riding in a small group. When we start climbing the hill, 15 kilometers from the top, it is raining. Then at 10 kilometers everything is closed, and eight kilometers from the top you can no longer see the road. There is mist all over. The only mark to follow on the road is the tire tracks from the cars. It was a terrible stage.
OCHOWICZ: The only riders I recall coming over the summit are Andy and Bob Roll. Andy wasn't the first rider, he was third, and he had his race face on and he actually looked pretty good. He was pedaling and didn't look fatigued. I handed him a musette, and there was a hat, jacket, and hot tea in there. He took it out and put on the jacket and hat. One by one the guys came up. The last guy was Bob, and he looked like he wasn't in good shape. I don't think he could even grab the musette.
LAURITZEN: At the top it does not go directly down, but you have to stay riding up there for a while. I remember thinking that if somebody was alone and they crashed, they could be buried in the snow there until spring. The conditions were very dangerous, life-threatening. I didn't know if I was braking. I had to look at the brakes to make sure my fingers were working because I had no feeling in them anymore.
HAMPSTEN: Breukink catches me and I think it's great because I can follow him on the descent. I got rid of all of them except for one, so I don't need to win. This is the whole thing we've been going for the entire week. The road is covered in snow; it's blowing snow, probably in the mid-20s. I'm trying to draft on him and I'm not going very fast, and he wants me to go first. I remember the dirt road under the slush actually had pretty good traction. I'm trying to be intelligent, because if I don't have enough glycogen in my brain then I might start to make bad decisions.
From here I can see there is no lead car, no helicopter, no follow car, no police car, no escort whatsoever. They're all just waiting in Santa Caterina, about 12 kilometers down the mountain.
LAURITZEN: It was everyone for themselves on the way down. We were just surviving. I was on my bike crying on the descent. I don't ever feel sorry for myself, but it was one of the moments when — apart from being a commando and doing extremely hard things — I have never suffered so hard in my life.
ALCALÁ: I was maybe 25 kilometers from the finish going downhill. I have nothing on my body and I am freezing. I have the hardest time braking. I didn't have a rain jacket or gloves. So I stop and I am asking people on the side of the road watching the race and am asking them for a jacket. Some guy gives me a jacket. That was gorgeous, a marvelous jacket. I keep the jacket and start descending again. Otherwise I would have quit the Giro right there.
HAMPSTEN: I tell myself not to look at my bare legs. They are bright red with lanolin and there is a sheet of ice on the shin. I keep descending but I'm not going fast, maybe 70 percent as fast as a tourist on a dry road. I'm moving alright but I don't want to overcook it. The snow changes to rain at the outskirts of Santa Caterina, and the dirt becomes pavement. I pedal, tuck, not knowing whether to take off the jacket. There's no chalkboard, no time checks. We're not racing tactically anymore. I want to protect what I have.
Psychologically it was the most stress I've ever been under. I'm thinking this is an artificial circumstance that's causing the pain, and I know I can stop at any time. 'If you want, just stop and get warm, have a hot bath! You have hypothermia! We're probably staying at a two-star hotel tonight and it probably won't have hot water.'
Breukink passes me at seven kilometers to go. Now there's TV, and it looks like I'm asleep. I should jump on his wheel but I can't do a single thing, so I just keep him at seven seconds. My mind is a mess.
Going up to the finish line, you're in downtown Bormio, and nobody cares! I go to the team car really quickly, and the team got my clothes off and I had a Patagonia sweater — it's the warmest sweater. Mike leaves the car running and I'm just shaking and crying, 'What do I do?' Emotionally I was able to push myself further physically, so I don't' know if it's shock. I'm crying, drinking tea. Mike comes to talk to me, and I talk back and nothing comes out that's intelligible.
Then I realize I have the pink jersey and it's like, 'Oh God, I have the pink jersey!' That was our whole motivation.
ALCALÁ: I didn't give the guy his jacket back. When I finished I take the longest possible time warming up. At the hotel my roommate Bobby Roll was hypothermic. He was blue! Bobby was blue in the shower.
The Gavia turns Bob Roll blue and Hampsten pink, but he doesn't have the lead by much. Hampsten's next chance to extend his lead is the stage 18 uphill time trial, an 18-kilometer effort to Valico del Vetriolo. He doesn't waste the opportunity. He takes 48 seconds from Zimmerman and 1:04 from Breukink, and comes into stage 19 with 2:06 over Breukink and 5:10 over Zimmerman.
He will need almost all of it. If the Gavia stage was the most memorable of the '88 Giro, stage 19 is the most tactically crucial. It will be the only time Hampsten loses pink, if only virtually.
So, we return to stage 19.
Call Jeff Pierce a super domestique if you want. Pierce has already won a stage of the Tour de France — the flat day on the 1987 Champs-Élysées — yet he is best when the road goes uphill. He certainly is super on the Passo Duran and in the harrowing kilometers that follow. The American sticks with his leader over the Duran and pulls the small chase group, just six riders by the bottom of the descent, to keep Zimmerman close. But the gap begins to swell. Only Pierce and Hampsten chase. Breukink, second overall, sits on, not yet worried by Zimmerman's assault on his podium spot. By the time the race reaches Pieve, halfway to the next climb, the gap has ballooned to 4'10".
By the lower slopes of the Passo della Mauria, with 73 kilometers to go, Zimmerman has a gap of 5:30 and has the virtual pink jersey.
The chase splinters; Breukink panics. Hampsten has only one teammate with him, but three more are riding two minutes further behind. He has a decision to make. Wait or go? To win the Giro, Hampsten might have to risk losing it.
OCHOWICZ: We didn't scare the team with any scenarios that could happen during the race that would be fatal to our attempt to win. It was more about being a little more relaxed and not being too stressed, and keeping our focus that way. But we were really nervous about that final time trial. It was flat. Andy is a great time trialist when it goes uphill, but on the flatter course, we knew he could lose some time. We were looking at that stage early in the race. So when [stage 19] came around, we didn't think it was too dangerous.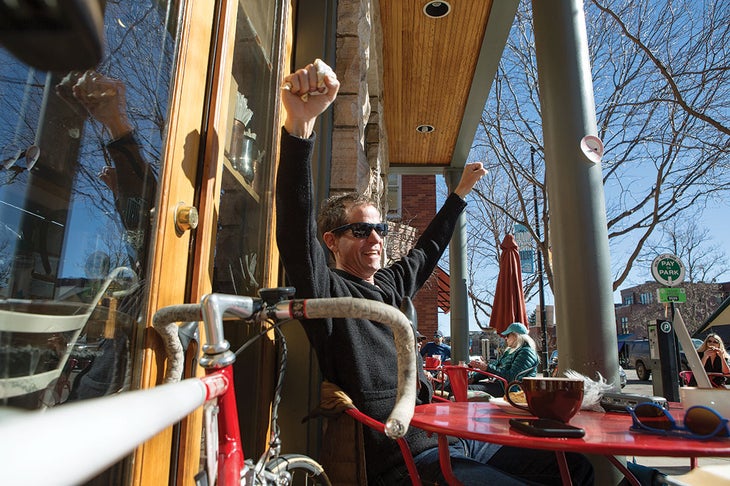 HAMPSTEN: We're going easy at the beginning. That was back when the Giro went slow. In the 1980s we went so frickin' slow that anybody could ride it. We would go 22 kilometers in an hour. Your hands would hurt from braking. And then we'd go so incredibly fast!
So my buddy Helmut Wechselberger comes over and looks at my gear and tells me it's not big enough. He says the race [book] purposely doesn't show how hard the Duran Pass is, but all of the Italians know it. It's 10 percent and on dirt. So on our team car we have three wheels with a 27-tooth cog, which is what I need. We pull over and swap wheels. I get one; Pierce gets one. Wechselberger also tells me that the Italians are gunning for me.
So going up the Duran it's Zimmermann who does this really good hard attack, and I'm at the front. I have Bob Roll and Pierce and they are riding out of their skin tempo. I could have gone with Zimmerman but my teammates were in good shape. So I make the decision not to go. I played the team card.
Zimmerman is joined by Giuliani. The duo build a four-minute lead on the group, and the gap continues to expand. Roll is dropped, and suddenly Hampsten is alone with Pierce and Breukink.
PIERCE: We still had 50 to 60 kilometers of rolling terrain. There wasn't a whole lot of need to talk about the situation with Andy. We'd raced together through a number of tours and knew exactly what was going on. I noticed Andy was not in the mood to take a lot of risks on the descents, so we lost time on them. It was Andy's call on the pace. He seemed really calm. I didn't sense that he was worried.
HAMPSTEN: I regretted the decision to not go with [Zimmerman]. I was worried. If I chase for another three hours then [Breukink] is going to annihilate me on the flats. I'm going to have to gamble. On our radios we knew there was another group of guys about two minutes back. It's good guys, with some of my teammates and Panasonic guys. So I did it. I said, 'Okay, I'm not going to pull.' Let's let it come back together. All of a sudden Zimmermann is now seven minutes up the road. I lost the jersey on the road.
ERIK BREUKINK (Panasonic): It was a strange situation. It was far from the finish when Zimmermann attacked. I waited to see what Hampsten would do. He was only focusing on me. Hampsten waited for his teammates, so the gap was growing quickly. Only in the moment when teammates were coming back did we decide also to chase. There were no big climbs anymore so we had to defend the situation with still a long time trial to come.
PIERCE: Who in their right mind waits another two minutes when you're already in danger of losing the jersey? We trusted Mike's call on that. He was talking to Andy. The other guys are like, 'Holy crap.' Breukink is ready to lose it. After an eternity we look back and see the other group coming on the horizon. It's like 40 guys. Thank God.
As soon as they caught us, Bob, Dag Otto, Raúl, Ron [Kiefel], and myself went to the front and started the chase. I remember going back to Breukink and saying, 'You gotta put some guys on the front, too.' He looked at me like, 'No, your team has the jersey, you do the work.' Sure enough, a little later a few of his teammates start chasing.
ALCALÁ: I was with Kiefel, Bob, and other guys. We catch the group with [Hampsten] and I was tired but I think, 'This is the moment. He has lost the Giro [lead].' This is the moment to keep the jersey and win the Giro. When I see Andy in the moment he is very nervous. I say, 'Hey man, take it easy, we will catch him.'
HAMPSTEN: We're pulling our brains out. I said, 'Breukink, you gonna throw your boys at it?' He finally says, 'Okay, I'll help.' We have 10 guys pulling in the last hour, and there's still five minutes of a gap. It's starting to come down.
ALCALÁ: That was a crazy moment. We know we have to make the chase very hard. I was tired, but we opened full gas. This is the time to do work. Then in the last 20 kilometers we know that it's no longer a big risk to lose the jersey.
PIERCE: We never backed off. We bring the gap down, two and a half minutes, then two minutes. We were so tired. In the last kilometer, Ron came off. Then I came off. I couldn't even finish with the group. We gave it absolutely everything. To have confidence in the team to give up a couple of minutes on the razor's edge really said something.
BREUKINK: Finally it was [my team] Panasonic who chased and brought the gap down.
HAMPSTEN: Looking back, I think we played it right. It would have taken me an hour to catch Zimmerman, and there was enough road left that the cavalry wouldn't have come up. I think Breukink would have gotten me.
PIERCE: Our sponsor [Ermino] Dell'Oglio [of sponsor Hoonved] had never won a Giro. He called us and said he couldn't watch the race on TV anymore because he thought he would have a heart attack. He said that no matter what happened, he was proud of us. He said it was the best time of his life.
Andy was my roommate that night. He's quiet. He doesn't say a lot usually. That night he came over and said thanks. It's like, 'You're welcome. We gave it everything.' And that's all we needed to say.
[brightcove id="5390034286001″]
There is still one final hurdle standing in the way of Hampsten and Team 7-Eleven: the stage 20 individual time trial. Hampsten already won the uphill TT on stage 12, padding his lead. But he's notoriously weaker on flatter roads, and his chief rival, Breukink, is an ace in flat time trials. As Hampsten leaves the start gate, the skies above Vittorio Veneto open up and a heavy rain begins to fall.
[pullquote align="right" attrib="Jeff Pierce"]"Who in their right mind waits another two minutes when you're already in danger of losing the jersey? We trusted Mike's call on that. He was talking to Andy. The other guys were like, 'Holy crap.' Breukink is ready to lose it. After an eternity we look back and see the other group coming on the horizon. It's like 40 guys. Thank God."[/pullquote]
HAMPSTEN: I'm nervous but the TT is not terribly long, and I already have 2:06 on Breukink. Of course, I've lost that much time in prologues to him! I want to be conservative. I hate flat TTs but to conquer my nervousness, I think back to when I was a junior and [U.S. national team coach] Eddie [Borysewicz] doesn't even know my name, and I need to get him to notice me. In those TTs, I would focus on pedaling, then tucking, then pedaling and relaxing.
OCHOWICZ: I was so nervous that day. You think, 'We're gonna win the Giro, man!' It was incredible. I was petrified. And I didn't really have that much responsibility. I only had to check my watch and give the time split. We only cared about the split to Breukink.
HAMPSTEN: This thunderstorm rolls in, and I'm out there climbing a hill. Mike Neel comes over the crest next to me — it's illegal for him to drive next to me on a TT — but he says, 'Listen: Andy, use up some of your time on the downhills.' Basically telling me to take it easy. I'm like, 'I'm going to go for it!' The rain is coming down and it's nasty, and I do a right turn, then a left turn, then there is this right-hand curve that is nasty. I decide to use the entire road and be as conservative as I can. And sure enough, right in front of me there is this muddy streak going off the road. Zimmerman had crashed and he was three minutes up from me. Now I'm like, 'Oh my God!'
OCHOWICZ: Breukink came by so we were then worried about the split to Andy. We didn't have two-way radios with the riders then so I held a coaching chalkboard with the time.
When Andy came by we knew he'd done enough. He was behind but he had more than enough of a window to play with. He was just halfway through the TT. I was hoping he'd keep it up.
HAMPSTEN: If I didn't listen to Mike Neel I'd probably have ended up in that field. I'm like 'Crawl, sprint, crawl' for the rest of it. I didn't lose that much time. I didn't beat him, but I only lost by 20 seconds to [Breukink].
PIERCE: It wasn't a conventional way to ride a race back then. That's what was so exciting. Cycling wasn't nearly as formulaic as it is now. It was a thrill to be in those races because you didn't know what was going to happen from one day to the next.
HAMPSTEN: It was moments like [stage 19] that you remember. We didn't defend the jersey, but it's like, 'Here is our tactic. This is desperate.' Looking back, almost 30 years later, you can remember how much fun it was.
Andy Hampsten and his team needed a perfect first week. They had one. He needed to take time when he could — on stage 12, first, and then again when Mother Nature struck on the Gavia. He did, with gusto. 7-Eleven was forced to beat back cunning attacks in the following days, and had to remain calm in the one moment when the Giro was almost lost, as the pink jersey flew up the road to Arta Terme. They did.
Everyone remembers the Gavia. That photo of Hampsten riding in the snow — yes, the same one that we've put on the cover of this very issue — is one of the most iconic in all of cycling. But grand tours are three weeks long. One day never tells the whole story. The only Giro won by an American took more than guts on the Gavia. To win, Hampsten had to be willing to lose.