Gladiator Bike GearTrack Pack
Gladiator has come up with a better way to store your expensive rides in your garage without tearing up your walls or slicing and dicing your pricey rims.
Price
$50
Brand
Gladiator
---
Heading out the door? Read this article on the new Outside+ app available now on iOS devices for members! Download the app.
Those bicycle hooks you bought at the local hardware store sure are good at scratching your rims, chewing up your garage walls, and making your space look ugly.
Gladiator feels your pain. So it came up with a better way to store your expensive rides in your garage without tearing up your walls or slicing and dicing your pricey rims.
The Bike GearTrack Pack comes with a 4-foot-wide track, onto which accessory hooks slide. There's your standard bike hook — similar to your hardware store bike hook — and two smaller helmet hooks. Then there's the real gem of the system: The Gladiator Claw Advanced Bike Storage Hook v3.0.
This claw mounts the same way as the other accessories, then locks in place with the push of a small lever. To hang your bike, just push the wheel against the bumper pad and the jaws close. To open the jaws again, just bump the wheel against the pad a second time. It's easy, quick, and it prevents scratching on your rims. It holds up to 50 pounds, so go ahead and hang your big mountain bike (or your really light e-bike). This thing is genius.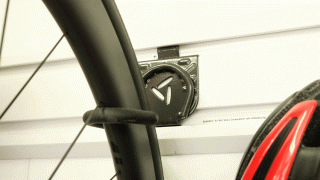 The track is made from PVC, so it's easy to drill through. It's also very light, making installation a breeze. Once you pop the included end caps in place, the result is a clean look, sans the ugly holes in your drywall. You'll need a stud finder, level, and a drill for installation, and that's about it. Drill right through the track and into the studs, and the track is securely installed. It took about ten minutes to install the entire system start to finish.
Here's a pro tip: If you intend to use the Claw hook, be sure to accommodate for the extra length of the Claw's jaws before mounting the track on your wall. We installed the track too low on the wall the first time; it was possible to hang bikes on the regular vertical bike hook, but bikes suspended from the Claw ended up hitting the ground.
The hooks all slide within the track's channels, so you can reposition as necessary based on whatever you want to hang. And you can order more hooks and tracks to really customize your garage organization setup.
The Gladiator system is logical and clean-looking, but it has some frustrating limitations. The Advanced Bike Storage Hook is undoubtedly a brilliant design, but we found it difficult to get it to close easily around deep-section wheels like Zipp's 303 Firecrests. Eventually we found a way to make it happen: It takes a bit of angling and wiggling the wheel to get it to fit. And modern mountain bikes, with large tires and rims, might face the same problem. But with low-profile rims, it's quicker and easier to hang bikes than any other system we've tried.
Similarly, the Vertical Bike Hook is quite small. Gladiator says on its website that it's capable of holding a maximum tire width of 1.7 inches. Unless you're storing some vintage XC mountain bikes, these hooks are exclusively the realm of road bikes. And again, getting deep-section wheels in there is a struggle.
Despite these drawbacks, the GearTrack system has earned a permanent home in the garage for its clean and professional appearance, ease of use, and quick installation. It's a very good system that can be great with the addition of some larger hooks to accommodate the most current types of road and mountain bike wheels. If all of your bikes have deep-section wheels, hold off on this until Gladiator offers some larger hooks. Otherwise, you'll be hard-pressed to find a better bike storage system.