Gore C5 Women's Thermal Bib Tights+
Comfortable and ideal for cold but dry conditions, the C5 Thermal Bib Tights come with a host of nifty features — some of which work better than others.
---
Basics
Midweight fleece bib tights with an easy-pee zippered drop tail
---
Pros
Stretchy and comfortable tights and bibs with great breathability
Cons
Drop tail zippers can work their way open while riding
---
Our Thoughts
While the occasional hiccups with the zipper locks are a little annoying and the Windstopper panel is a bit puzzling, The C5 bib tights are nonetheless an excellent piece of kit for cold but dry conditions. They're comfortable above all else, which is key to getting us on the bike in cold weather.
---
Size Reviewed
XS
Price
$160
Brand
Gore
---
Heading out the door? Read this article on the new Outside+ app available now on iOS devices for members! Download the app.
I'm not the biggest fan of winter, but I am a big fan of soft, comfy clothes. Sometimes those comfy clothes are what get me motivated to get out the door and ride in the cold and the dark of winter. This is exactly what I like most about Gore's C5 Women's Thermo Bib Tights — they feel like wearing your favorite fleecy onesie.
These bibs tights utilize Gore's Thermo lining, which is a midweight, brushed fleece fabric that breathes well while offering insulation suitable for temperatures ranging from the mid-40s to the mid-30s. With no wind or water-resistant features, they're firmly in the chilly-but-dry weather category and have become a standard part of my winter commuting kit.
Gore's droptail design is both the genius and the weak point of the C5 bibs. Two horizontal zippers open from your back to your hips to create a very effective drop tail that allows you to pee behind any snow-covered bush without needing to first remove your jacket and jersey.
This system works really well and I'm a big fan, except for one small hiccup: The locking zippers can be easily flipped to their un-locked direction by your other layers. When that happens, the zippers sometimes unzip themselves while you're riding. They won't fall off and there's very little risk of bum exposure, but it is an annoying thing to have to stop and fix. I'd love to see a small magnet or some other (still easy-to-use) feature that adds some extra security to the droptail closure.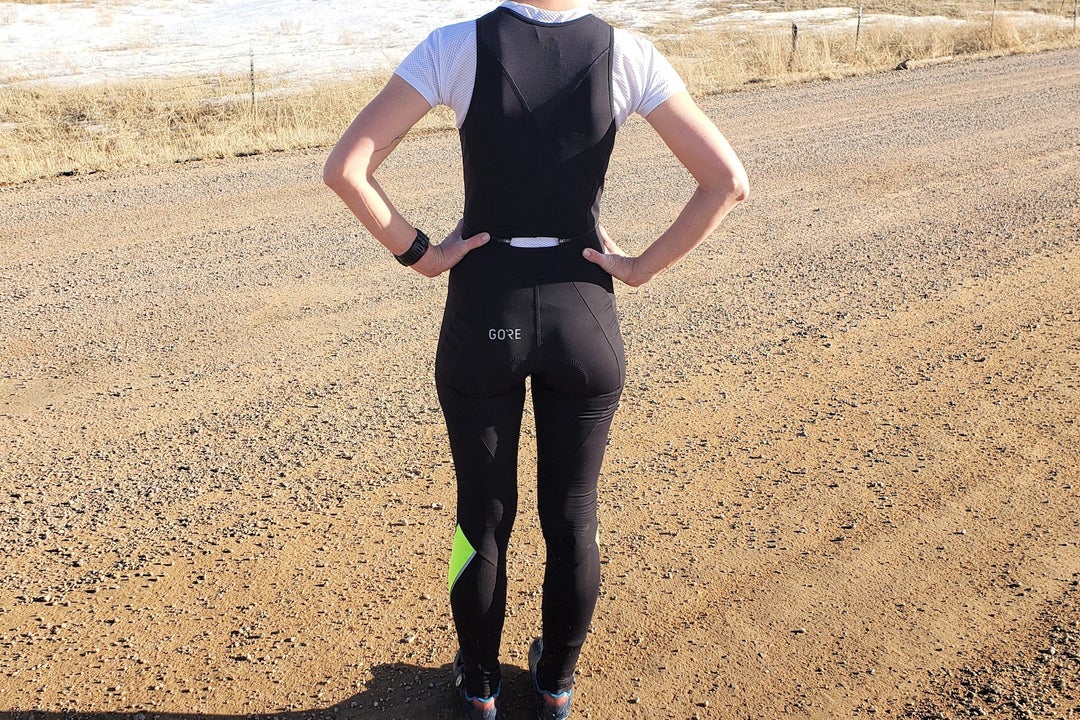 The C5 tights themselves are comfortable and forgiving with no restrictive or compressive spots. The wide mesh bib straps feature a hook closure across the chest. The hook closure is small and unobtrusive. The ankles are zipper-free, and instead just pull over your feet. While this makes the tights less restrictive around the calves, I have noticed that the elastic right at the ankle gets a bit loose over time.
Given that I'm often wearing thicker socks and shoe covers or shoes with a gator, this play at the ankle didn't impact the performance of the C5 tights in any of my testing but may be an area to watch for durability. I appreciate the bright slashes of high-vis yellow and reflective tape across the lower legs that help increase visibility to drivers regardless of light levels.
The Gore Advanced chamois features a two-layer foam construction with middle-of-the-road density. While I'm not logging big miles this time of year, the C5 chamois was unnoticeable and thus comfortable on a few three-hour gravel rides and numerous commuting trips. In addition, Gore utilizes its Windstopper Cup design, which is exactly what it sounds like.
Just above the front of the chamois on your lower pelvis area is a small Windstopper panel that presumably blocks cold winter air from accosting your nether regions. I'm personally a little miffed about this feature, as I can't recall ever thinking, "Dang, my pelvis is really cold from all this wind." Red-from-cold thighs and butt cheeks? Definitely. Pelvis? Never once. The Windstopper Cup isn't detrimental in anyway, it just doesn't seem to solve an existing problem.
While the occasional hiccups with the zipper locks are a little annoying and the Windstopper panel is a bit puzzling, my overall impression of the C5 bib tights are quite positive. I can't emphasize enough how comfortable they are to wear, and while they aren't ideal for the coldest of conditions, they hit the sweet spot where many of us log most of our outside miles during the winter months.