Review: Gore C7 Race Bib Shorts+
Comfortable, compressive, and race-cut, the C7 Race Bib Shorts hit the nail on the head for racers and aggressive riders
Size Reviewed
Medium
Price
$270
Brand
Gore
---
Heading out the door? Read this article on the new Outside+ app available now on iOS devices for members! Download the app.
Compression, comfort, breathability, and functionality all matter on race day and on training rides. Gore's C7 Race Bib Shorts+ get all four right for the most part. Wear these shorts every day in all conditions except the hottest, sunniest days.
Basics: Race cut; thin race chamois; 4-way stretch material and Windstopper fabric
Pros: Compressive fit, lay-flat straps, windproof front panel
Cons: Very hot under direct sunlight
Gore debuted the revamped C7 line at Sea Otter back in April, claiming it had a kit for every type of ride. The versions are aptly named: Race, Long Distance, and Vent. As such, each kit contains touches specific to those types of riding conditions.
The Race kit landed in my lap. This one's for the crew that likes to go fast, wants minimal padding, a super-snug fit sans flapping, and a svelte aesthetic. Oh, and functional touches to keep everything comfortable, where it should be, and easy to access help too.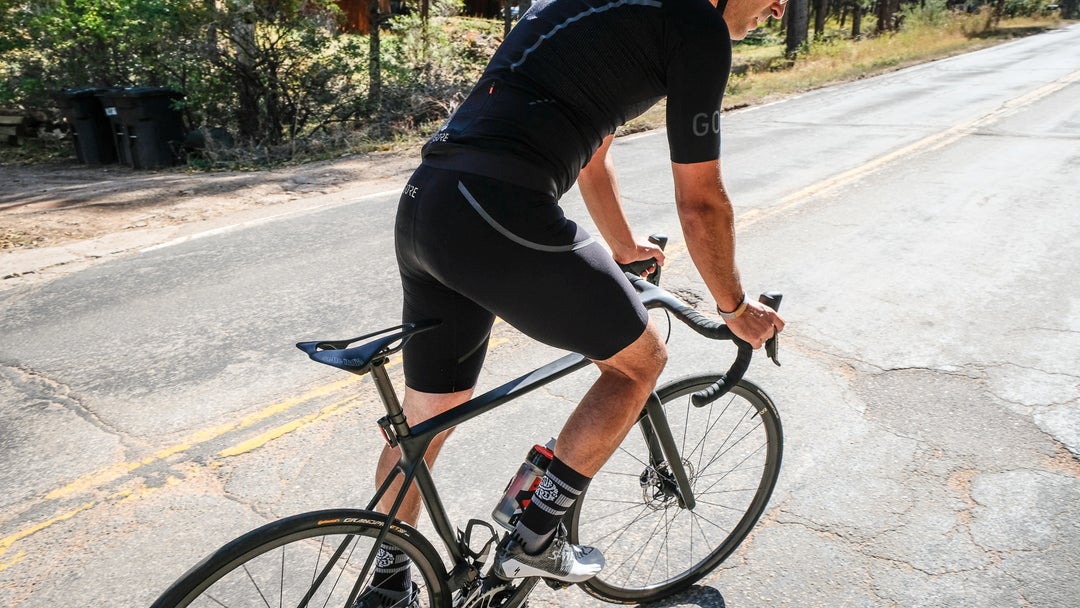 Gore gets all of that right. The C7 race kit is an excellent one for racers — so long as race day isn't taking place under a glaring hot sun.
When I first pulled these bibs on, I thought, "Yes, Gore got the fit exactly right." That sentiment hasn't changed over time, as I got more and more miles in them. The 4-way stretch fabric compresses tightly around the legs without sausage-casing discomfort. The compression supposedly supports your muscles and increases blood flow. But largely the shorts feel like they disappear once you start riding; that means you're not thinking about them, which in turn means they're doing the job exactly right.
The bib's front is pre-formed for extra comfort around your sensitive parts. Gore calls this area its Cup, and it's made from Windstopper fabric. The inside is lined with a fleece material for added comfort. The sculpted front reminded me a lot of Assos's cupped design, and it was great to see Gore adopt such shaping. It's incredibly comfortable.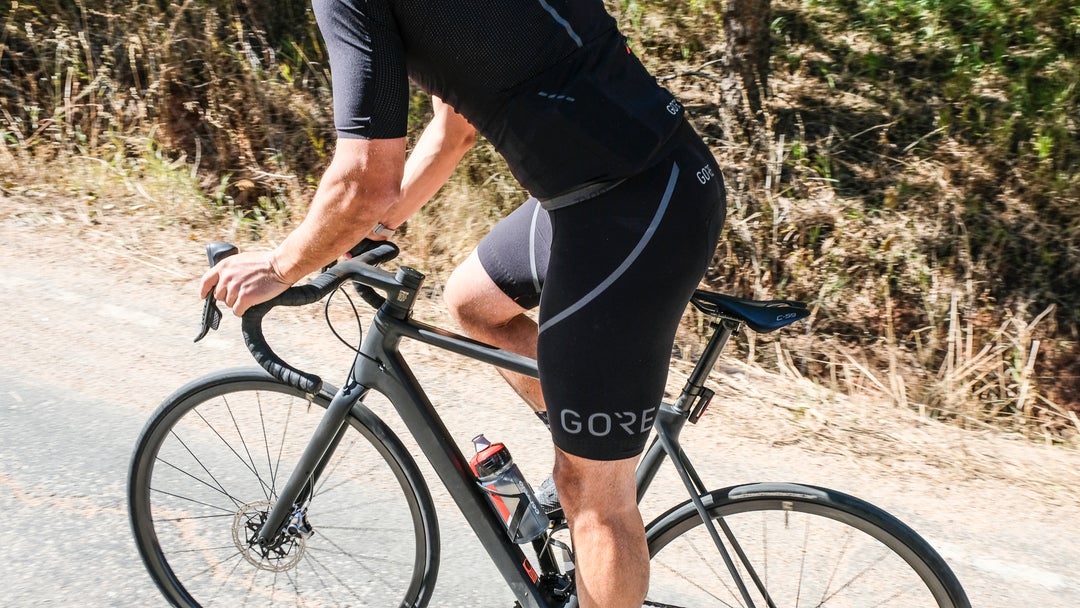 I'm a bit precious about my bib straps, so I was pleased to see Gore opts for wide, lay-flat straps without seams running along them. They lay against the shoulders comfortably, and I got no rubbing or discomfort. They don't bunch up or creep sideways. This might have something to do too with the mesh back that helps keep the straps in place. That same back panel helps keep the shorts and chamois from shifting while you're riding, which comes in handy given the sides of the bibs are cut low to improve fit and breathability. It's a good combination that keeps the shorts feeling planted right where they should be.
There's a radio pocket built into the back panel as well. This is nifty if you're going to be carrying a radio, but honestly, if you're carrying a radio you're probably a pro wearing team kit, not these plain black bibs. I found it extraneous, but you could always toss your cell phone in there if you wanted to.
The chamois is unsurprisingly thin given these are race shorts. This largely comes down to preference: You'll find this chamois plenty comfortable and well-cut to cover everywhere you need it to cover if you're used to race bibs with minimal padding. If you're an all-day grinder who likes more cushion, you'll probably want to opt for Gore's C7 Long Distance bibs instead. I fall into the latter category and found the chamois a bit too thin for my liking, especially when combined with minimalist lightweight race saddles.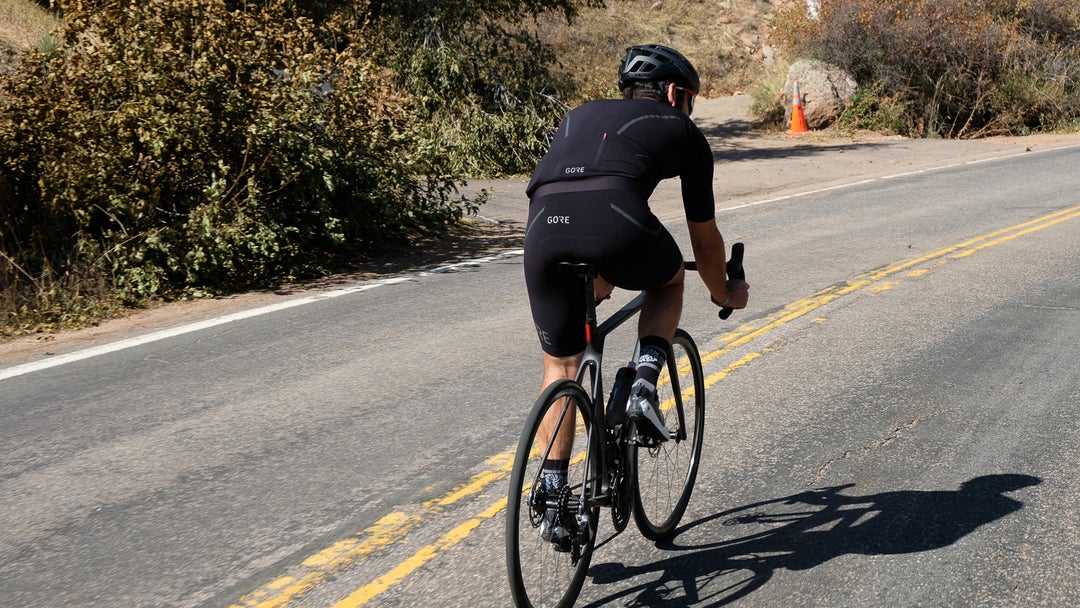 The bibs are completely black except for some reflective hits. That seems to be an emerging style right now in cycling clothing, and it's a pretty timeless choice. The black material does get quite hot, however, and I found it uncomfortably warm on sunny summer days. Fortunately, if venting is more your priority, Gore also overs the C7 Vent bibs, so that might be a better choice in the dog days.
Gore's C7 bib lineup covers all the bases, from venting to long-haul comfort. The Race bibs fall right in between, balancing all three priorities — comfort, breathability, and compressive fit. Combining those three elements is no small feat, so there are some compromises here (mostly in the breathability realm), but ultimately, these bibs touch on all the right points. Even if you're not wearing them on race day (in lieu of your team kit, of course) you'll appreciate the compressive fit on training days. Just don't expect the relatively thin chamois to provide luxurious comfort if you're going to be in the saddle all day on rough roads.