'I'm a reporter … get me out of here': UAE Tour hotel lockdown redux
Three years after being confined in a hotel room for more than 72 hours, I'm back on Abu Dhabi's Yas Island.
Heading out the door? Read this article on the new Outside+ app available now on iOS devices for members! Download the app.
The last time I was on Abu Dhabi's Yas Island Plaza, I was boarding a minibus that made for a lockdown escape capsule.
Three years later, I'm back on the UAE Tour for the first time since the infamous lockdown edition of 2020.
Seeing this weekend the Crowne Plaza building that nestles among many mid-tier hotels overlooking Abu Dhabi's racetrack brings hazy memories and an icy chill.
The first tendrils of COVID enshrouding a pre-pandemic world – The Emirates included – in an apprehensive, confusing veil of fear.
The overnight shuttering of the UAE race after the virus burst its bubble as race organizers scrambled for a solution to the world's all-new environment.
The majority of the WorldTour peloton and a few-dozen hapless media types, locked down in stuffy Crown Plaza hotel rooms, fed door-drop sandwiches by establishment staff that scuttled unseen and hazmatted through deserted hallways.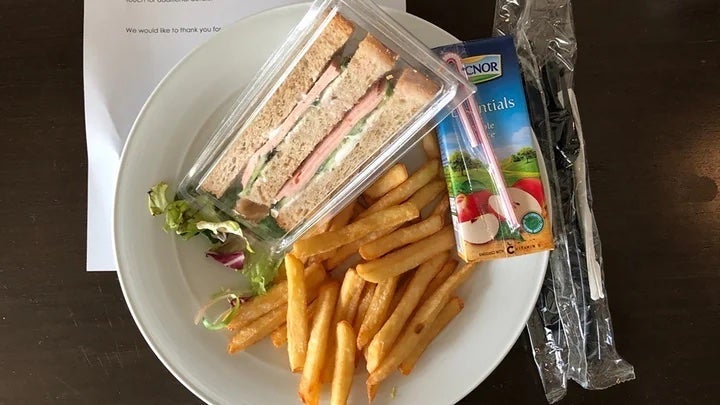 We got COVID tested in a makeshift hotel basement "field-hospital" as RCS and Giro d'Italia don Mauro Vegni watched on.
Emotions bounded between bemusion, confusion, fear, and loathing during a 72+ hour stint in a vibeless something-star room, sunny beach painfully present outside the window.
After a handful times trying, we were eventually released in scenes that felt like an evacuation mission, bundling out of an overcrowded lobby as local officials erupted in dismay and armed guards oversaw our maneuvers.
We got lucky at our "early" release.
Four of the world's leading teams – Tadej Pogačar and his UAE crew included – were isolated and confined on one other hotel floor for several days longer.
Whether out of intention, budget, or in a superstitious nod, the media corps is spared a return to the Crowne Plaza for this fifth edition of the UAE Tour.
We are however in a similar soulless business-leisure type hotel opposite, around 100 meters from the Crowne's front door.
The memories bubble back every time I see its sparkly glass lobby and palm-lined facade.
But thankfully, the obsessive hand sanitizing, enforced mask-wearing, and sense of foreboding of winter 2020 are gone. I'm crossing every digit and knocking on all the wood in the hope that it stays that way.