Interbike highlights: Cheap GPS, pro tires, natural fuel
Lennard Zinn spots seven interesting products on the Interbike show floor, from pro tires to an Olympics frame to an inexpensive GPS head unit.
Heading out the door? Read this article on the new Outside+ app available now on iOS devices for members! Download the app.
Lezyne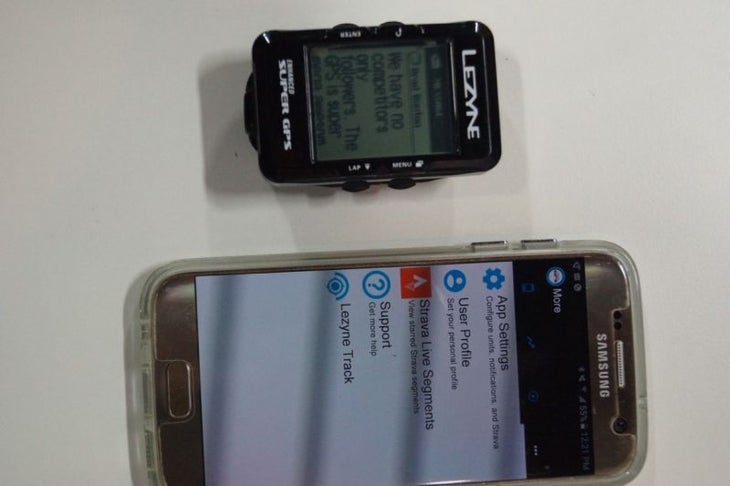 For 2016, Lezyne came in with three GPS models. For 2017, the company has five models, a raft of new features, and pricing below $150, except for a $20 upcharge for a color screen option on the mini version of the Super GPS model. These units are tiny, have their own four-prong, "X-Lock," push-down-to-click-in, secure mount and are Bluetooth-enabled. The map and other options, including live tracking, are on your smartphone; the head units require pairing with a phone and Lezyne's app in order to work. Once paired, you receive phone call or text notifications on the Lezyne GPS screen. You can't answer them there, and there is no touch screen, but you can see whether you need to pick up without having to dig out your phone. You pick routes on your phone in the app, and then the head unit will tell you where to go, turn by turn.
Colnago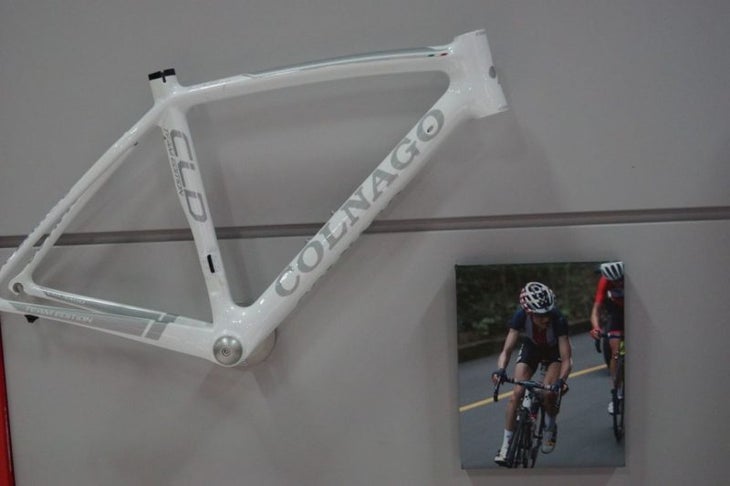 Mara Abbott's now-legendary ride in the Rio Olympics on her Colnago CLD Team Edition was celebrated in the Colnago booth at Interbike.
Challenge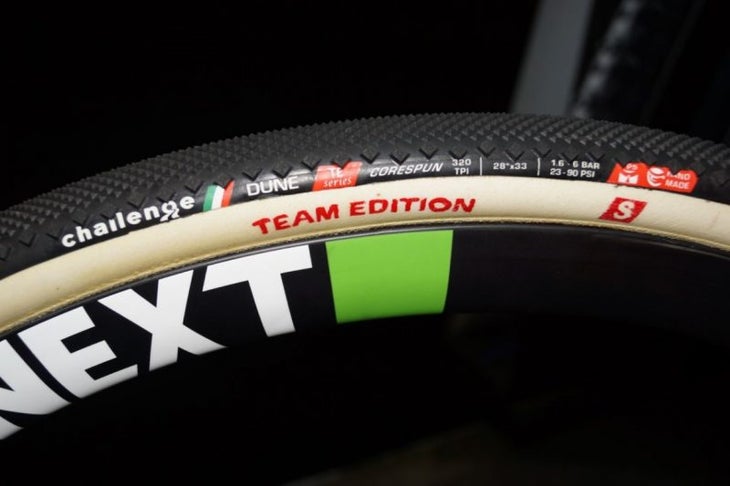 Challenge sponsors a number of top Belgian cyclocross riders and teams, and a lot of them have wanted a tire specifically for super-sandy courses. For them, the file-tread Chicane's side knobs were too large. Enter the new Challenge Dune — a sand-specific tire. It has file tread that is spikier than the Chicane and very low, small, square side knobs. I don't know how many riders at Cross Vegas were using it, but that course had a seriously tough uphill sand section, which was desert-dry. Not very many riders were able to ride through it, but those that did gained an advantage. That sand is where all of the significant breakaways happened, including the winning move by Wout van Aert. The Dune is intended to offer that technical advantage on sandy courses.
Grip Studs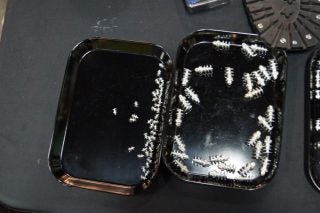 For those riding in cold climes, particularly commuting, studded tires can be a must. But you're stuck with a very limited selection of super-heavy, stiff, studded tires. Not anymore! Grip Studs are threaded studs for bicycle tires that allow you to stud them yourself. The central shaft of each is super-hard tungsten-carbide steel for long wear. The thread is an augur shape to bite in and stay put; you install them (and can remove them) with an electric screwdriver.
Grip Studs cost about a buck apiece and allow you to customize a tire you like for the particular kind of icy conditions you will be encountering as well as for clearance in your frame. Plenty of chain stays are damaged every year by studded tires that are too wide, have studs too far out on the side knobs, or have a wobble in the tire or rim. Grip Studs could save your bike as well as save you from crashing on hard ice.
Clif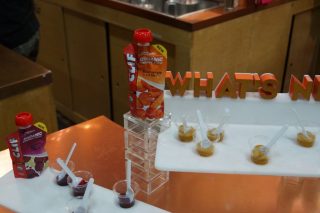 Plenty of Interbike attendees depend on the Clif Bar booth to stave off hunger pangs. Clif now has some offerings that are real food like you might prepare at home, albeit run through a blender afterward. Clif pureed Organic Energy Food is a squishy paste made of vegetables and fruits in a big squeeze pouch. That gets me through the low-intensity wandering of the show with more steady, sustained energy and a smaller chance of cavities than munching sample energy bars, gels, and gummies available at this booth and other energy-bar booths at the show.
Effetto Mariposa
[related title="More from Interbike" align="right" tag="Interbike"]
Tired of the ticking noise of your valve stem in your deep-section wheels? Effetto Mariposa's Shelter Wheel Kit contains 35 circular, die-cut pieces of the company's clear, thick, visco-elastic protective Shelter tape designed for protecting frames from chain slap and rock strikes. The round stickers have a hole in them for the valve stem; slide one down the valve and against the rim to quiet the ticking noise.
The little Shelter wheel stickers have two other purposes, however. At one gram apiece, they can be used as weights to balance a wheel. (Ever notice how some wheels make a bike bounce like mad in a stand when you spin the crank?) The hole (with a little snip from the side), can go around a spoke nipple, if that's the spot that ends up on top when you let the wheel spin down to a halt. Effetto Mariposa also claims that the visco-elastic nature of Shelter will dampen some road vibration as well.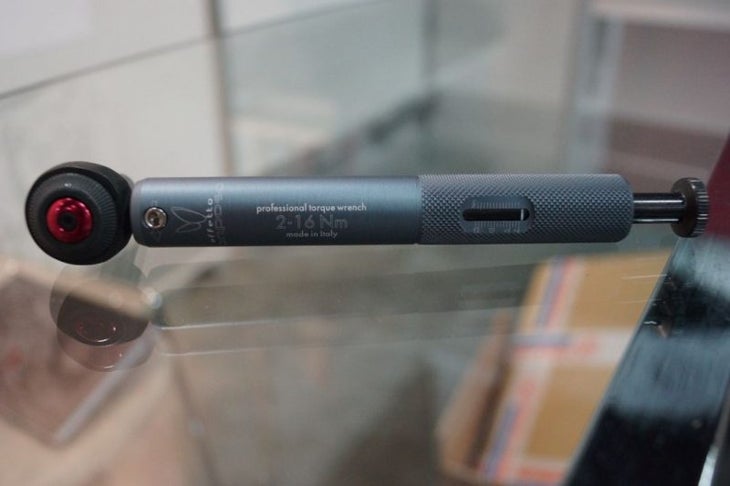 The Effetto Mariposa Giustaforza II torque wrench, with its easy-to adjust design, which accepts standard tool bits (and comes with a bunch of them in a special case), is up for an Interbike award for the Mountain Accessory of the Year.
FSE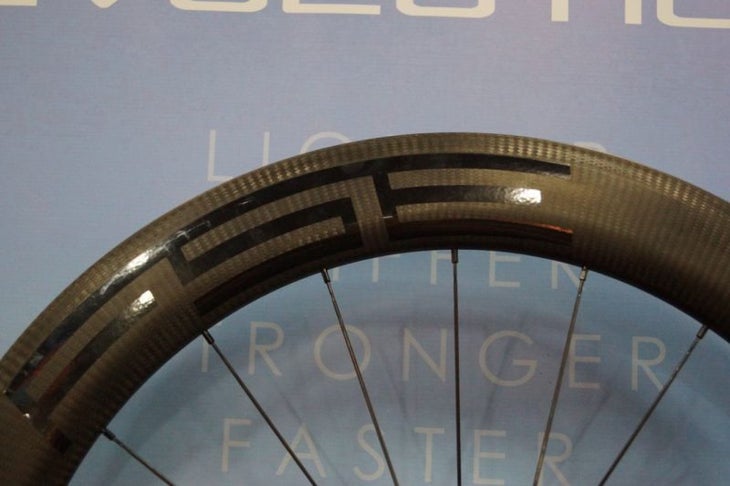 Instead of using sheets of pre-preg carbon for its wheels, FSE filament-winds its rims right onto a rim mandrel. Carbon thread goes through a resin bath as it heads to a glorified loom that weaves it into a fabric right on the mandrel. DuPont invented this process in 1968 for oil pipelines, and now it is used to make stronger, stiffer, and lighter bicycle rims.