Interbike Tech: More odds and ends from the Outdoor Dirt Demo
A look at the new BH cyclocross bike, Fi'zi;k saddle changes, Ridley's tweaked road models, Rotor's sweet BB adaptor and SKS's sneaky small pumps.
Heading out the door? Read this article on the new Outside+ app available now on iOS devices for members! Download the app.
Fi'zi:k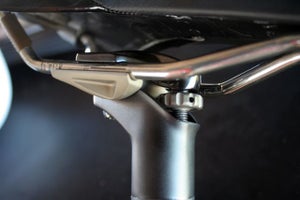 Italian contact-point specialist Fi'zi:k had the new VS version their popular Arione, Antares and Aliante saddles on hand. The VS designation denotes a central relief to the saddles, the shape of which otherwise remains unchanged.
The saddles were mounted on Fi'zi:k's underrated Cyrano seat post, available in carbon and aluminum versions with a nice simple two-bolt mounting system. So simple, in fact, that Fi'zi:k says that the winner of an internal saddle-mounting competition was able to mount and clamp a saddle in just eleven seconds. The carbon version can be had for $170 in 27.2 and 31.6 sizes, and the aluminum hits those plus comes in 30.9 and 34.9 versions and retails for $125.
The Cyrano has a large lower clamp that provides better support for carbon rails, and is obviously compatible with Fi'zi:k's own ovalized carbon rails. Both the carbon and aluminum versions use the same clamp.
Fi'zi:k also showed a new rubber bumper for their dirt-oriented Gobi saddle, intended to provide extra surface protection when gravity proves a bit too powerful, and a new version of the Tundra with slightly softer padding and a flatter profile.
Ridley
Ridley's 2011 road lineup isn't seeing any major changes, but some pre-existing models will have more frame options. The Noah, formerly only available with an integrated seat post, will now be available with a normal (though still proprietary) seat post as well. The Domacles receives the opposite treatment, gaining a beautifully executed seat mast option.
Rotor
Rotor presented a elegant solution to issue of multiple bottom bracket standards with its new BB30 to 24mm (Shimano-compatible) reduction bottom bracket, designed to self-press into press-fit BB30 frames. By working the adapter into the bottom bracket itself, Rotor eliminates the clunky, and often loud, adapters. The two sides of the bottom bracket simply thread together, press fitting into the frame as they do so. A steel-bearing version will be available for 2011 for $75, ceramic for $150.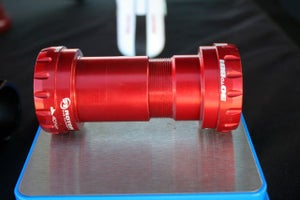 Rotor also displayed two new spiders for its tried-and-true 3D crank arms, an aero 130bcd and aero 144bcd for track racing, plus a new track bottom bracket. Costs for the aero spiders should be about the same as with a standard road spider ($415). The track BB will be $119. All three will be available later this fall.
BH
BH's had its all-new RX1 'cross bike on hand. The frame includes all the bells and whistles – tapered 1.5-1.125 head tube, BB30, and a super beefy carbon fork to help reduce brake chatter — at the reasonable price of $2999 for a SRAM Rival build. The bike is available now (the first shipment came in last Friday, BH says) in red or green color schemes.
Cables are routed internally through the top tube, keeping the cables as far as possible from the ground but also necessitating a downtube-mounted pulley for the front derailleur cable. Both the fork and stays are shaped for excellent tire clearance even with now-UCI-illegal 34mm tires.
SKS
German company SKS had two new pump products to show: a sleek and stylish road pump and an innovative mountain bike pump designed to be stored inside a handlebar.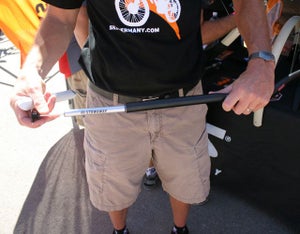 The Stowaway, as the latter is aptly named, will be available for 2011 and will retail for $22. It fits snugly, and rattle-free, inside most mountain bike handlebars, with the end of the pump replacing the bar's end-cap. Due to its small size, filling high volume tires might take a little while, but Mark Burgener at SKS says he can still get one filled in about two and a half minutes. The pump maxes out at 90psi.
Also on display was the new Diago, a super sleek road-oriented pump Burgener says "was designed with stylish products like the iPod in mind." The pump comes with a frame mount, but at only 24cm is small enough to sit nicely in a jersey pocket as well. Like the Stowaway, the Diago will also be $22. It weighs 109g, will hit 144psi, comes in black or white, is presta and Schrader compatible, and is set to debut at the end of November.