Jeremy Powers and Tim Johnson go 1-2 for Cannondale-Cyclocrossworld.com in USGP kickoff
UPDATED: Planet Bike's Jonathan Page scores third for the race sponsor.
Heading out the door? Read this article on the new Outside+ app available now on iOS devices for members! Download the app.
Sometimes in cyclocross, a rider and a course are like a match made in heaven.
Take Jeremy Powers and the fast, twisty Planet Bike Cup course at the Angell Park Speedway in Sun Prairie, Wisconsin.
In a repeat of last year's series opener, the Cannondale-Cyclocrossworld.com rider attacked at the gun and led the race from start to finish to win the first of eight races in the 2010 Greenware U.S. Gran Prix of Cyclocross. Powers' teammate, national champion Tim Johnson, crossed the line alone in second, while Jonathan Page (Planet Bike) won a bunch sprint for third to make it an all-New Englander podium.
Saturday's win was confirmation that when he is at his best and the course suits him, Powers can beat world-class cyclocrossers — the 65-rider field in Wisconsin included Swiss Christian Heule (Champion Systems) and French national champion Francis Mourey (Francaise des Jeux), who was three for three in the U.S. this week after winning CrossVegas and last weekend's Starcrossed/Rad Racing UCI double in Washington state.
Powers enjoyed perhaps his best road season yet in 2010 riding for Jelly Belly, taking the overall win at the Green Mountain Stage Race over Labor Day weekend. After racing in last weekend's U.S. national road championship, he switched over to his black-and-green Cannondale-Cyclocrossworld.com team jersey at CrossVegas, where he finished seventh, behind teammate Jamey Driscoll and ahead of Johnson.
And just as Driscoll repeated his 2009 mid-race solo attack at CrossVegas and nearly held it again — Driscoll was just pipped at the line by Mourey in Vegas — Powers also followed a proven formula, attacking out of the gate, opening a gap and using his bunny-hopping skills to ride over railroad ties on the course's trickiest run-up, referred to as "The Hillside Strangler."
"This a perfect course for me, it's punchy and with a lot of short bursts out of the corners," Powers said. "I made a big move at the start and was able to use that gap by riding alone over the railroad ties. It was the game plan, and it worked."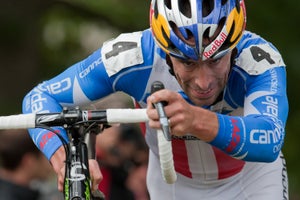 Kona-FSA rider Ryan Trebon initially drove the chase, trailed by Johnson, Heule, Geoff Kabush (Maxxis-Rocky Mountain), Davide Frattini (Hudz-Subaru), Page, Tristen Schouten (Cyclocrossracing.com) and Driscoll. Specialized rider Todd Wells missed the initial selection and spent the first four of 11 laps bridging before finishing an impressive fourth.
After three laps Powers' lead extended to more than 20 seconds, and behind, the chase group shuffled and reshuffled. And when Trebon bobbled in a tight corner, Johnson took the opportunity to jump from the group; the national champ was soon in second place between his leading teammate and the eight-rider chase group.
"Jeremy had a great start and brought a lot of horsepower today," Johnson said. "From the very first lap he was on. He's got great skills on these types of punchy courses with a lot of turns, and he rode a perfect race. I tried my hardest to catch him but I just couldn't do it."
Trebon soon fell out of contention, and did not finish, citing leg issues.
Mourey tried to bridge to Johnson, coming within five seconds, but the Frenchman blew up and drifted back to the chasers, only to be dropped and roll in for 14th.
"I was tired today even before the start," Mourey told VeloNews.com. "When Powers attacked, I was a little boxed in and couldn't do anything to respond. I thought I could battle for second place, but when Johnson attacked I tried to bridge and couldn't. I wasn't feeling myself and once I knew I couldn't hold the pace I decided to go my own rhythm. I'm hoping I can be stronger on Sunday."
With Mourey gone, the race for third proved thrilling with Page, Driscoll, Kabush, Wells and Heule trading attacks. Frattini trailed off after a blistering start while Schouten moved up to the front group, earning the SRAM Most Aggressive Rider honors.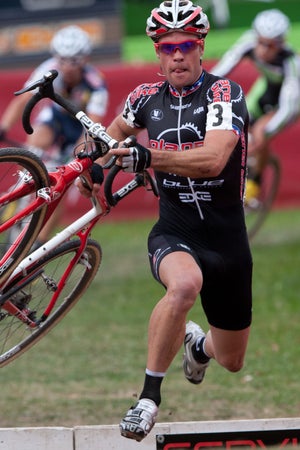 With two laps to go Wells attacked the chase group. Page and Schouten followed, and the six-man chase quickly reformed. Heading into the bell lap Johnson was pegged at 14 seconds back; Page and Wells followed at 40 seconds, with the rest of the chase on their heels.
Page drilled it again on the bell lap, trying to secure the final spot on the podium. Ahead, Powers rode the barriers for the final time — popping a wheelie for the crowd at the top — and then soloed across the line for the victory. Johnson hung on for second. Page led the chase group in for third for an all New England podium.
Following the race the Belgium-based Page attributed a less-than-brilliant performance to travel fatigue, saying, "We saw with Mourey, the traveling is catching up to us," before crediting Powers and Johnson for their performances.
"Those guys are on great form," Page said. "It's hard to come over (to the U.S.) and hold that kind of form. I was there, but I wasn't quite there. I put in one or two efforts behind, but I couldn't make up the difference. The gas was on, but I wasn't closing. They were better."
Cannondale-Cyclocrossworld.com team manager Stu Thorne was beaming at the podium celebration.
"It's great to see Powers take the win, it's a huge energy boost for him at the start of the season," Thorne said. "And once Tim had the opportunity, it was a great move to try to bridge up. Once he was away from the group, it's just a race; they are going to battle it out, and team tactics are off."
Johnson said he and his teammate would both chase the USGP series title.
"It's a season-long series and we are both going for the overall," Johnson said. "We'll see how it plays out."
Race notes
The SRAM Most Aggressive Rider award went to Tristen Schouten, who raced in a Planet Bike skinsuit because his Cyclocrossracing.com team kit wasn't ready. Schouten, who became a father for the first time last year, said it was the first time he'd finished a national-level race with the front group, and attributed his current form to "more focused training."
After leading the chase group for the first two laps, Kona-FSA rider Ryan Trebon abandoned the race, citing left-leg issues that plagued his 2007 'cross season: "On the first lap, I knew something wasn't right. My left leg felt blocked. I didn't feel anything warming up, but once we started racing it kicked in. It's a nerve issue; it feels like a leg cramp all the way up to my (gluteus.) I was trying to ride but I was pedaling with one leg, and the pain started to work its way into my lower back. Once I realized I couldn't race, I pulled out so I wouldn't do too much damage for Sunday."
Several elite men, including Trebon and Heule, were somewhat critical of the course's seemingly countless 180-degree turns, including many that were very tight, or off-camber. "I enjoyed the course, but there was too much cornering," Heule said. "I felt strong, but I couldn't make up any time on a course like this. I could follow, and that's it, but the others weren't necessarily stronger than me. The corners were just too tight, so tight that there was no space to catch another rider."
Quick results
1. Jeremy Powers (Cannondale-Cyclocrossworld.com)
2. Tim Johnson (Cannondale-Cyclocrossworld.com)
3. Jonathan Page (Planet Bike)
4. Todd Wells (Specialized)
5. Christian Heule (Champion Systems)
6. Jamey Driscoll (Cannondale-Cyclocrossworld.com)
7. Tristan Shouten (Cyclocrossracing.com)
8. Geoff Kabush (Maxxis-Rocky Mountain)
9. Davide Frattini (Hudz-Subaru)
10. Troy Wells (Clif Bar)