Katie Compton wins finale as Sanne Van Paassen claims 2010-11 World Cup
Katie Compton wins the finale as Sanne Van Paassen claims the 2010-11 World Cup.
Heading out the door? Read this article on the new Outside+ app available now on iOS devices for members! Download the app.
HOOGERHEIDE, the Netherlands (VN) — Katie Compton won every one of the five World Cup races she entered this season, but missed the World Cup title by just 10 points to Dutch rider Sanne Van Paassen.
Van Paassen didn't have the same spectacular results as Compton, but her consistency — with a win in Plzen, Czech Republic, and a series of third- and fourth-place finishes—did the job.
In the grinding six-month-long European cyclocross season, choices matter, both riders said.
Compton came to Hoogerheide the favorite among a field of women who have been forced to wrestle with choices this season. World champion Marianne Vos, who skipped much of the early part of the season to focus on training for a defense of her Olympic gold on the track, has looked strong, but struggled to match the American since returning in December. German Hanka Kupfernagel, a four-time cyclocross world champion, has also had to weigh a career on the road against success in the fields of Northern Europe.
Compton, for her part, has scaled back both travel and racing, as she tries to avoid debilitating leg problems that have more than once cost her a chance at a world title.
So perhaps it's fitting that the final race of the season before the championships next weekend in St-Wendel, Germany, came down to a fight among four women who all have had to wrestle with big decisions in the final weeks before the sport's climactic weekend.
Vos guns it early
On the course it was Vos who took control early, charging to the front of the field and stretching a lead along with Compton, Van Paassen and Kupfernagel, as well as the young French rider Pauline Ferrand Prevot.
The group came together through the end of the first lap before Compton bobbled in a slick muddy corner, allowing the others to open a small gap. Vos and Kupfernagel, aware that their main rival was vulnerable, quickly moved to take advantage, accelerating in an effort to drop the American. The move was enough to decisively shake Van Paassen and Ferrand Prevot, but Compton held on, trailing by just a few seconds through the whole second lap before rejoining the two leaders on the third.
And Compton's tenacity was almost immediately rewarded when Kupfernagel herself bobbled in a muddy, off-camber left turn that caused trouble for many racers during the day. Although she only momentarily lost control of her bike, the lapse was enough to send her into the barriers, and into Vos, allowing Compton enough time to open a gap of her own.
That single bobble proved the decisive moment of the day, as Compton continued to pull away from the pair, cruising to her fifth World Cup win, a victory more decisive than its 18-second margin might suggest. Behind her, Kupfernagel recovered from her mistake to hold off Vos, who had to settle for third.
Van Paassen, who locked up the first major series win of her career with her fourth-place finish, finished just ahead of Czech Katerina Nash, while Belgium's Sanne Cant had to be satisfied with sixth.
Van Paassen a proud champ
After the race, Van Paassen stood beaming on the podium, reveling in achieving a career goal at the very beginning of her career. Meanwhile, Compton, who has structured her whole season around the solitary goal of winning an elusive world championship, told reporters she had no regrets about the decision to skip World Cup races, despite the fact that even a 20th-place finish in one of those races would have secured the series title for her.
"Maybe I would have won last weekend and lost next weekend," said the American. "I had to pick the races I wanted to do and schedule it around travel and training blocks, and I think I prepared myself the best I can for next weekend. In hindsight, if I win next weekend, it'll be perfect, if I don't I won't regret it. I set my schedule up well and had a great season."
Van Paassen, meanwhile, was obviously thrilled by success beyond anything she expected at the beginning of the season.
"After I won the World Cup in Plzen, I was very proud of that," said Van Paassen. "It was a very strong race. But after that I was very consistent, and fourth place in the World Cup was the worst. So I'm even more proud to win the World Cup classification."
The young Dutchwoman echoed Compton, saying elite racing is all about picking one's battles.
"I think (elite racing) is making choices. (Katie and Marianne) made their choices for other reasons, while I wanted to win the World Cup. Last week after Dutch nationals I got sick, but I still started in Pont-Château, even though I was not very well. But I knew I could win the overall classification. I think if you're an athlete you have to make choices, and I think I made the right decisions to win the World Cup and they made other decisions."
An auspicious debut
While both Compton and Van Paassen had reason to celebrate the day's results, Compton was also celebrating fellow American Kaitlin Antonneau's European debut (Compton coaches her countrywoman).
Antonneau, who at 19 is by far the youngest member of both Sunday's American women's team and the group headed to worlds next weekend, rode to a solid 31st place.
Compton had some kind words about the young rider and her potential for development in the coming years.
"Kaitie is awesome," she said. "She's such a hard worker and a talented rider; just a really nice girl. She's learning fast, and she's got so much potential. She's going to develop as a bike racer on the road, on track, on the mountain bike, and in 'cross. I just want to see her develop as a bike racer, and 10 years from now, be an Olympian."
Antonneau, for her part, said she was happy to work through the jitters of her first cyclocross race in Europe.
"I was really scared and nervous," the Cannondale-Cyclocrossworld.com rider told VeloNews, "but after the first half lap I started to relax. It was really hard, but I expected that and knew that was how it would be. So I had fun — as much fun as I could have."
Compton and Antonneau bookended an American contingent with high hopes for next week's race in Sankt-Wendel. The team also includes Meredith Miller, Amy Dombroski and Sue Butler, who on Sunday finished 12th, 18th and 25th, respectively. (American Christine Vardaros also started the race, but continuing trouble with a hip injury that she sustained at last month's World Cup in Zolder forced her to withdraw.)
Of the group headed to worlds, it was Miller who took the biggest strides forward, bouncing back from a disappointing European tour during the Christmas period to finish less than 10 seconds outside the top 10 in Hoogerheide.
"It was much better today. I was much happier with the way things went," said Miller afterwards. "I had no issues, no mechanicals. Today definitely helped my head. After the last trip I was hurting pretty bad mentally, but I got home and recovered and rejuvenated. I watched some 'cross races on TV, watched Katie's win at Koksijde, just crushing people. And I told myself, 'I'm a better rider than I was (last trip), so I'm ready to go back and get some revenge."
Kupfernagel the hometown hope at worlds
But of all the women who raced in Hoogerheide, one seemed to feel the weight of the upcoming race more than anybody else. Though Compton will come to the worlds as a clear favorite for victory, Kupfernagel comes into next weekend as the undisputed fan favorite.
Not only will Kupfernagel race in front of a highly partisan crowd in her home country, but she'll be racing on the same course where she won a world title in 2005.
"The world championship is always a different kind of race," she told reporters in a post-race press conference. "Maybe everybody is a little bit nervous. And, yes, of course, I know the course and have very good memories of Sankt-Wendel. I tried my best to train hard in the last weeks and the races of the last weeks give some good motivation. I think I'm going in a good way, so I just hope for a good day."
Despite being Germany's top hope for a medal, Kupfernagel said she doesn't feel too much pressure going into the race.
"It's all positive pressure," she said. "I know a lot of friends will come to the race and German TV will show the women's race live. This is quite good, and I think I've done a lot to bring cyclocross up in popularity. It's really good."
The answer to the question of whose decisions — whether those that cost Compton the World Cup title, Van Paassen's opting for consistency, or Vos' late season start —w ill be rewarded with a rainbow jersey will be answered in less than a week. The women's world championship takes place on Sunday, January 30, in Sankt-Wendel, Germany.
Quick results
World Cup-Hoogerheide
1. Katherine Compton (USA), 40:59
2. Hanka Kupfernagel (Ger), 41:17
3. Marianne Vos (Ned), 41:30
4. Sanne Van Paassen (Ned), 41:50
5. Katerina Nash (Cze), 42:00
Final World Cup standings
1. Sanne Van Paassen (NED), 310 points
2. Katherine Compton (USA), 300 points
3. Marianne Vos (NED) Nederland Bloeit, 205 points
4. Sanne Cant (BEL), 203 points
5. Hanka Kupfernagel (GER), 198 points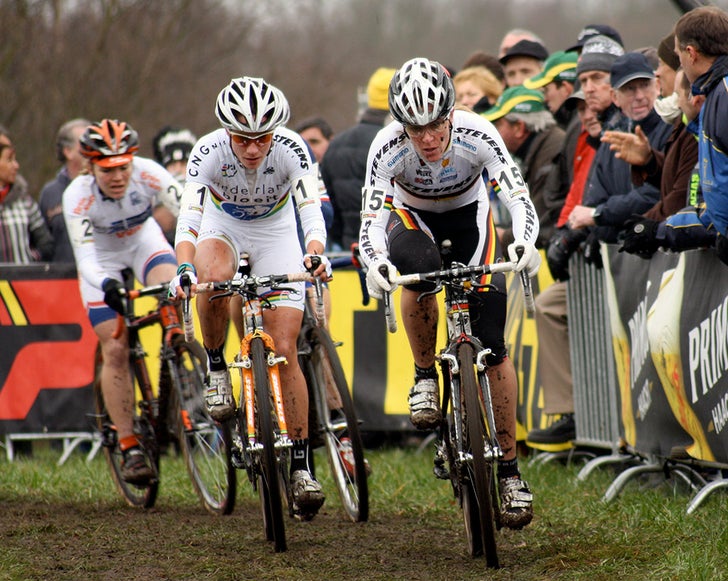 ---

Editor's note: Dan Seaton started writing about cyclocross when he moved from New Hampshire to Belgium in 2008. He started covering European cyclocross for VeloNews in October 2010. Dan has a Ph.D. in physics and spends most of his time working as mission scientist for a spaceborne solar telescope at the Royal Observatory of Belgium. He somehow finds time to race as an amateur 'crosser in Belgium during the fall and winter. Dan and his wife, Mindi, live in Brussels.