Katusha Merino Jacket review
Katusha's Merino Jacket is stylish, warm, and comfortable enough to make me consider breaking my 5-degree-celsius riding rule. Sorry (not sorry), spin class.
---
Basics
Wool-blend winter jacket that's ideal in cold and wind
---
Pros
Elegant, sleek fit, with wind-block and Merino wool that keeps out of the cold
Cons
Black is only color choice and only in men's sizes
---
Our Thoughts
A dash of merino wool and solid styling serves up snug, functional cold-weather jacket that blends comfort and high-performance across a variety of conditions.
---
Size Reviewed
XS-XXL
Price
$325
Brand
Katusha
---
Heading out the door? Read this article on the new Outside+ app available now on iOS devices for members! Download the app.
I have a strict, five-degree-celsius rule. Anything below that, I leave the riding to the Belgians.
Despite my European base, perched on the edge of Spain's northern meseta, I see plenty of Belgian-like weather. Spain isn't all sol and sangria. If it wasn't for the tangy jamón iberico and succulent rioja wine, I'd almost think I'm in Ghent, not León. With so much wind, fog, cold and rain during the winter leonés, my 5C-degree rule is firmly in place. Anything below: I'm off to spin class. But I might have to change that rule after testing Katusha's Merino Jacket during the past several weeks.
Katusha's jacket, with its merino wool blend interior and wind-blocker external layer, is comfy in a variety of winter riding conditions which get thrown at me here, in northern Spain. León elevation exceeds 2,700 feet, and bracing winds howl off the Cantabrian range, where the nearby Angliru and Picos de Europa lay snowbound for the winter. It can often feel more Vlanderen here than in Flanders itself.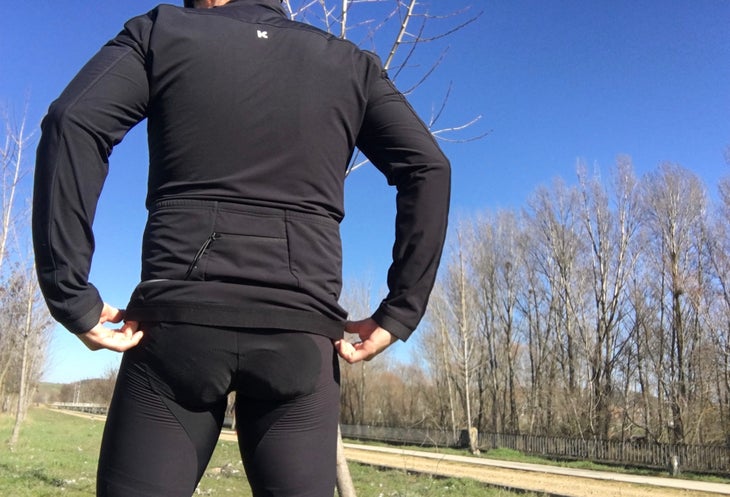 In fact, every day I rode out into the elements with the Katusha jacket, I ended up realizing I had over-dressed. Used to packing on the base-layers to stay warm and dry, I was not expecting one jacket to do the job as completely and wonderfully as this one. The jacket's interior weave, made with 35 percent Merino wool, blocked any wind, but was breathable to wick any moisture. Once you zip up, the Merino wool simply gives a cozy sensation that synthetics cannot.
Though I never rode in below-freezing conditions, I was consistently warm in temperatures dipping into the low-40s F — remember, there's that 5C rule.
It's equally impressive while riding through bone-chilling fog. The water-repellant treatment applied to the Katusha jacket also kept my core dry during a cold shower outburst, while the rest of my body was shivering.
Also surprising was how flexible and comfortable the jacket fits. Winter jackets can be bulky or ill-fitting at best. With a unique four-way stretch fabric, the jacket never felt too tight, or cramped in the shoulders, even when wearing an extra layer or two. The fabric texture provides a smooth balance that keeps the jacket fitting snug without being too restrictive or flapping in the wind.
Another big plus: the three back pockets, and a center-back zip-closed pocket for storing smart phones, keys, energy bars, and those extra layers you'll be taking off.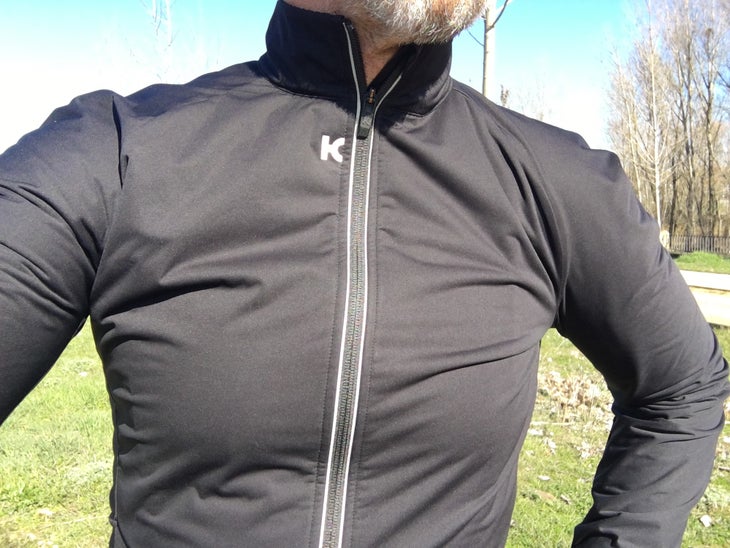 There's quality stitching and zippers throughout that suggests durability. Its under-stated style is another plus. There are no garish colors or over-sized branding which can be a distraction from functionality. The Katusha moniker is discretely placed at the top of the collar and near the top-back of the jacket. If you don't want to be a pedaling billboard, this is your jacket.
Black is a natural color for winter garments for its heat absorption, but the jacket has a few subtle yet effective reflective lines designed to make it visible to motorists in low-light conditions.
I also tested a pair of the Merino riding bibs with equally pleasing results. The comfortable fit was sleek without being too restrictive, and the shorts slipped comfortably over knee warmers. Despite its relatively thin appearance, the Merino wool blend packs extra warmth without having to pile on the bulk.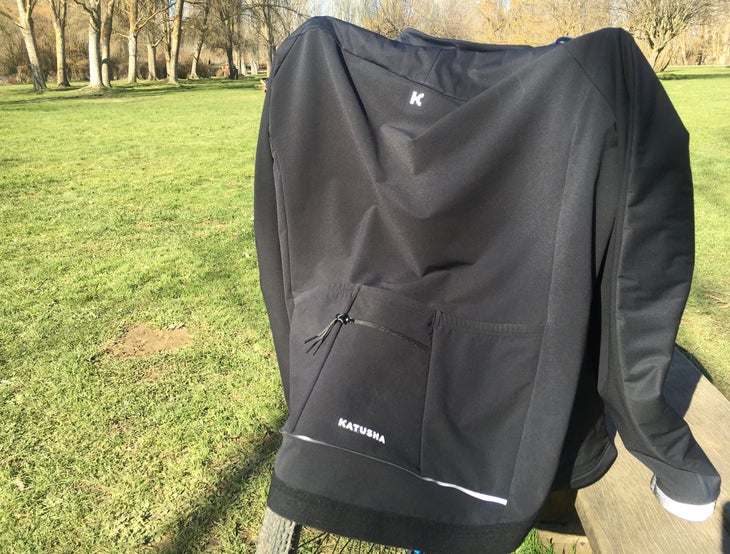 If you've heard of Katusha, that's probably because it's associated with the now-shuttered Katusha WorldTour cycling team. A few years ago, owner Igor Makarov developed the Katusha line of apparel to fit out the cycling team, and soon expanded its reach into the mainstream cycling community. The brand, now based in Switzerland, lives on and features a full range of men's and women's clothing, apparel and other accessories. The Merino Jacket, however, is only available in men's sizes right now.
The temperature rating is to -5C, and after testing this jacket, I might well have to lower my "five-degree" rule a few notches. With warm clothes like this, it can make anyone Belgian-tough.