Marianne Vos wins round 4 of 2011 UCI World Cup in Namur
World champion Marianne Vos (Nederland Bloeit) won round four of the UCI World Cup on Sunday in Namur.
Heading out the door? Read this article on the new Outside+ app available now on iOS devices for members! Download the app.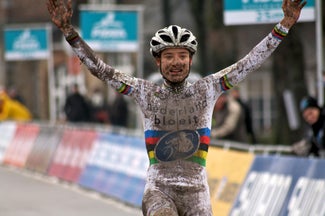 NAMUR, Belgium (VN) — Though her rainbow stripes may have been hidden under a thick layer of mud for most of the day, Marianne Vos (Nederland Bloeit) reminded the world why she wears them with a resounding victory in what was almost certainly the most difficult races European cyclocross has seen this season.
On a roller-coaster course on the muddy slopes below the Citadel de Namur, Vos broke free from Lucy Chainel-Lefevre (France) early before powering solo to her first World Cup since returning to cyclocross a few weeks ago.
Chainel-Lefevre blasted almost directly into the lead of the race, leaving all but Vos to spin their wheels in the mud — some 30 seconds behind by the end of the first lap. But a well-timed move by the Dutchwoman on one of the course's several steep, unrideable climbs, gave the world champion all the she needed to unleash the power that has earned her world and Olympic titles on the road and track. By the end of the second lap Vos had turned a four-second gap into a lead of nearly half a minute. And Vos never looked back.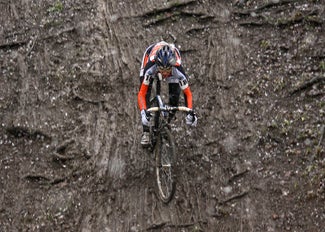 Meanwhile, behind Vos — in fact, behind everybody — was American Katie Compton, who suffered a mechanical immediately after the start. Compton picked her way through traffic on the first lap of the race and, by the second, found herself going wheel-to-wheel with Britain's Helen Wyman in a battle for the final spot on the podium.
But Wyman, like much of the field, struggled with a particularly tricky off-camber section near the bottom of the course, and Compton was able to use her technical prowess to go clear.
As the American set off to chase Chainel-Lefevre, Wyman found herself again in danger from behind as Belgian champion Sanne Cant and Dutchwoman Sophie De Boer began to close in. Wyman would hold off the rising Dutch star, but could not match the Belgian, who took fourth on the day.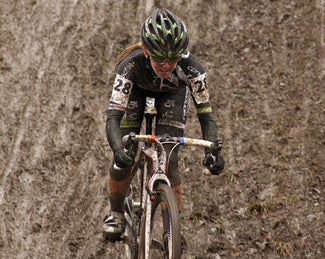 At the same time, a bit further back, another young rider, American Kaitlin Antonneau, was also having something of a breakout race. Dropping fearlessly down slopes that had clearly rattled more experienced riders, the 19-year-old Cannondale-Cyclocrossworld.com rider pulled off a 10th-place finish, perhaps the best result of her career and one of the best for any American woman not named Compton this year.
At the finish, shivering and muddy, Antonneau was nonetheless delighted with her breakout ride.
"I'm really happy," she told VeloNews. "I really liked the course. It suited me well, I think. I like the mud and I had a good start, and I think that's what helped me race so well.
"I pre-rode the course yesterday and I was nervous, because the drops — we don't have anything like that at home. So the first couple of laps were exciting, but then I relaxed and it was good. I'm really happy with how it went and really proud. I'm so excited."
Vos, the thrill of victory perhaps tempered by her familiarity with the top step of the podium, said she was gratified to have such a good result so early in her 2011 cyclocross campaign. She returned to Europe from a training trip to South Africa on Friday.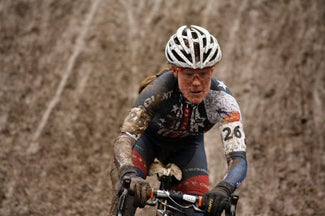 "But I actually enjoyed this today," Vos said. "I didn't think about the changes or where I've been. I come here, see the course and say, 'Let's go.' This was one of the hardest races I've ever done, but it is what it is, you have to do it, it's the same for everybody, so you just go."
But she added that the time spent racing on the road this summer — and the recent training trip — all contributed to her success on Sunday.
"Uphill I wasn't that much faster," she said, explaining that it took her some time to find a way to break free from Chainel-Lefevre. "But because of my training on the road, when it was not so steep, but just turning on the power, I was much faster."
Vos said that she was only sorry not to have the chance to test herself against Compton, who she sees as the greatest threat to her chances to repeat as world champion for a fourth straight year.
Compton, meanwhile, said she felt positive about her ride despite the mechanical.
"I'm happy that I could salvage a podium today," she said. "I was dead last after dropping my chain at the start, so I was chasing from the get-go. I tried to go as hard as I could, but I lost so much time that first lap and they were fast. It's hard to make up a minute in a 'cross race."
"There wasn't anything about that course that was easy," Compton continued. "I really liked this race, I like the mud, but I'm disappointed by the bad start. These conditions were hard; it's definitely true 'cross racing. You have to have technical skills and power and good legs. I feel like I'm in a good spot for good results in January, though."
Three other Americans also started the race. Maureen Bruno Roy (Bob's Red Mill-Seven Cycles), who made the trip to Belgium for Sunday's race and next week's World Cup in Zolder, finished 24th.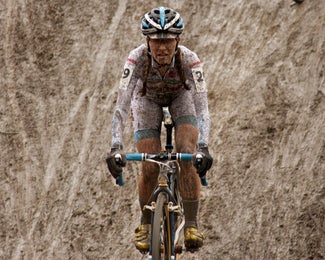 "It wasn't a very good race for me," she said. "It was a good course, I just didn't race very well. It was like a mini mountain bike course, fun and challenging. But the first lap is so important, and if you make mistakes you can't make it up."
Christine Vardaros (Baboco) was 33rd, while Amy Dombroski (Crank Brothers) was forced to abandon the race.
With three rounds remaining, the Netherlands' Daphny Van Den Brand (AA Drink-Leontien.nl) maintains her lead in the World Cup standings despite a disappointing eighth place finish Sunday. Compton sits in second with 150 points to Van Den Brand's 176, while Chainel-Lefevre's excellent ride leaves her third, eight points behind Compton.
The World Cup continues one week from Monday in Zolder.
Stay tuned for more photos.
Quick results
1. Marianne Vos (NED), Nederland Bloeit, at :36:53
2. Lucie Chainel-Lefevre (FRA), at 0:54
3. Katherine Compton (USA), Rabobank-Giant Off-Road Team, at 1:11
4. Sanne Cant (BEL), Boxx Veldritacademie, at 1:40
5. Helen Wyman (GBR), Kona Factory Racing, at 1:44