Stages Dash and Link
The Stages Dash GPS head unit and Link online training platform are a gateway to a more focused and specific training and analysis.
Heading out the door? Read this article on the new Outside+ app available now on iOS devices for members! Download the app.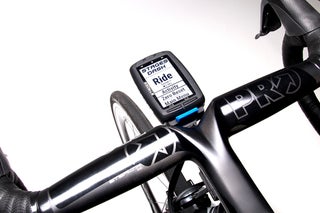 Stages builds upon its popular power meters with the new Dash GPS cycling computer and Link online training platform. Together with any Ant+ or Bluetooth power meter, Stages creates a training ecosystem for athletes and coaches. Stages takes aim at Garmin, Wahoo, Training Peaks, and Today's Plan with this pairing.
The Dash offers comprehensive workout features like interval prompts with goal power numbers and a countdown timer for each effort. Link offers a simple interface for building and recording workouts. It also has complex analytic tools for coaches and athletes interested in dissecting ride data.
While the new Stages offerings provide advanced training tools, they're valuable to more than just top professional athletes and coaches. The system's workout features make understanding and executing intervals easier for any athlete. Both products are easily customizable too.
Stages Dash
The Dash can display up to 16 data fields on each screen. Garmin and other cycling GPS computers typically only offer eight to 10 fields per screen. While we appreciate the ability to add more on the Dash, however, 16 fields was excessive and made the data harder to see when riding. Instead, we opted to use 10 fields and made some of the more important metrics larger on the screen.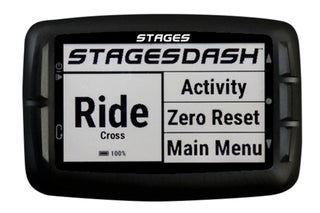 Customizing your data screens is easy with Stages programs on your computer or smartphone. It's possible to arrange the order and choose the size of each data field on the Dash screen in seconds. Wahoo offers similar easy customization with the Elemnt and companion app, while Garmin still requires setup to be completed using the device itself, which can be tedious.
The Dash also stores different bike profiles or ride profiles that you navigate easily, depending on your activity. For training rides, we like to have lots of numbers up on the screen like power, lap average power, and TSS to help us complete workouts. However, for easy rides, we only want to see the basics like time, distance, and heart rate. By designing multiple ride profiles, it's easy to swap between these data screens at the start of a ride.
Workout mode
Besides simple customization, the Dash also impresses with its dynamic workout function. You can create a detailed interval workout online using Link or other third-party sites such as TrainingPeaks or Today's Plan and upload the information to Dash. Then you'll get mid-ride prompts for each interval with power goals, time left in the interval, and any instructions you added when creating the workout.
This was especially helpful with complex workouts that had multiple intervals and changing power goals throughout. It also made for a sleek way to remember the details. We've spent too many years scribbling power numbers and times on a piece of tape attached to the top tube.
Workouts are uploaded wirelessly to the Dash using the Stages Link smartphone app or by connecting the Dash to your computer. At the start of each ride, simply select the workout planned for that day and you're on your way. After you complete each ride, the Dash automatically uploads your data through the app to Link or other training sites like TrainingPeaks or Strava. The Dash doesn't give feedback on how well the workout was completed, however, and is something we'd like to see in future updates.
Usability
The Dash collects and transmits ride data through a new RDE file format instead of the widely-used FIT file. Stages says this type of file provides more information and allows for an even deeper dive into your data analytics. RDE is compatible with Link but needs to be converted to a FIT file to view data on other platforms like Strava and TrainingPeaks. Fortunately, the Link app and online training platform converts the file format automatically before uploading to these third party sites. However, that means you cannot upload directly from the Dash to these other programs without going through a Stages intermediary first.
Mapping features are currently in the works but not yet available. You'll eventually be able to upload courses, create breadcrumb maps to track where you've been, and get turn-by-turn navigation prompts. The navigation element will work through your connected smartphone via Bluetooth. The phone will use its GPS signal for the route and then send the Dash directions and prompts to display on the screen.
Straying from the quarter twist mount system that many GPS computers use, Stages opted for an entirely new design that clicks in at the base of the computer. It's similar to an SRM Power Control. We put the computer and full aluminum mount through rough road riding and rocky mountain bike trails and it stayed in place. The mount also sits flush with the handlebars to keep it out of the wind for aerodynamics. Right now, mounts are only available through Stages with several options including a standard 31.8mm, 35mm mountain bike, and 90-degree rotated mount for TT bars.
Battery life is impressive, hovering around a claimed 24-30 hours of run time when using full power and GPS settings. The 2.7-inch LCD screen does not have a color display. This helps extend battery life and makes for simple and clear data fields. The screen's 240×400 resolution and anti-glare coating also help with visibility in all light conditions.
The Dash is priced at $299, more affordable than the Wahoo Elemnt ($330) and Garmin Edge 820 ($400). It offers many of the same features as these established computers like push notifications for calls and texts, while providing more in-depth training features and customization. It's our pick for serious athletes but may be overkill for those interested in basic metrics.
Stages link
Stages's Link online training platform allows for planning, tracking, and examining ride data. Navigation is intuitive and it provides an impressive quiver of analytic tools. Stages worked with Today's Plan to build Link and the two programs look and work very similarly.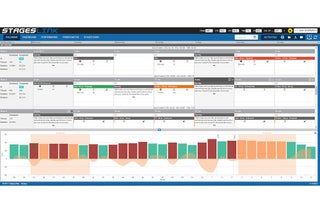 Link also offers a calendar builder tool that creates a custom training plan based on your current fitness, time availability, and upcoming events and goals. The program will ask you several questions such as the number of days and hours you can train each week, what type of events you're targeting, and how much you've recently been training. It uses this data to generate a custom training plan for you and uploads daily workouts into your calendar.
It's a slick way to get custom-like coaching without the personal coaching fees. You'll need to purchase the Premium Link membership, however, which costs $20 per month. A Basic membership is free and provides some simple analytic tools but not the full quiver.
Analysis
Link looks and works much like the existing training platforms out there. But Stages has several new features that both athletes and coaches can get excited about. The ability to upload workouts straight to your Dash for interval prompts makes following workouts easy. As an athlete you can focus more on the effort and think less about what is coming next. Creating these workouts is simple through Link's online platform. Select the amount of time for each interval and add a power goal, and you're ready to upload.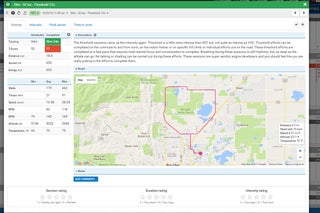 While Stages hasn't released it yet, we're looking forward to an overlay of prescribed versus performed intervals. Stages says this function is in the works for future Link updates.
Conclusion
Stages' Dash GPS computer and Link online training platform tick all the boxes for serious athletes who devour data faster than gels. The integrated system makes tracking your numbers easy and helps educate cyclist about their training. If you're currently using a basic GPS computer, this may all feel like overkill. But the Dash and Link are a gateway to a more focused and specific training and analysis. For $299 plus the $20/month Link membership, it's an investment in your cycling fitness that seems well worth the money.