Niels Albert wins 2011 GVA Trofee Loenhout
Belgian champion Niels ALbert (BKCP-Powerplus) escaped Lars Boom (Rabobank) with just under five laps to race in the GVA Trofee Loenhout, then held his advantage over a four-man chase including Sven Nys (Landbouwkrediet), Telenet-Fidea teammates Bart Wellens and Rob Peeters, and world champion Zdenek Stybar (Quick-Step).
Heading out the door? Read this article on the new Outside+ app available now on iOS devices for members! Download the app.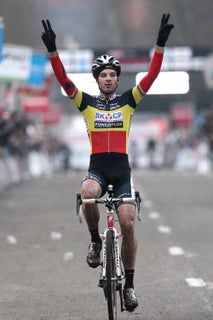 Niels Albert (BKCP-Powerplus) soloed to victory in the GVA Trofee Azencross Loenhout on Wednesday.
The Belgian champion escaped Lars Boom (Rabobank) with just under five laps to race, then built an advantage of more than a half-minute over a chase group that included Sven Nys (Landbouwkrediet), Telenet-Fidea teammates Bart Wellens and Rob Peeters, and world champion Zdenek Stybar (Quick-Step).
The chase cut his advantage in half on the final lap, but would come now closer, and Albert had plenty of time to sit up, clap his hands and salute the crowd as he coasted across the line.
Behind, Nys and Stybar shelled the Telenets in the final go-round to fight it out for second, a battle that Stybar won easily at 16 seconds behind Albert. Nys hung on for third, with Peeters fourth and Wellens fifth.
American Jonathan Page (Planet Bike) finished 16th at 1:42.
GVA Trofee series leader Kevin Pauwels (Sunweb-Revor), winner at Monday's World Cup in Zolder, was clearly on an off day. He was never in contention and finished sixth at 1:13. Nevertheless, he retains the series lead with 113 points; Stybar sits second at 101 with Albert third at 83.
Boom and bust
The course was a tough one, with a staircase run and flyover, a long, BMX-style pump-track section and plenty of mud.
Boom and Stybar found themselves off the front after a first-lap bobble in traffic saw a front-runner stuff his front wheel in a mudhole and spiral into the spectators.
At the end of the lap the two had seven seconds on Albert. Nys was at 14 seconds with series leader Pauwels further behind.
Albert closed to within a few seconds in the early going on the second lap. Boom hit the pits for a fresh bike, leaving Stybar in sole possession of the lead, and joined Albert in the pursuit with Nys just behind. Wellens was in the hunt, too, but Pauwels was still well back, mired in traffic.
At the end of lap two Stybar was still out front, but not by much. Boom latched on, and Albert and Nys were just a few bike lengths behind, trailed by Wellens, Meeusen and Sven Vanthourenhout (Landbouwkrediet).
Going into the third lap the same mudhole that split the bunch on lap one nearly claimed Stybar, giving the other chasers their chance to latch on and putting Boom and Albert on the sharp end of the lead group.
Then Nys hit the deck and had to leg it to the pit. Albert and Boom were off the front with Stybar and Wellens in pursuit. Behind, Tom Meeusen had linked up with teammate Peeters while Nys likewise joined forces with his teammate, Vanthourenhout. The two chases were nine and 18 seconds behind the leaders.
With five laps to go Albert and Boom held eight seconds over Wellens and Stybar, who in turn had 13 seconds over Nys, Vanthourenhout, Meeusen and Peeters. Pauwels was at 40 seconds and losing ground.
Albert batters Boom
Albert set about trying to rid himself of Boom. He put a couple bike lengths on the Rabobank rider in a twisty, back-and-forth section, but Boom closed the gap. Albert accelerated again and opened another gap, taking perhaps five seconds. Stybar was gutting it out in third while Nys chased with the Telenets, five seconds behind the world champion at the rolling pump-track section.
With four to go Albert held the slightest of leads, looking over his left shoulder at the pursuit. Boom fought back up to him, while Nys, Stybar and the Telenets followed at 18 seconds down as Vanthourenhout led a second chase.
Boom had trouble holding Albert's wheel. As the two pitted for fresh bikes he was a handful of seconds down again — looking over his shoulder he could see Nys and the others closing in, five seconds down.
The Nys chase nearly had Boom at the stairs, and finally overhauled him at the pump track. Behind, Pauwels had made it up to the Vanthourenhout group.
With three laps to go, 36 minutes into the race, Albert had 12 seconds on a tough chase group containing Boom, Nys, Stybar and three Telenets — Peeters, Wellens and Meeusen.
Peeters took the lead in the chase, then rode away from it, forcing Nys to drag him back. Boom and Stybar were having trouble matching the Landbouwkrediet rider's pace.
With two laps remaining Albert was still chugging along, his head wagging from side to side. The chasers followed at 18 seconds. Peeters flicked an elbow for help, didn't get it, and then sat up, forcing Nys to pull through. Boom was busted, 49 seconds down, and Pauwels was even further behind.
Wellens works it
Wellens was next to step up as Nys bobbled in a slippery U-turn, winding up at the tail end of the chase.
Hare and hounds all pitted, and Albert remained clear, with Wellens and Peeters sitting second and third while Stybar and Nys trailed by a handful of seconds.
Nys and Stybar were just three seconds down at the stairs, closer still at the flyover, and then finally regained the Telenets at the pump track, reforming the four-man chase.
But they were racing for second. Albert took a 31-second lead into the bell lap, which was a parade lap for the Belgian champ. Stybar and Nys would shell the Telenets to take second and third, but the top step of the podium was long gone.
Stay tuned for an expanded report and photos.
Quick results
1. Niels Albert (Bel), BKCP-Powerplus
2. Zdenek Stybar (Cze), Quick-Step
3. Sven Nys (Bel), Landbouwkrediet
4. Rob Peeters (Bel), Telenet-Fidea
5. Bart Wellens (Bel), Telenet-Fidea