Niels Albert wins finale in Hoogerheide, clinches World Cup title
Niels Albert wins the finale in Hoogerheide and clinches the World Cup title.
Heading out the door? Read this article on the new Outside+ app available now on iOS devices for members! Download the app.
HOOGERHEIDE, the Netherlands (VN) — Niels Albert clinched his World Cup title in fine style on Sunday — the BKCP-Powerplus rider overtook world champion Zdenek Stybar (Telenet-Fidea) and then outfought his teammate Kevin Pauwels to win the series finale in the Netherlands.
"It's been a very tough week. Today the legs were very tired," said Albert. "But I'm very happy with the victory today. There was one goal for me and that was to win the race."
Early on it looked like the Hoogerheide race had Stybar's name stamped all over it. Fresh from a training block in Mallorca, the world champion grabbed the lead on the first lap of the fast, rolling course, which was mostly rideable barring a long, muddy series of U-turns and a short, sharp run-up.
American Tim Johnson (Cannondale-Cyclocrossworld.com) took charge of the early chase, which included Bart Aernouts (Rabobank-Giant), Albert, Sven Nys (Landboukrediet), Tom Meeusen and Rob Peeters (Telenet-Fidea), Klaas Vantornout (Sunweb-Revor) and a number of the other usual suspects.
Vantornout soon got past Johnson, who eventually fell out of the pursuit after botching an off-camber, left-hand turn. Pauwels moved forward, too, quickly settling into second with six laps to go. A large chase formed up behind Vantornout — Albert, Nys, Steve Chainel (FDJ), Meeusen, Aernouts and Phillipp Walsleben (BKCP-Powerplus) — and the Sunweb rider was soon absorbed, leaving Stybar out front chased by Pauwels.
Albert twists the throttle after a slow start
As Albert drove the bunch up to Pauwels the pursuit fragmented, dwindling to five men — himself, Pauwels, Vantornout, Nys and Chainel. Then Albert and Pauwels took a gap on the others and began closing in on Stybar, who looked like he was finally starting to run out of gas after tearing up the circuit early on, building an advantage of some 20 seconds.
Albert, in contrast, was just getting started.
"In the first downhill, I got a push from somebody, and I lost control. So the first two corners were a disaster, and I lost many, many places," he said. "But on the third or fourth lap I came into the front group, and I saw the gap to Stybie was 20 seconds. But it was 20 seconds for two laps, so I didn't expect that I could close the gap on him. But lap by lap I I came five or six seconds, and then I was in the front."
With four laps to go a miscue in a slippery left-hand corner that briefly set Stybar afoot gave Albert and Pauwels the chance to latch onto his wheel. All three pitted at their next opportunity, and Stybar expressed some dissatisfaction with his bike change.
Albert took the lead, followed by Pauwels and Stybar. Nys was just behind with Vantornout, and with three laps to go there was a five-man group at the head of the race, with Chainel and Meeusen chasing at 13 seconds.
Stybar swapped bikes once again on the other side of the pit as Albert lit it up with Pauwels and Vantornout, leaving the world champ gapped slightly alongside Nys. All five reconnected in the muddy U-turns, until a mechanical left Nys afoot and off the back.
Nys finds his legs
With two laps to go Albert held a three-second lead over Pauwels with Stybar a further eight seconds back. Nys followed at 17 seconds with Meeusen, while Vantornout was out of it at 23 seconds.
Albert gave it the gas, but Pauwels stayed within striking distance. Behind, Nys latched onto a fading Stybar.
Albert hit the bell lap with seven seconds' advantage over Pauwels. Nys and Stybar followed at 31 seconds, and soon the Belgian left the world champ behind and moved into sole possession of third.
Albert buried himself on the final lap, his mouth gaping. A grim-faced Pauwels continued to chase, but the gap remained unchanged as the two men pitted for the final time.
Pauwels bobbled his remount after the run-up, but his miscue wasn't a factor. Albert was well clear as he hit the pavement for the final time, winning in 1:04:21. Pauwels was next across at six seconds back with Nys third at 32 seconds.
Stybar, who led the race for so long, had to settle for fourth at 37 seconds, with Vantornout fifth a further second behind.
'A little bit of Belgium' for Albert
Albert, who has dominated races in Hoogerheide for three years in a row, said the course, with its mix of fast, flat racing and heavy, technical terrain, simply seems to agree with him.
"I won the world championships here in 2009 and last year I won my last race in the world champion's jersey here," said the recently crowned Belgian champion. "Now I won the World Cup today. For me, it's very nice to come back each year.
"Hoogerheide is quite tough. It's always fast and a little bit muddy. I like to ride here and since I became the world champion here, it's a little bit of Belgium for me."
Since the middle of the season, when he has been able to reach the front, Albert has been able to dictate the pace and dynamics of the race, and his dominant form has been paid back, two weeks ago with his first Belgian championship and now with a World Cup title. As a consequence, Albert told VeloNews that he feels very little pressure ahead of next week's world championship race in St.-Wendel, Germany.
"I have the World Cup jersey, I have the Belgium jersey, so I can go unstressed to worlds. We'll see what happens there next week, but on the worlds I don't have to make the season good — my season is already very nice."
Nys pleased with performance
Nys, who is still recovering from the bout of illness that knocked him out of the Belgian championship race two weeks ago, showed with his third-place finish that he may be one of Albert's top rivals for the world title.
"It's going really good for the moment," Nys said, acknowledging that his podium finish in last week's Pont-Château World Cup was as much the result of good luck as anything else.
"Last week it (his form) was not good enough, but this week it's maybe 20 percent better. And that's what I want. It must not be at the top for the moment, but in seven days must be at the top. I'm really happy that I'm going upwards now. That's what I want, it's good for my mind, and the rest we'll see in seven days."
Nys told VeloNews that he and his coach had developed a plan for Sunday's race to help make the best of his still-limited power.
"It was really perfect, what I did," he said. "I had a small crash with my handlebar in the barriers, and it cost me maybe 10 or 15 seconds. I was at the front at that moment, so maybe that cost me a little longer at the front. I think the first two were a little bit stronger, but I raced yesterday and they didn't, so that's also good for my mind, that I can say, 'OK, next week I only do one race.'"
The North American report
Johnson, the top American finisher in 16th place, rode himself into second position after the first lap of the race. The Cannondale-Cyclocrossworld.com rider looked strong early on before a major bobble on a very tricky off-camber left turn dropped him out of the top 10.
"I had pretty much the same start as last weekend," said Johnson. "The only difference was that I didn't crash. Last week I had one real crash, and then a second stop short, all in the first lap. This week I was able to keep the gas on, and I got into the start-finish line at the end of the first lap and I was in fifth, and I just decided to hit it going into the first corner.
"That was my undoing. I lost three or four spots there, and just jacked everything up trying to make up for it, and that's where I lost the majority of the time. This course probably had five sections that would be equal to or harder than the hardest section of any race we do in the United States. So it's not just one part that's sketchy, it's the whole thing, and it just runs right into each other. If you mess up once you pay for it and pay for it."
Jonathan Page (Planet Bike), who finished 20th, posted a few laps that were among the day's fastest after a problem with his shifter cost him nearly 30 seconds on the race's second lap.
"I started pretty well, but on the (second) lap I switched bikes and found out my bike wasn't shifting anymore. It was really unfortunate, and it's never happened before. Somehow the rear derailleur came unplugged," said Page, who, like a number of racers on the European circuit, uses Shimano's electronic shifting system.
"I tried to reset it on the run-up, but that didn't work. I coasted for a while, trying to reset it again, but I had to get off my bike and assess what was going on. And I lost a bunch of places."
"I don't have any places to give up," said the Europe-based American racer. "Because in the world championship, I'm far back in the points. So I made up as much as I could. I'm going fast, next week could be very good for me, but everything has to go well. I've got nothing to lose at this point."
American Jamey Driscoll rode to a solid 28th place, while Cannondale teammate Jeremy Powers recovered from a crash in the first turns of the race that left him in last place to finish 36th. Canadians Derrick St. John and Craig Richey finished 55th and 56th, respectively, with countryman Shaun Adamson in 58th.
—Online editor at large Patrick O'Grady contributed to this report.
Quick results
World Cup-Hoogerheide
1. Niels Albert (BEL), BKCP-Powerplus, at 1:04:21
2. Kevin Pauwels (BEL), Telenet-Fidea, at 0:06
3. Sven Nys (BEL), Landbouwkrediet, at 0:32
4. Zdenek Stybar (CZE), Telenet-Fidea, at 0:37
5. Klaas Vantornout (BEL), Sunweb-Revor, at 0:38
Final World Cup standings
1. Niels Albert (BEL) BKCP-Powerplus, 570 points
2. Kevin Pauwels (BEL) Telenet-Fidea, 499 points
3. Sven Nys (BEL) Landbouwkrediet, 484 points
4. Bart Aernouts (BEL) Rabobank-Giant Offroad Team, 392 points
5. Francis Mourey (FRA) Fdj, 369 points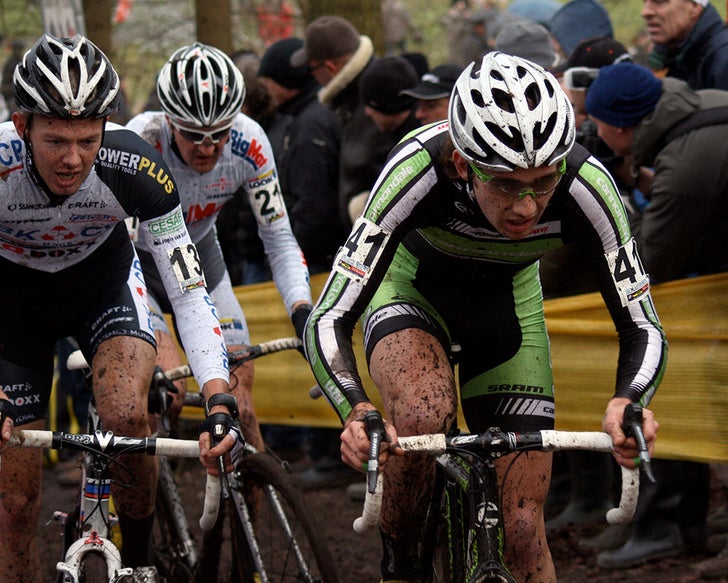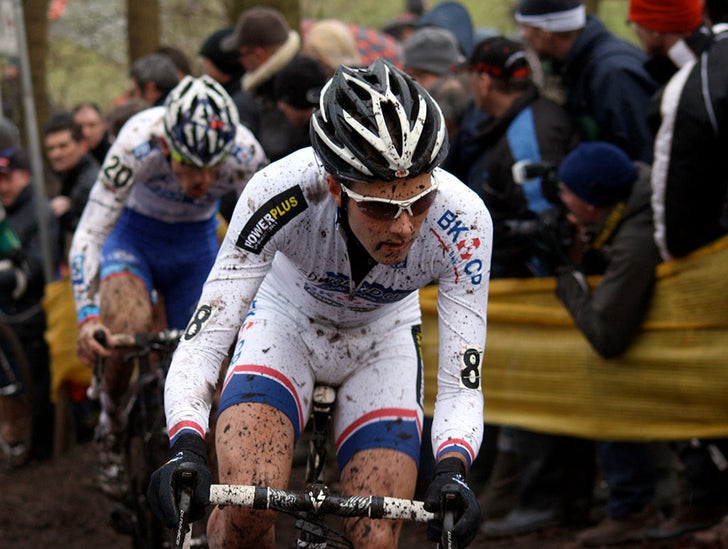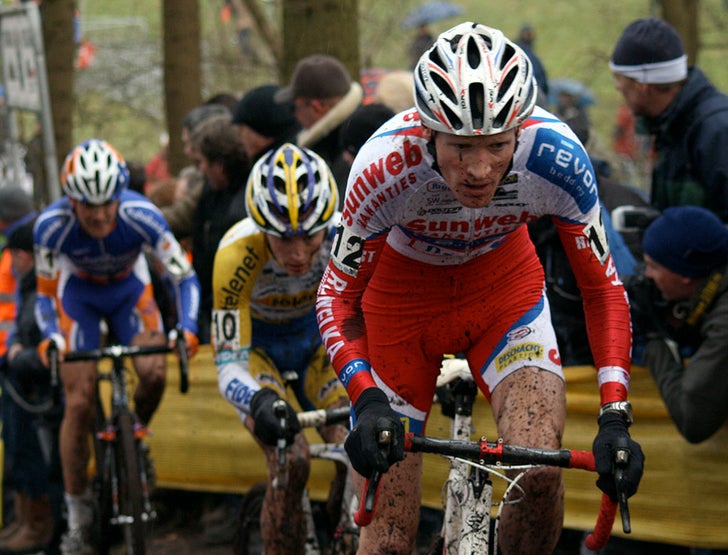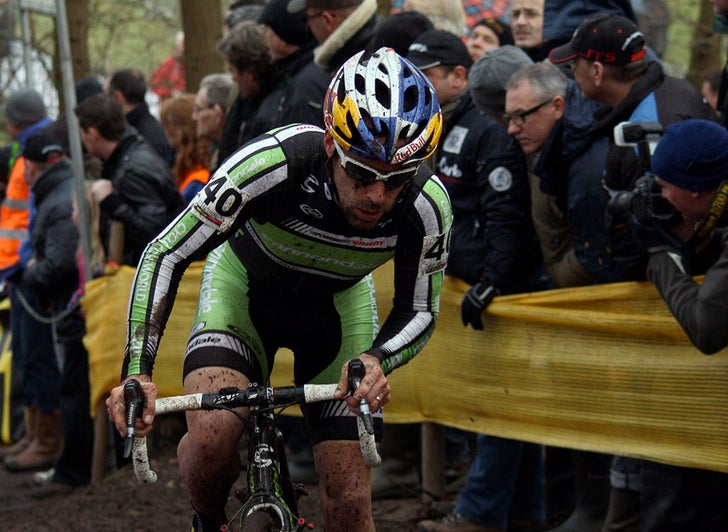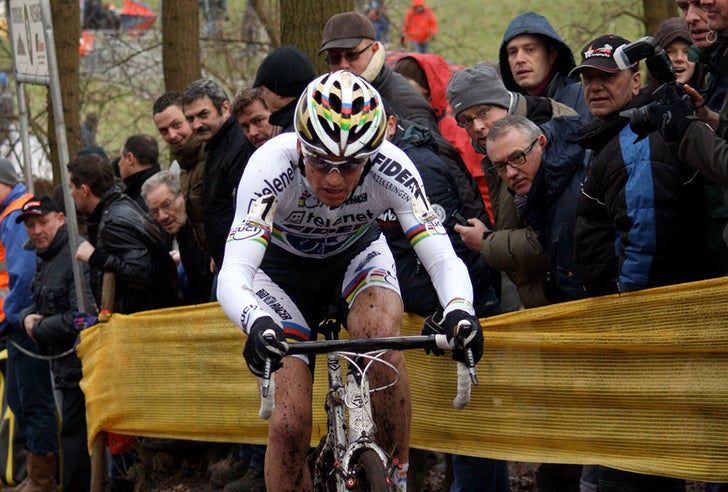 ---

Editor's note: Dan Seaton started writing about cyclocross when he moved from New Hampshire to Belgium in 2008. He started covering European cyclocross for VeloNews in October 2010. Dan has a Ph.D. in physics and spends most of his time working as mission scientist for a spaceborne solar telescope at the Royal Observatory of Belgium. He somehow finds time to race as an amateur 'crosser in Belgium during the fall and winter. Dan and his wife, Mindi, live in Brussels.