Oakley Flight Jacket fights fog with flip of a switch
If you've ever fussed with fogged-up sunglasses on a steamy climb, the new Oakley Flight Jacket sunglasses could be for you.
Heading out the door? Read this article on the new Outside+ app available now on iOS devices for members! Download the app.
If you've ever fussed with fogged-up sunglasses on a steamy climb, the new Oakley Flight Jacket sunglasses could be your summertime jam.
The Flight Jacket features a small switch at the nose bridge. Switch it down and the glasses move out and up away from your face. It can be switched back with another press of the finger.
Beyond this feature, which Oakley calls the "Advancer" nose bridge, the Flight Jacket has another noticeable feature to promote airflow.
A bit like the inverse of Oakley's Radar sunglasses, these new shades have a frameless design at the top of the lenses. The look is quite different, likely polarizing, which is very on-brand for Oakley.
The rest of the sunglasses frame is reminiscent of the Jawbreaker, with sculpted temples and relatively thick frames beneath the lenses. The rubber nose piece and temples feel quite similar to the Jaw Breaker. The lens can be removed, but unlike the Jaw Breaker, it isn't meant to be regularly swapped out for other tints.
On the road, the Advancer switch is relatively easy to flip up or down. Since we were riding in cool dry conditions, fogging wasn't an issue. But the increased airflow was very noticeable.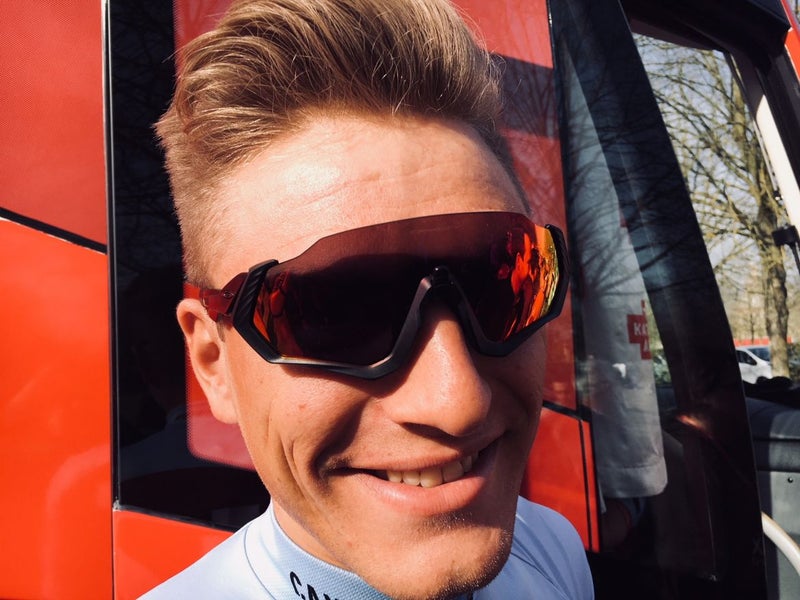 The Advancer does slightly move the temples on the side of your head, which can be a little awkward if they interfere with your helmet's retention system. The temples can be swapped for two length options to remedy this concern. However, they don't quickly slide in or out to adjust their length on the fly.
Overall, the Flight Jacket sits a bit higher on the face than a pair of Jawbreaker sunglasses. They also feel much better-ventilated than their goggle-like kin, more similar to a Radar, but not quite as much as a pair of EVZero sunglasses.
While the frame design promotes airflow, the frames beneath the lens do obstruct peripheral vision a little bit. This is no worse than the Jawbreaker, but if you're accustomed to a frameless design, like the EVZero or a pair of Smith's Attack sunglasses, for instance, you might notice the frames out of the corner of your eye.
If you live in a place where slow, steamy climbs are the norm, the Flight Jacket might be the ticket. Those who rarely bother stuffing sunglasses into helmet vents when they start to schvitz have fewer reasons to opt for these new Oakleys, unless they want the latest look.
MSRP (as tested): $223