Powers and Van Gilder shine at Great Brewers Gran Prix of Gloucester
Cannondale-Cyclocrossworld.com's Jeremy Powers continues his strong season, while Laura Van Gilder outsprints Meredith Miller for the women's win.
Heading out the door? Read this article on the new Outside+ app available now on iOS devices for members! Download the app.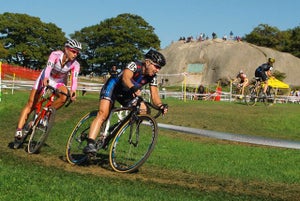 Clear, sunny skies made for a fast course and exciting racing on day one at the Great Brewers Gran Prix of Gloucester in Massachusetts Saturday. In the elite women's race, criterium and cyclocross veteran Laura Van Gilder edged out roadie-turned 'crosser Meredith Miller in a two-up sprint to the line. A bit later it was a repeat of last Saturday's USGP race in Wisconsin, as Cannondale-Cyclocrossworld.com went one-two, with Jeremy Powers taking the win over Tim Johnson. Kona's Ryan Trebon surged back from a midrace crash to hold on for third.
Women
Cyclocross spectators at Stage Fort Park saw a fast start to the elite women's race with more than 50 riders speeding down a paved section to a tight first turn, followed soon after by a double sand pit. Amy Dombroksi took the early lead and appeared to be by far the strongest for the first two laps, forcing others to chase.
But lap three saw an emerging Meredith Miller, who soon teamed up with Dombroski. While Andrea Smith (LadiesFirst Racing) and Maureen Bruno Roy (Bob's Red Mill) tried to catch the two leaders, it was Laura Van Gilder (C3 Athletes Serving Athletes) who took advantage of some mistakes in a tight chicane and set off in a hot solo pursuit of the leaders, with Dombroski still dictating the pace upfront.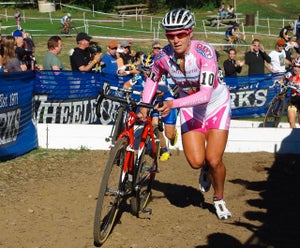 Miller used her height and long legs to her advantage in the barriers to open up a gap ahead of a fading Dombroski, and into second moved a surging Van Gilder, with Bruno Roy a now distant fourth.
On a flat section former U.S. road champ Miller attacked and immediately got a big gap, with only Van Gilder able to respond. The two rode one-two with two laps to go, leaving everyone else to race for third. The race for the final podium spot saw Sally Annis (Cyclocrossracing.com/Blue/Rolf Prima) and Natasha Elliott (Garneau Club Chaussure Ogilvy) charging up late in the race.
Van Gilder was able to sit in Miller's slipstream and save a little for the finish. In the sprint it was Van Gilder taking the win handily in front of Miller. Elliott soloed in for an impressive third.
"Meredith really put the power to the pedals today," Van Gilder said. "I had to stick on her like glue, but I thought if I could hang with her I could give her a run for her money in the end. But every foot on the course counts, so you can't count your victories too far in advance."
Men
The elite men's race saw another blistering start and a flying Powers beating out Trebon for the holeshot honors. Out of the sand pits shortly after, it was a familiar lead group forming quickly, with Powers' Cannondale-Cyclocrossworlds.com teammates Jamey Driscoll and Johnson following, along with Trebon and Davide Frattini (Subaru-Hudz) all taking the quick lead.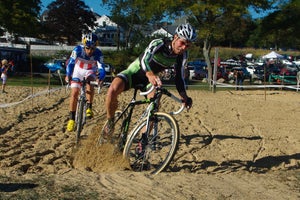 Trebon caught Powers as they sped through tricky chicanes and tight uphill 180 turns. Into the barriers for the first time it was Trebon, Powers, and Johnson, with Driscoll and Frattini falling slightly off the pace.
Trebon was in the lead when he went down on a bumpy and fast downhill section after the start/finish, and that allowed Powers and Johnson to open up the throttle, with the stars and stripes jersey of Johnson taking the lead.
Trebon was up off the floor quickly and fought hard to catch back on. As Johnson and Powers hit the barriers, Trebon was just behind. In the race behind, it was Tristan Schouten (Cyclocrossracing.com/Blue/Rolf Prima) making an appearance, giving Trebon a run for third. With the Kona rider sporting some blood on his inner leg from his crash, it appeared he'd have to dig deep for a podium spot and fend off Schouten.
Up ahead, the duo of Powers and Johnson proved too strong. With three laps to go, their lead on Trebon and Schouten was 22 seconds and growing. As Johnson and Powers traded places for first, they increased their gap to 30 seconds on the chasers.
With just one lap to go, Johnson had a mechanical in the sand, and he hit the pits to take a new bike, allowing Powers open a gap of six seconds. Still, their lead was never at risk as Trebon and a fading Schouten were still adrift by half a minute.
With his second big win in two weeks, Powers appeared delighted as he soloed into the finish, with Johnson coming in seconds later. Meanwhile, Schouten, who started 14th in the roll-up, was unable to keep Trebon's wheel but hung on for an impressive fourth.
"It was a really hard course," Powers said. "Everyone had to put a foot down out there. It made for really good racing. Everyone had to give 110 percent."
Asked about riding ahead after Johnson's mechanical and bike change, Powers put things into perspective.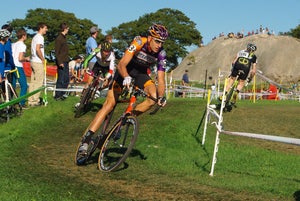 "I didn't realize till I looked back," Powers said. "Tim said 'mechanical' and he was in the pits. I just tried to put myself in his shoes. And I just thought about what I do in that situation, if I were him, and I wouldn't expect him to wait for me.
"We'd been working really hard, so I was hoping we could have had that in the last lap with that intensity. But we got a lot more races to go, even tomorrow."
Powers is having one of his best starts to the cyclcocross season ever, even though he's taking it in stride.
"I'm just doing what I'm doing," he said. "I feel really good right now. I can't ask for more than that. You never know when it's going to end or a crash or something else is going to happen. So you have to keep looking ahead and taking one day at a time."
Daniel McMahon is editor of cyclingreporter.com, a contributor-based blog devoted to road and cyclocross racing in the New York City area.