ProCX: Werner takes two; Anthony wins Deschutes GO Cross
Kerry Werner's 2018 is off to a winning start as he sweeps Virginia weekend. Anthony follows up second-place finish with a win Sunday.
Heading out the door? Read this article on the new Outside+ app available now on iOS devices for members! Download the app.
On a hot, humid Sunday of racing, Kerry Werner (Kona) won the elite men's race at Deschutes GO Cross, sweeping the weekend, while Crystal Anthony (Liv) took her first victory of the fall in the women's race.
Werner was second in the 2017 ProCX standings, and he is off to a strong start with his pair of wins in Fallon Park, Virginia to kick off the 2018 season.
He took his second victory despite a crash on the first lap of the race. After straightening his handlebars, Werner chased his way back onto the lead group which included Eric Thompson (Speed Wax), Tobin Ortenblad (Santa Cruz-Donkey Label Racing), Tristan Cowie (CTS Cycling Team), Troy Wells (Team Clif Bar), and Cody Kaiser (LangeTwins-Specialized).
"Got hip-checked out there after the stairs, a very flagrant move and I was just immediately on the ground, wheels out from under me. The bike was tangled in the tape. Luckily, it happened first lap. Those guys at the front, I don't know if they waited or were just playing games and nobody wanted to go so I was able to slowly crawl back into the lead but then I sat on for the majority of the race, that hurt me quite a bit," said Werner.
With five laps to go, Ortenblad, winner of the 2017 ProCX calendar, made his first attack of the race.
"One of my goals today was to attack across the grass and through the sand a couple of times, and then just to try a couple of times at the back," he said. "There was a big group, I think something I have to work on is being confident when there's a big group, that I'm one of the stronger guys and not getting shaky and putting the responsibility on me to break it apart. It's easier to just relax and know that no one is going to do anything silly when it's a smaller group. That's always relaxing."
Next, Wells put pressure on the front group, setting a high pace for a lap. With three laps to go, combined attacks by Werner and Ortenblad shattered the lead group. Only Wells was able to catch back on to the duo after a half-lap of chasing.
"Troy went to the front a little bit," Werner added. "When they started coming back after we started playing cat and mouse games, I think he went to the front, and he strung it out a little bit and that took us to one lap to go."
Ortenblad set the pace on the bell lap with Werner, Wells, and Kaiser on his wheel. Kaiser was dropped first. Then Wells got popped when Ortenblad made his move with a quarter lap to go.
"Tobin kept the tempo up on the last lap like I did yesterday, and then he really attacked and kept it on, dropped Troy then. I stayed on his wheel and I thought with that effort I'd be able to get him on the climb, but he held me. He was on the inside so I got pushed to the outside of the tape, and I thought that was the end but I sat on his wheel," Werner said. "I knew that I was running the steps really well so I just said 'send it.' Man, I hit the steps and I don't know if my feet have ever moved that fast before in my life. I got over the top of him on the steps."
"I'm satisfied with it [the weekend results]. It's hard not to be satisfied with two podiums but coming off the momentum last year and wearing number one, I hadn't lost wearing number one until this weekend so that sucked," said Ortenblad who finished second.
Wells held on for third place.
Anthony attacks to take first win of season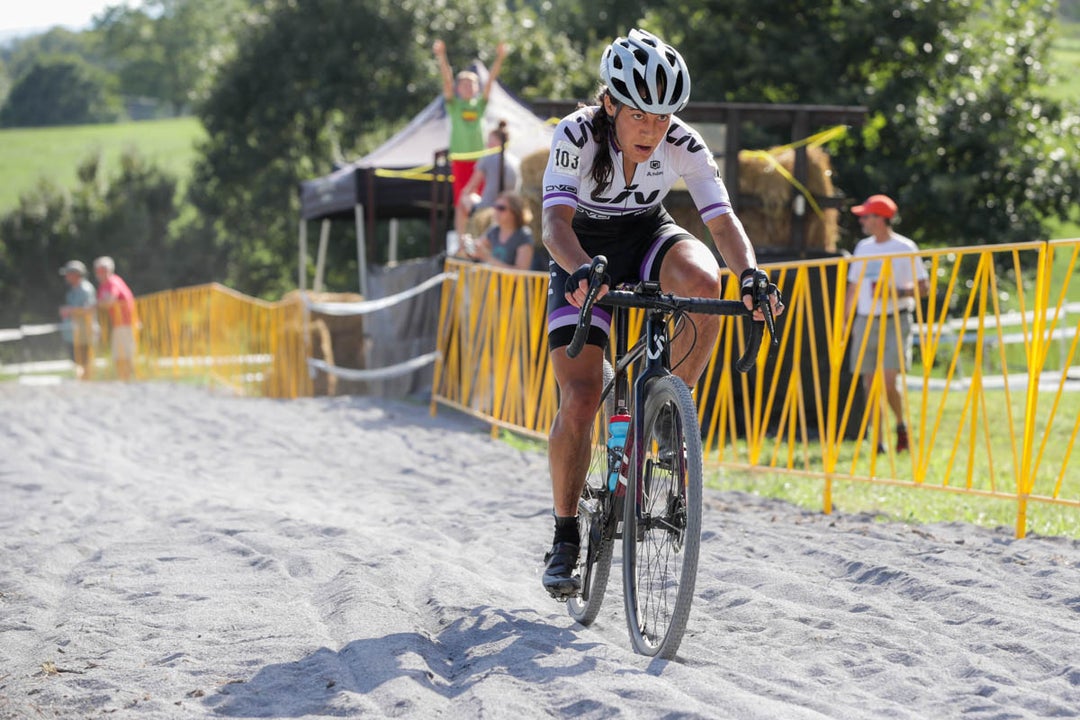 In dry and dusty conditions, Anthony's first win of 2018 followed up her second-place result on Saturday.
She went right to the front on the first lap taking over the pace-making from Allison Arensman who took the holeshot. A group of seven riders which included Anthony, Caroline Mani (Van Dessel), Rebecca Fahringer (Kona), Sunny Gilbert (Van Dessel), Caroline Nolan (Voler-Clif-Rock Lobster), and Carla Williams (Deschutes Brewery) separated from the field after one lap of racing.
"I was at the front and the race never blew up that much, the gaps were pretty small. You were like one watt away from cracking, because it was so hot. It was about balancing being aggressive with riding within yourself," said Anthony.
With three laps to go, Anthony and Gilbert were together at the front with Wiliams, Nolan, Fahringer, and Mani giving chase. Inside of two laps to go, Anthony attacked in the sand, leaving a cloud of dust when Gilbert dismounted to run.
"Awful," Gilbert said of her decision to run in the sand. "I only did it once. It was a terrible choice. I must have lost 15 seconds by running on that third lap. That is when Nolan came around me."
"I noticed that Caroline had ridden the sand by us in lap two, and I was like 'I guess it's rideable.' So I knew that was a good spot to get some time. It did open a gap, but it was just seconds [over Gilbert]," said Anthony who was now solo in the lead with Gilbert, Fahringer, and Mani chasing behind her.
With a small gap on the bell lap and a chasing Mani, Anthony kept the pressure on to take the victory.
"I like fast courses. I just trying to ride my own race and within myself. I never really attacked until the very last lap when Caroline was catching me," Anthony added, "On a day when it is really hot, the difference between attacking and not attacking is very small. I wasn't really trying to go off on my own."
"Crystal, she was riding really fast. She gave it all she had to not let me come back. It was a nice chase. She's an amazing racer. I'm not ashamed of finishing second place behind her. It's a good weekend," said Mani who took second.
Gilbert held on for third.