Quick Look: SoLite 250 lets you see and be seen
The SoLite 250 is a lightweight, USB-rechargeable headlight good for dark, winter night riding. Just bring an air horn for scaring off coyotes
Heading out the door? Read this article on the new Outside+ app available now on iOS devices for members! Download the app.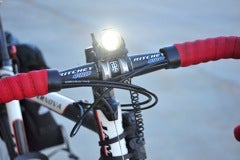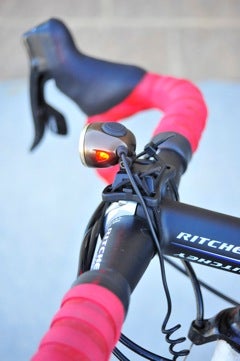 Light & Motion SoLite 250 >> $150
The lowdown: Multi-purpose, high-powered see-or-be-seen light
Pros: USB-rechargeable, lightweight, and powerful enough for even a fast commute
Cons: Bike mount is not the most beautifully-designed bit of kit
It's 7:15 p.m. Daylight savings time is gone, so it's pitch black out, and cold. I head out of Velo world headquarters for my 10-mile commute home with the SoLite 250 mounted to the handlebars of my Jamis SuperNova commuter rig. Riding on the unlit bike path, I set the light to its highest brightness setting and aim the beam into the darkness before me. I've ridden this path hundreds of times, but there is always a kind of Sleepy Hollow quality to it, and I'm Ichabod Crane.
Rounding a familiar corner, I see three loping shapes gliding along on either side of the path in the grass. Coyotes, three of them, stop and whirl in my direction. Their eyes glow green in the 250 lumens of my headlight as their gray-brown forms remain motionless. I pause in my pedal stroke, coasting, mouth wide in confusion. The sound that emanates from me is a strange mix of ape and dog as I try to sound fearsome to the small predators. Their ears perk up, but the wild canines stay still as I do my best Bernie Eisel impression and launch myself up the path between them.
I imagine them with mouths open wide in chase, but I don't look back. In truth, they are most likely still laughing to themselves at my feeble attempt to appear dangerous — and I chuckle a little to myself at my own reaction to them, but only when I'm a safe distance away from the bike path, on the main road's bike lane.
The rest of the commute is uneventful, and well-lit by the headlight on my bars.
Light & Motion's SoLite 250 is a versatile light that is small, light, and easy to use. Its hallmark is its versatility, easily transformable from headlamp to bike light to table light. It features two modes: one mode has three brightness settings and the other mode has a dim beam and a flashing strobe. It took some experimentation with the one button on the top of the light to figure out how to switch between the modes, but once I did, it was simple.
Nothing short of the brightest beam will work for night riding, as the other brightness settings require riding at slower speeds to pick out the terrain. That brightest setting is a very nice, white, 250-lumen cone of light, impressive for its 149-gram weight. The strobe light in the secondary mode is excellent if your goal is to be seen rather than to see. The light also features small side-lights that glow red, increasing your visibility to traffic.
Charging the battery is incredibly easy using a mini-USB cable rather relying on a wall outlet. No more walking out to the Velo bike garage only to find a dead headlamp — I can now charge the light simply by plugging it into my computer at the office. The charge time is around five hours and there is an indicator light on the battery that blinks from red to green as the battery charges. Easy, quick and versatile.
My only gripe with the light is its attachment to the bike. Since the system is designed to be adaptable, it isn't really well-equipped to be only a bike light.
The SoLite 250 fits the bill for a winter commuter. It's light, powerful, easy to charge in the office or at home, and relatively inexpensive. Its versatility means you won't need several lights. It mounts to a head strap, a bike, or a bike helmet, and can be used as a handheld flashlight.
The only thing it lacks is an air horn for scaring off coyotes.