Remco Evenepoel relishing Liège-Bastogne-Liège duel: 'I am not afraid of Pogačar'
World champion confirms he will race Tour of Flanders 'someday' and confidence is sky high ahead of 'La Doyenne' defense: 'The ambition? To win, of course.'
Photo: Belga/AFP via Getty Images
Heading out the door? Read this article on the new Outside+ app available now on iOS devices for members! Download the app.
Remco Evenepoel is relishing the high-profile clash with Tadej Pogačar in Sunday's title defense at Liège-Bastogne-Liège.
Evenepoel is up for the challenge.
The stakes couldn't be higher, with Evenepoel starting as the defending champion while wearing the rainbow jersey to face off against the rider who is transforming professional cycling in every race he starts.
"I am not afraid of Pogačar," Evenepoel said. "Even in a two-up sprint, I am not afraid. He comes forward as the big favorite, that's for sure, but I know I'll be ready for the fight."
Also read:
Evenepoel parachuted in Thursday evening from a three-week stint at altitude on Spain's Teide for his lone monument of 2023.
Pogačar's been lighting up his spring calendar, winning or hitting the podium in every one-day classic or stage race he's started this year, with the lone exception of Milan-San Remo, when he was fourth.
"In recent weeks, I have been able to follow his victories on television. It is impressive but did not surprise me," Evenepoel said in a media call. "Since he won the Tour de France twice, I know what he is capable of.
"I'm not afraid of Tadej, even in the event of a two-man sprint. Of course, it would make my life easier to arrive alone, but I'm not afraid of having to sprint," Evenepoel said. "Recently, I showed that I could stand up to a guy like Roglič in this aspect. I respect Tadej a lot, he is a very great champion, but I believe in myself."
Evenepoel is racing Liège in what's his last race before roaring into the Giro d'Italia, his first major goal of the first half of 2023.
After racing to seventh at the Vuelta a San Juan during what he said "was still a vacation a bit," Evenepoel won the UAE Tour and finished second to Primož Roglič at the Volta a Catalunya after winning two stages.
'I can pump more watts in the rainbow jersey'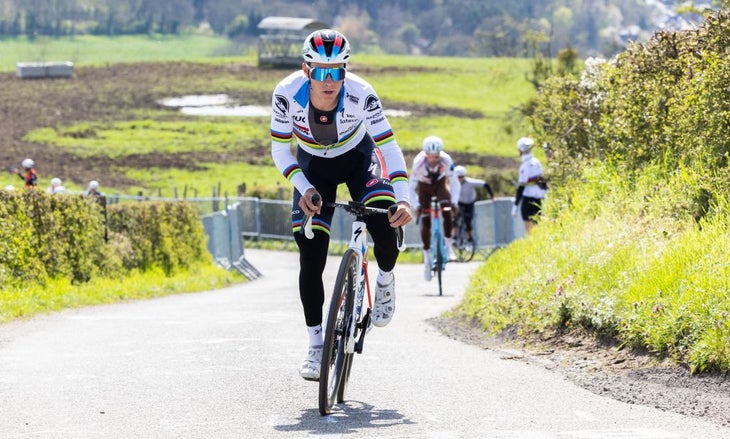 Evenepoel said his victory last year at Liège, when he made a long-distance attack to win solo, was a career-making moment that helped him carry new momentum and confidence to pave the way for victories at the Vuelta a España and the world road title.
"I can pump out more watts thanks to the rainbow jersey," Evenepoel said. "Riding in the rainbow jersey gives me chills. During the recon on Friday, I could hear the cheers of the fans. I'm excited for the race."
Evenepoel also likes tweaks in the course that include a new short climb after the famous La Redoute climb, and said his ambitions are sky high.
"The final is way tougher than previous editions. It's fantastic," he said. "My ambition? Winning, of course. The team is strong, and we have our plan. I'll be close."
Everyone is hyping Sunday's race as a matchup between the sport's top two stars.
It's their first matchup in 2023, and they might not race against each other again until some one-days later this season, so everyone is naturally excited about the race.
Even Tour de France director Christian Prudhomme said the Evenepoel vs. Pogačar matchup is a "mouth-watering event."
Evenepoel shrugs off the pressure, and says he's as calm, cool, and collected as he can be before the race.
It's a big moment for Evenepoel, who is racing on home roads for the first time this season in the world champion's jersey.
"It is an honor to be put forward in this way. It means that we know that I can achieve something," Evenepoel said of the growing hype. "It's special to be the headliner of an event. But above all, you have to stay calm, not get carried away. We have to believe in our abilities and carry out our plan."
See you tomorrow! 💪🏻🌈🔥 pic.twitter.com/j2hMh0B36m

— Remco Evenepoel (@EvenepoelRemco) April 22, 2023
Evenepoel also confirmed that he will race the Tour of Flanders "someday," but reiterated that the Giro is at the center of his ambitions right now.
"Whatever the result, I will turn the switch on Monday and get back to work in view of the Giro, which is my main objective," he said. "I love The Doyenne. It is for me the most beautiful classic and I am here to try to win it a second time, but it is above all a big stage on the road to the Tour of Italy. I will be able to ride very hard for a day and have the adrenaline of competition."